2019 Topps Chrome UFC Trading Cards Shine Up the Octagon
When it comes to the Octagon, shine normally comes in the form of a post-fight black eye. 2019 Topps Chrome UFC takes it more literal, offering a colorful chromium look at fighters and other personalities from the MMA world.
No matter the sport or property, pretty much every set under the Topps Chrome name has a couple of cornerstones: Refractor parallels and autographs. 2019 Topps Chrome UFC is no different.
2019 Topps Chrome UFC Base Set Basics
The base set offers a chromium spin on the flagship design that debuted with 2019 Topps Baseball. The checklist has veteran fighter, some past legends as well as up-and-comers who made their debuts a short time ago.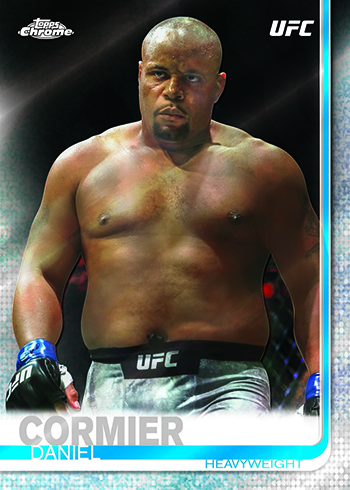 All base cards have a rainbow of parallels:
Refractors (1:3 packs)
X-Fractors (1:24 packs)
Green Refractors (/99)
Blue Wave Refractors (/75)
Gold Refractors (/50)
Orange Refractors (/25)
Black Refractors (/10)
Red Refractors (/5)
Printing Plates (1/1)
Superfractors (1/1)
In addition to these are blaster box-exclusive Sepia Refractors. Each of these boxes has a bonus pack of four of these parallels.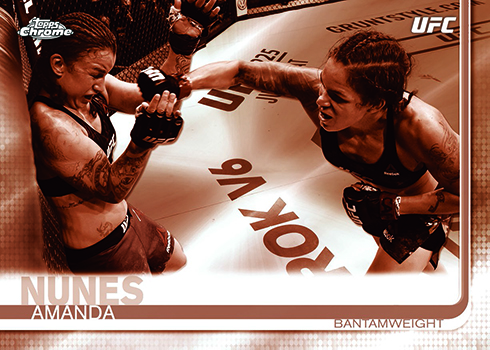 Autographs
The majority of signatures in 2019 Topps Chrome UFC are Fighter Autographs. These use the same general layout and design as the base set.
They also have several Refractor parallels: Blue Wave (/75), Gold (/50), Orange (/25), Black (/10), Red (/5) and Superfractor (1/1).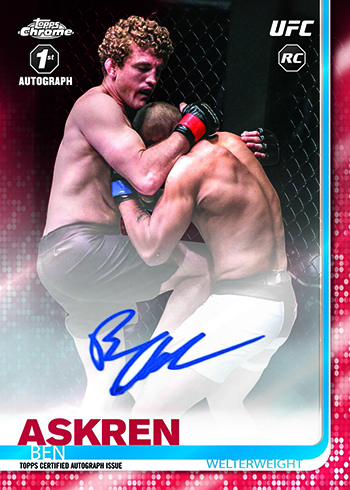 Those making their autograph card debut have a special notation on the front.
Additional Inserts
2019 Topps Chrome UFC has a handful of other insert sets that combine to land every other pack.
Like several 2019 Topps products, 1984 Topps UFC draws from the 35-year-old baseball design.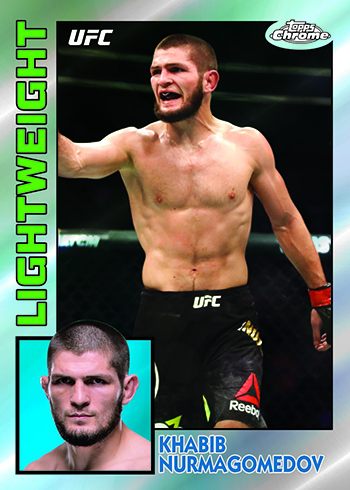 2019 UFC Knockout takes base cards from that set and gives them a chromium turn.
The bold designs return with a new batch of UFC Fire cards.
The checklist rounds out with Future Stars and Octagon of Honor.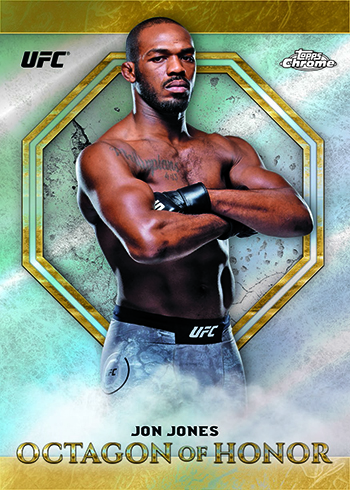 All five of these insert sets have three parallels: Wave Refractors (/99), Pulsar Refractors (/50) and Superfractors (1/1). Select cards also have autograph versions that are numbered to 5.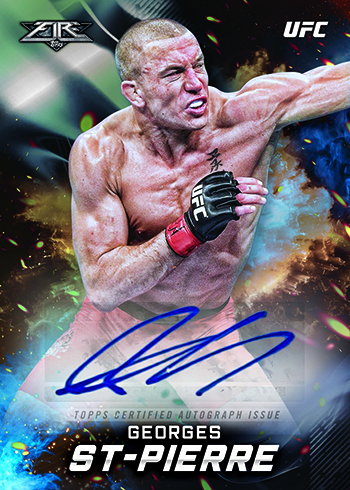 2019 Topps Chrome UFC trading cards at a glance:
Cards per pack: Hobby – 4, Blaster Value Box – 4
Packs per box: Hobby – 24, Blaster Value Box – 8
Boxes per case: Hobby – 12, Blaster Value Box – 16
Set size: TBA
Release date: August 14, 2019
What to expect in a hobby box:
Autographs – 2
Refractors – 8
Blue Refractors – 1
Green Refractors – 1
X-Fractors – 1