When 1996 Topps Chrome Baseball made its debut, the "rainbow" consisted of a base card and a basic Refractor. The 2019 Topps Chrome Refractor Rainbow is a bit bigger than that. Actually, it's a lot bigger, bringing in several colors, a couple of patterns and a handful of exclusives.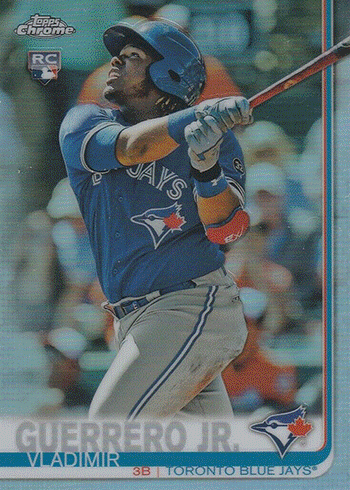 If you've got a favorite player on the 204-card checklist that you SuperCollect, you've got 20 versions to chase (23 if you go for the full run of Printing Plates) including the base card.
Building a 2019 Topps Chrome Refractor Rainbow
The 2019 Topps Chrome parallels start with basic Refractors. Just like the original 1996 set, these look very similar to base cards except the shine goes to another level. When held under bright light, Refractors have a reflective rainbow look to them (the also say "REFRACTOR" on the back under the card number and Chrome label). The regular Refractor is the easiest of the parallels to pull in the set, landing no tougher than 1:4 packs, depending on the pack type. They're even easier in hobby and hobby jumbo packs.
And then the rainbow takes off. The reflective background remains, but other Refractors add color to the borders and background like Blue, Red, Green, Pink and Gold. Most of these come with serial numbers as well, showing their rarity up front. Hobby packs also have a handful of "Wave" parallels that double things up for a few colors. These have an additional fine-line ripple pattern running through the background.
Other patterned Refractors include X-Fractors, which are exclusive to special retail Mega Boxes, and Prism Refractors.
The rarest Refractors are Red and Red Wave, which are both numbered to 5, and the elusive Superfractor. These are one-of-ones and among the most coveted cards in the hobby. Superfractors are biggest in Bowman Chrome Baseball where a lot of players get their first cards and autographs, but they're popular in Topps Chrome as well.
Below is a full gallery of 2019 Topps Chrome Baseball Refractors along with pack odds showing how often they land in specific pack types.
2019 Topps Chrome Refractors Gallery
---
---
---
---
---
---
---
---
---
---
---
---
---
---
---
---
---
---
---
---