One of the mini card inserts in 2019 Topps Allen & Ginter Baseball taps into the distant past of the line — the roots if you will. Over a century ago, Allen & Ginter tobacco cards covered a little bit of this and a whole lot of that. Sure, there were baseball players and other athletes, but many Allen & Ginter sets ventured out into nature and history as well.
Fast forward to 2019 and the revived Allen & Ginter sets itself apart by going beyond baseball and sports. In fact, the natural world inhabits several parts of the set's checklist. There are dogs, baby animals, worldly waterfalls and even plants.
In Bloom is a set of 25 mini cards that focus on flowers frequently found in flourishing gardens. Roses, tulips, marigolds and even Johnny Jump-ups are all included on checklist.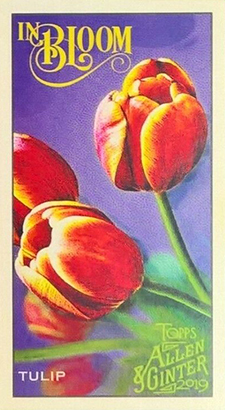 And while the colorful cards are beautiful in their own right, things get a lot more interesting when you get the six Plant Me variations.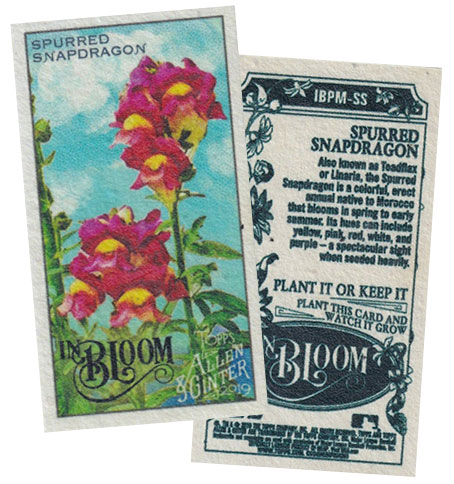 These cards have seeds inside them. But it's not behind a plastic display window like some memorabilia cards or some Allen & Ginter magic bean cards (yes, there's one of those). The seeds are actually part of the card.
How the 2019 Allen & Ginter In Bloom Plant Me Variations Work
Thanks to the magic of science, you could conceivably plant these in a pot and get yourself some actual flowers.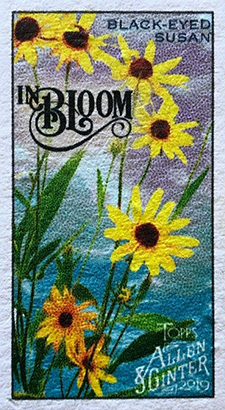 Printed on biodegradable stock, the In Bloom "Plant Me" cards will quickly break down when buried in soil, watered and given proper sunlight. The seeds become sprouts, and sprouts become flowers.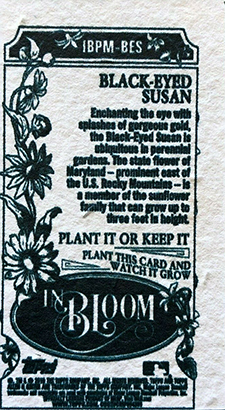 Kind of strange coming from a baseball card, but kind of cool as well.
This isn't the first time Allen & Ginter has included plantable cards. 2011 Topps Allen & Ginter Flora of the World took a similar approach of seeds in cards. This set has five cards with one landing every 1:144 packs.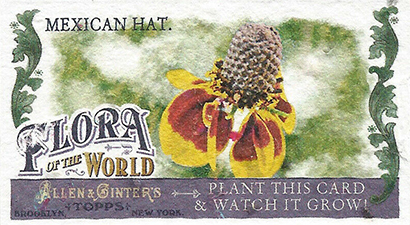 As for the 2019 Topps Allen & Ginter In Bloom "Plant Me" Variations, it's unlikely many will ever find their way into a dirt comforter. The reason being they're so tough to pull. They fall 1:2,327 hobby packs, which is roughly 1:100 boxes.
2019 Topps Allen & Ginter Baseball In Bloom Plant Me Variations Checklist
If you're looking for Plant Me cards, here's a list of what's currently available on eBay.
IBPM-BES Black-Eyed Susan
IBPM-MH Mexican Hat
IBPM-OP Oriental Poppy
IBPM-SA Sweet Alyssum
IBPM-SP Shirley Poppy
IBPM-SS Spurred Snapdragon