2019 Topps Allen & Ginter Baseball is here. And, as usual, there's an eclectic mix of cards (and flower seeds). Here are some of the things you might want to look for or pay a little extra attention to if you're busting packs.
Stained Glass Minis
The Stained Glass Minis are a new addition to 2019 Allen & Ginter. The partial parallel set offers up some of the most distinct cards in the entire product.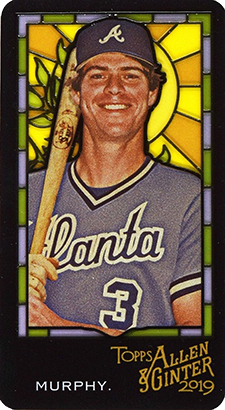 Stained glass inserts are nothing new. 1996 Studio Stained Glass Stars and 1997 Topps Gallery Gallery of Heroes are just a couple of the sets that come to mind, and they're both more than 20-years old. There have been a few others done in a similar style since as well.
The combination of bright colors and plastic-like stock still have tremendous pop even when shrunken down to the mini card format. It's also a refreshing addition that give new life to the minis.
History of Flight
At 1:6 hobby pack, History of Flight is one of the easiest inserts to pull in 2019 Allen & Ginter. The painted images chart the evolution of machines that fly from the Wright Brothers through to space travel. They're both attractive and informative.
If you're piecing it together one card at a time, you might not notice the little surprise that comes with the set. All 15 cards fit together to form a massive panoramic puzzle.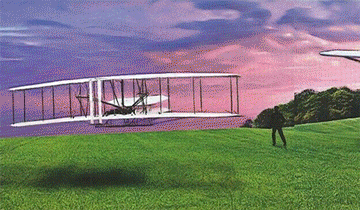 Rip Card Exclusives
Just like the past several years, Rip Cards still feature exclusive mini cards that expand the base set. But they might cause some confusion this year without a checklist handy.
For whatever reason, the 2019 Topps Allen & Ginter base set goes from #1-300, takes a break for 50 cards before the short prints kick in at #351-400.
That's the same territory as the Rip exclusive minis. That means #351-400 all have two different mini cards. The names for each number don't match up, though.
For example, regular Mini #375 is Pat Neshek. The Rip Card exclusive #375 is Ken Griffey Jr.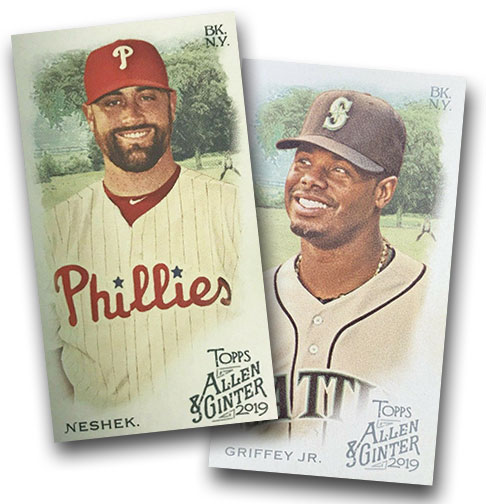 That means you might want to reference a checklist to make sure you know exactly what version you've come across if searching on the secondary market.
Here's a list of the Rip Card Exclusives:
351 Aaron Judge, New York Yankees
352 Al Kaline, Detroit Tigers
353 Albert Pujols, Los Angeles Angeles
354 Babe Ruth, New York Yankees
355 Brooks Robinson, Baltimore Orioles
356 Javier Baez, Chicago Cubs
357 Buster Posey, San Francisco Giants
358 Cal Ripken Jr., Baltimore Orioles
359 Carl Yastrzemski, Boston Red Sox
360 Carlos Correa, Houston Astros
361 Chipper Jones, Atlanta Braves
362 Clayton Kershaw, Los Angeles Dodgers
363 David Ortiz, Boston Red Sox
364 Derek Jeter, New York Yankees
365 Francisco Lindor, Cleveland Indians
366 Frank Thomas, Chicago White Sox
367 George Brett, Kansas City Royals
368 Hank Aaron, Atlanta Braves
369 Ichiro , Seattle Mariners
370 Jackie Robinson, Brooklyn Dodgers
371 Johnny Bench, Cincinnati Reds
372 Jose Altuve, Houston Astros
373 Juan Soto, Washington Nationals
374 Justin Verlander, Houston Astros
375 Ken Griffey Jr., Seattle Mariners
376 Kris Bryant, Chicago Cubs
377 Lou Gehrig, New York Yankees
378 Manny Machado, San Diego Padres
379 Mariano Rivera, New York Yankees
380 Mark McGwire, Oakland Athletics
381 Max Scherzer, Washington Nationals
382 Miguel Cabrera, Detroit Tigers
383 Mike Trout, Los Angeles Angeles
384 Mike Piazza, New York Mets
385 Mookie Betts, Boston Red Sox
386 Nolan Ryan, Houston Astros
387 Pedro Martinez, Boston Red Sox
388 Reggie Jackson, Oakland Athletics
389 Rickey Henderson, Oakland Athletics
390 Roberto Clemente, Pittsburgh Pirates
391 Roger Clemens, New York Yankees
392 Ronald Acuña Jr., Atlanta Braves
393 Ryne Sandberg, Chicago Cubs
394 Sandy Koufax, Los Angeles Dodgers
395 Shohei Ohtani, Los Angeles Angeles
396 Stan Musial, St. Louis Cardinals
397 Steve Carlton, Philadelphia Phillies
398 Ted Williams, Boston Red Sox
399 Tony Gwynn, San Diego Padres
400 Paul Molitor, Milwaukee Brewers
The base checklist (along with the entire 2019 Topps Allen & Ginter checklist) can be seen on our main page for the set.
Chanelling Honus
One card that wasn't on the original checklist but has surfaced is a mini card of Thomas Fish, owner of Blowout Cards.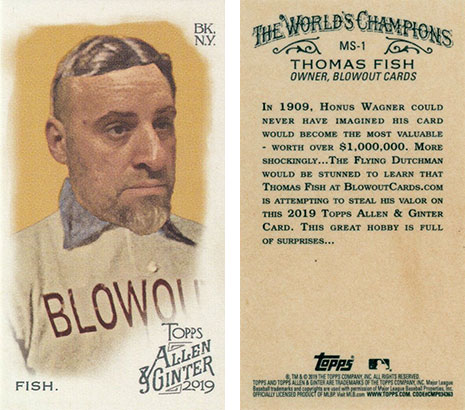 Odds and the print run aren't known, although more than a dozen have shown up online in the first couple of days of release.
Fish also has a small number of autographs in the product.
The Biggest Surprise Might Be the Lack of Surprises
Allen & Ginter is a line that has given us a lot of surprises over the years. Remember the cards hiding in box lids a few years ago? The Glow-in-the-Dark Minis in 2018? Jack's "Magic Beans"?
The Thomas Fish card wasn't on the checklist. The Topps Employee Autographs weren't either, but they're included in the pack odds and are expected at this point as they've been around for many years.
It's still very early, but there doesn't appear to be any massive revelations so far this year. That could change. Surprises are usually on the down-low and might require a bit of a closer inspection.
Normally, though, so much is ripped so quickly that at least a hint of something being different is out there. Not so, thus far. Of course, that doesn't mean there isn't a surprise or two lurking in packs. Sometimes, Ginter gets tricky and manages to throw us off for a while. So it might still be a little early to stop looking and giving up the hunt. But maybe not.