2019 Topps Allen & Ginter Baseball cards are a lot more than baseball. As it has been for more than a decade now, it's one of the farthest reaching sets in the entire hobby. Although America's pastime gets the majority of the attention, there are other sports, areas and oddities that get the cardboard treatment as well including dogs, horses and the zodiac.
As usual, hobby boxes has three total hits. These include autographs, memorabilia cards, Rip Cards and more.
2019 Topps Allen & Ginter Baseball Base Set Basics
The base set totals 350 cards. Sticking with tradition, 50 of these are short prints. As far as players go, veterans, rookies and retired stars are all part of the checklist. Joining them are champions from other sports and pop culture personalities. It's likely some other surprises will make their way into the main set as well. It's worth noting the the "common" cards run #1-300. The short prints skip ahead to #351-400 with nothing in between.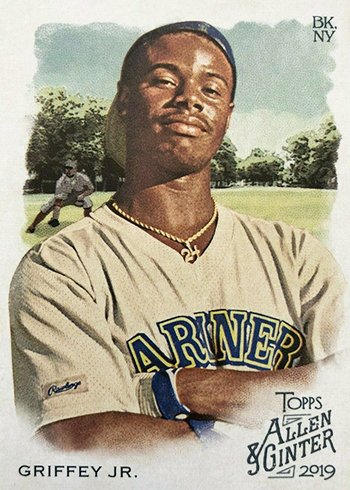 Full-sized parallels come in only a couple of forms. Glossy versions are one-of-ones. Special hot boxes have Gold Bordered parallels not found anywhere else.
Mini parallels are much more plentiful, both in numbers and varieties. In addition to regular Mini parallels, there are Allen & Ginter Back (1:5, 1:65 SP), Black Border (1:10, 1:30 SP), No Number (50 copies each), Brooklyn Back (/25), hobby-exclusive Wood (1/1) and Glossy (1/1).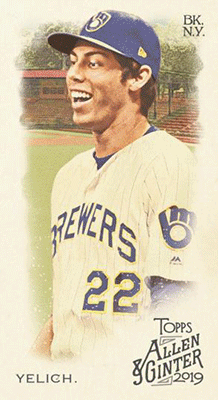 Framed Mini parallels come in a couple of forms. Cloth (/10) are only in hobby packs. Printing Plates (1/1) are also done in frames.
Select cards have even more minis. Stained Glass are new to 2019 Topps Allen & Ginter Baseball. These have 25 copies each. There are also Metal Mini cards, which are limited to three copies. The checklists for both of these have 150 cards.
Autographs
Framed Mini Autographs return for another year with signatures from both baseball and non-baseball stars and personalities. Parallels are available in Black Frame (/25) and hobby-only Red Ink.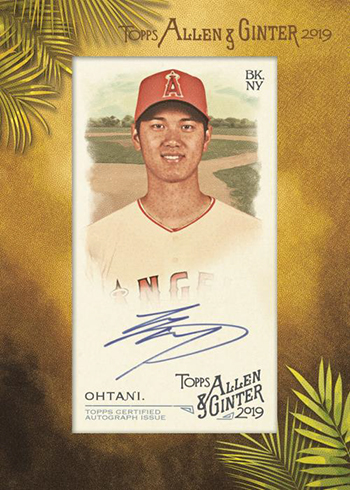 On the autograph memorabilia side, there are a couple of options. Both are extremely tough pulls. Autograph Relic Book cards (/10) have a signature and a jumbo swatch. Dual Autograph Relic Book cards (10) might not have pieces that are as big, but they do have sigs and swatches from a pair of players.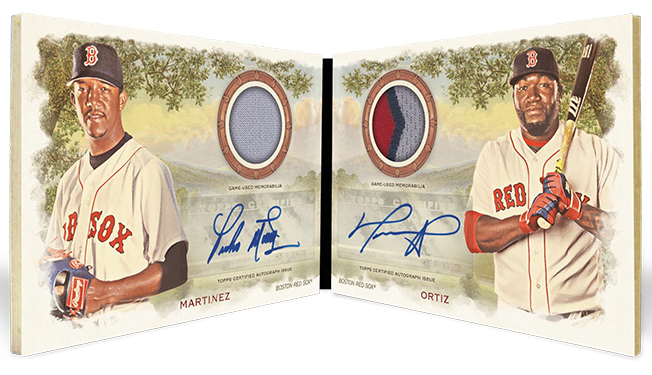 One-of-one Cut Signatures are from celebrities and historical figures.
Relics
Basic memorabilia cards come in both Framed Mini and Full-Size formats. Full-Size Relics has the more eclectic checklist of the two. Not limited to baseball players, other athletes and personalities from the base set have some of their personal items put into cards. Framed Mini Relics are all baseball.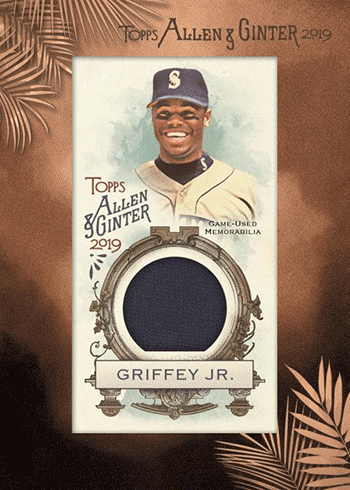 Additional hobby-exclusive relic themes are both more diverse and rare. DNA Relics have fossils. Full-Size Arrow Head Relics (/5) are exactly that. "Have Ball, Will Travel" Token Relics (/5) use transit tokens from past and present players. These hearken back to the 2000 Topps Subway Series FanFare Tokens that took a similar approach with World Series players from the Yankees and Mets.
New Presidential Pieces Mini Relics (/25) include memorabilia from Presidents as well as the White House.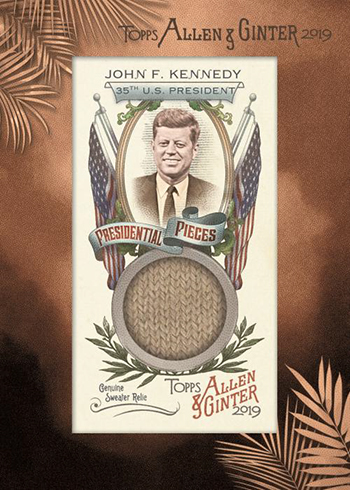 Allen & Ginter Framed Originals go back to A&G's roots from more than a century ago. These are buybacks of antique cards that have been put inside frames.
Inserts
Additional inserts are where 2019 Topps Allen & Ginter Baseball's eclectic nature really shines through when it comes to subjects. Different themes are available as regular-sized cards as well as minis.
Full-size inserts start with Ginter Greats. The 50-card checklist highlights all-time legends.
Baseball Star Signs showcase players with the astrological sign.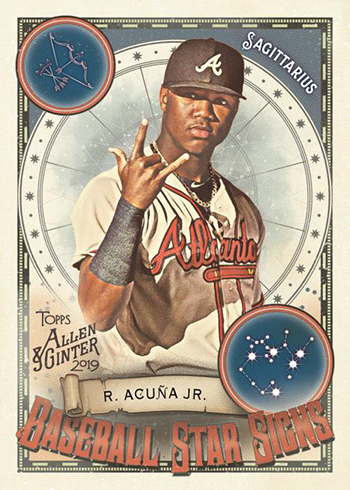 On the non-sport side is The History of Flight, Mares and Stallions, and Incredible Equipment, which look at famous fictional weapons and tools. Incredible Equipment cards have "Relic" versions as well.
Mini inserts include Collectible Canines (dogs), Look Out Below (waterfalls), Lost Languages, In Bloom (flowers and plants), Chugging Along (engines) and Dreams of Blue Ribbons (weird contests).
Rip Cards: To Rip or Not to Rip?
The cornerstone Rip Cards are back, landing at a rated of two per hobby case (1:6 boxes). Available in both single and double formats, these tempt collectors to tear open — thus, destroy — a tough card from a star player to reveal smaller cards inside.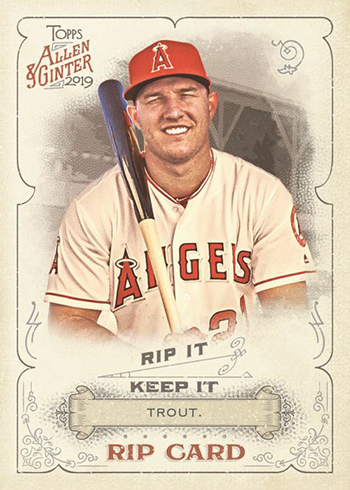 The mini cards within come in a few forms. Among them is a 50-card extension of the base set Mini parallel, taking the checklist to 400 cards. Others include Mini Metal Exclusives (/3), Mini Wood Exclusives (1/1) and one-of-one Artist Originals that have paintings done directly on them.
2019 Topps Allen & Ginter Baseball has new Box Loader Rip Cards. Inside each of these is an exclusive Stained Glass Exclusives cards.
Box Toppers
Every 2019 Topps Allen & Ginter Baseball hobby box comes with a special box topper card.
Allen & Ginter Box Loaders feature baseball players. Autograph versions of select cards have 15 copies each.
N43 Box Loaders use a vintage-inspired design with classic players. Autographs (/15) are also available here.
The waterfalls of Look Out Below also get a bigger box loader version.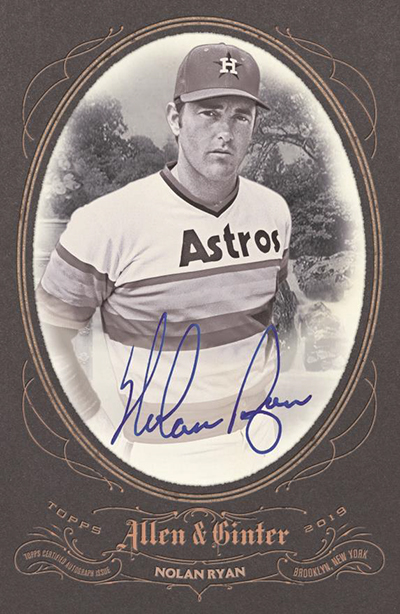 2019 Topps Allen & Ginter Baseball cards at a glance:
Cards per pack: Hobby – 8
Packs per box: Hobby – 24
Boxes per case: Hobby – 12
Set size: 350 cards
Release date: July 17, 2019
Buy 2019 Topps Allen & Ginter Baseball boxes on eBay:
What to expect in a hobby box:
Autographs, Memorabilia Cards, Rip Cards or A&G Originals – 3 Total
Mini Cards – 24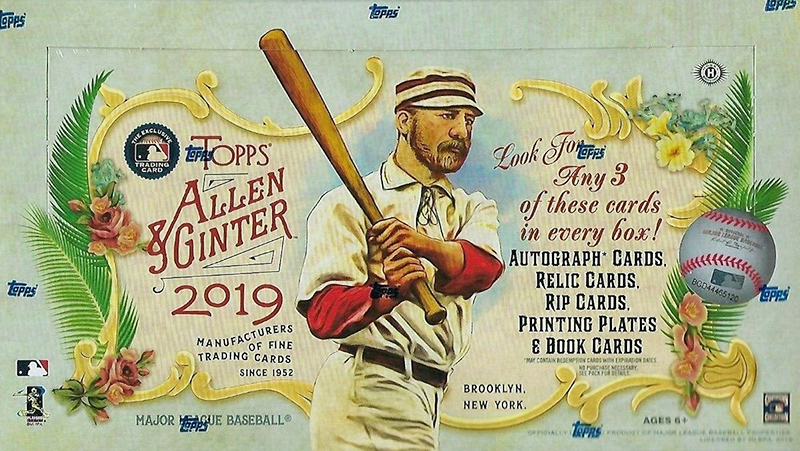 2019 Topps Allen & Ginter Baseball Checklist
Base
Autographs
Memorabilia
Inserts
Team Sets
Odds