2019 Score Football cards lean into the brand's history. And for good reason. Score made its gridiron debut in 1989 so three decades seems like a good reason to celebrate. Card designs, insert themes, parallels and even buybacks are some of the ways that the set looks to the past.
Staying in tune with recent years, 2019 Score Football hobby boxes take a jumbo approach. Each has just ten packs. But inside each of those packs are 40 cards. Across the box, there are four autographs, three dozen inserts, ten parallels and more.
2019 Score Football Base Set Basics
As has been tradition for several years, the 2019 Score Football base set chimes in at 440 cards. Three-quarters of those are vets. Although not an exact replication of the 1989 Score Football design, there are a lot of similarities in the layout.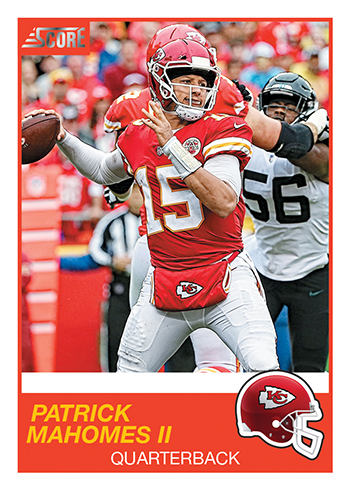 The rookie list runs deep with the remaining 110 cards. First-year players aren't just plentiful on the checklist but in packs as well. Hobby boxes have 96 rookies, which should cover the majority of them. Because the set's release is so close to the 2019 NFL Draft, rookies are pictured in college uniforms and only their schools are mentioned (but if you are curious about their pro teams, they're in the team set lists in the checklist section).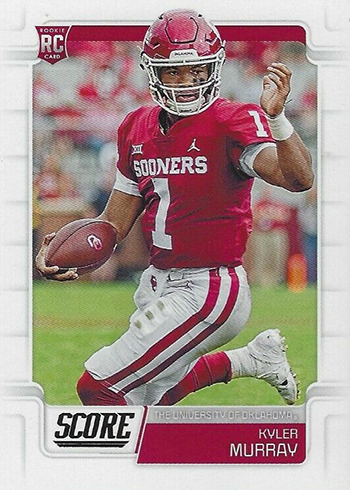 Parallels come with a familiar mix including Scorecard, Gold Zone (/50), Artist Proof (/35), Red Zone (/20), First Down (/10), End Zone (/6) and Gem Masters (1/1). There's also a 30th Anniversary parallel numbered, appropriately, to 30.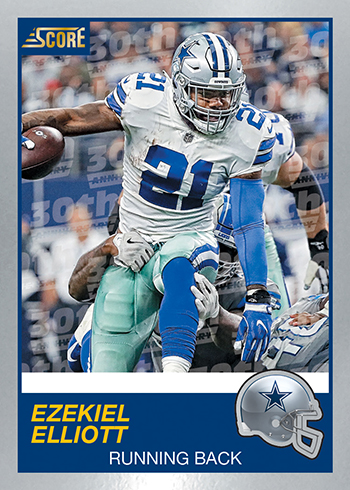 Retail packs have several additional color-based parallels. Regular retail packs have Green versions, which combine to land four per box. Blasters are the place to find Gold cards. Fat Packs have one Red parallel while 60-card hanger boxes come with four Purple exclusives.
Inserts and Autographs
Several insert sets compliment the 2019 Score Football checklist. NFL Draft uses the 1998 Score Football design as inspiration to further showcase the 2019 rookie class.
All-Hands Team and Celebration both use strong photography as a central part of how they work. All-Hands Team is an action-centered set looking at great catches.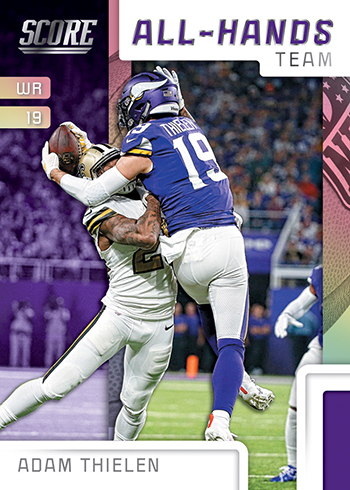 Celebration shows how different teams react after a score.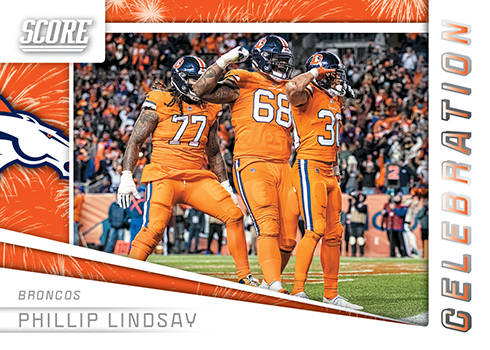 Looking to the past in a different way, Throwbacks show current players wearing uniforms inspired by the past.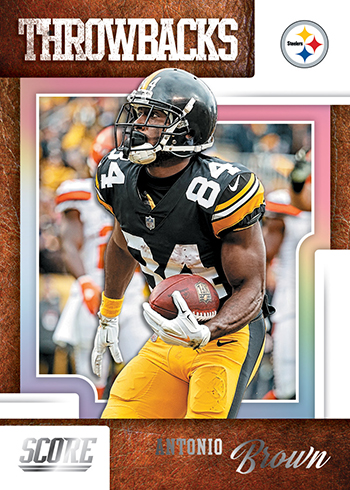 Epix Game, Moment and Season inserts spotlight specific achievements from the 2018 season.
A familiar name is among the autographs in 2019 Score Football. The Inscriptions checklist is where collectors will find signatures from current and past players.
Draft Dual Signatures have a pair of autographs. Each player comes from the same draft class.
2019 Score Football is the first traditional NFL set with autographs from the season's rookie class. Earlier releases, 2019 Panini Prizm Draft Picks and 2019 Panini Contenders Draft Picks, are NCAA sets.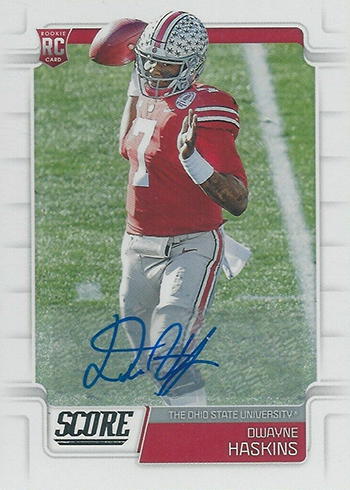 Buybacks of original 1989 Score Football cards are exclusive to hobby, falling at a rate of one per box. These come with a commemorative stamp. A small number of autographs are also in packs.
2019 Score Football cards at a glance:
Cards per pack: 40
Packs per box: 10
Boxes per case: 12
Set size: 440 cards
Release date: May 1, 2019
What to expect in a hobby box:
Autographs – 4
Inserts – 36
Stamped Buybacks – 1
Parallels – 10
2019 Score Football Checklist
Base
Autographs
Memorabilia
Inserts
Team Sets