2019 SAGE Hit Premier Draft Football is an autograph-heavy release highlighting many of the year's prospects. And for the first time in the line's history, on-card autographs are available on some parts of the checklist.
Separate hobby and retail blaster configurations are available with signatures figuring prominently into both. 2019 SAGE Hit Premier Draft Low Series hobby box have a dozen autographs, at least one of which is on-card. Blasters have three autographs.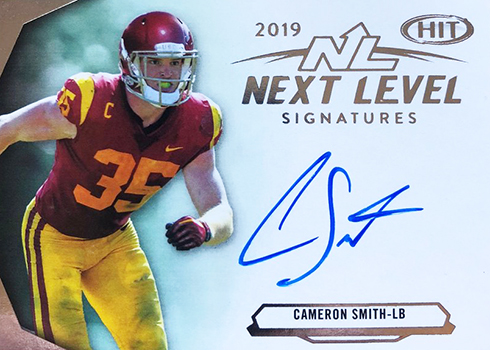 Once again, SAGE Hit Premier Draft has two series, Low and High. Both are similar in card styles and types. It's the players that are different. But put together, they make for a cohesive whole.
2019 SAGE Hit Premier Draft Football Low Series
Low Series is the first out of the gate. A total of 70 base cards are included. Each has hobby Gold and retail Silver parallels. Much of the checklist features traditional player cards, although there are a couple of subsets. Instant Impact cards look back to the 2018 draft. Next Level features some of the best 2019 prospects.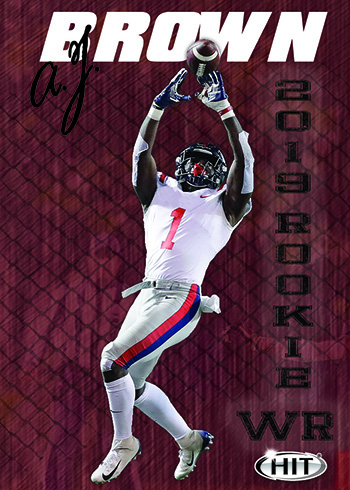 Fifty players have regular autographs in 2019 SAGE Hit Premier Draft Football Low Series packs. These have Black, Red, Gold (/100) and Blue Ice (1/1) parallels.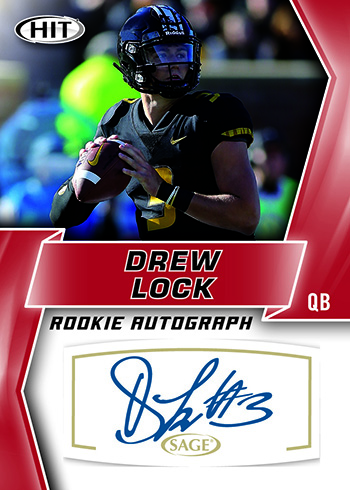 Next Level Autographs are where the on-card signatures are included.
Among the product's regular inserts are Peak Performance and Premium Portraits. Besides basic parallels, these also have autographed versions.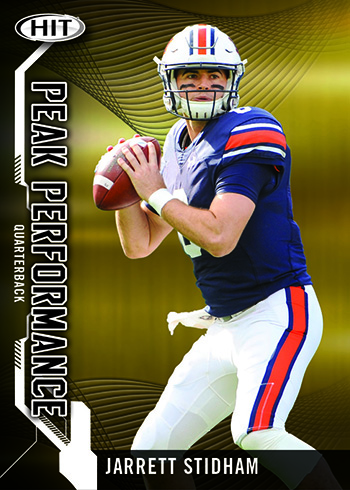 In addition to the dozen autographs, hobby boxes have 20 inserts and 20 parallels. This works out to one per pack. Blasters have seven packs of just base cards. The eighth pack has the three autographs as well as six parallels and one Patrick Mahomes card.
2019 SAGE Hit Premier Draft Football at a glance:
Cards per pack: Hobby – 6, Blaster – 10
Packs per box: Hobby – 20, Blaster – 8
Boxes per case: Hobby – 16, Blaster – 20
Set size: 70 cards
Release date: March 8, 2019
What to expect in a hobby box:
Autographs – 12
Inserts – 20
Parallels – 20
What to expect in a blaster box:
Autographs – 3
Parallels – 6
Patrick Mahomes Card – 1
2019 SAGE Hit Premier Draft Football Checklist
Currently, the checklist features only cards available in Low Series packs.
Base
Base Set Checklist
70 cards.
Parallels:
Gold – (hobby packs only)
Silver – (retail packs only)
1 Nick Bosa
2 Noah Fant
3 Iman Marshall
4 David Edwards
5 Mike Weber Jr.
6 Hjalte Froholdt
7 John Santiago
8 Drew Lock
9 Deebo Samuel
10 Dre'Mont Jones
11 T.J. Edwards
12 Devin Singletary
13 Terry Mclaurin
14 Blace Brown
15 Deionte Thompson
16 Gary Johnson
17 Jakobi Meyers
18 Michael Walker
19 Dakota Allen
20 Justice Hansen
21 Keesean Johnson
22 Caleb Wilson
23 Mecole Hardman
24 Trenton Irwin
25 Christian Wilkins
26 Kerrith Whyte Jr.
27 David Long Jr.
28 Nate Herbig
29 Charles Omenihu
30 Tre Watson
31 Rob Rolle IV
32 Brad Mayes
33 Michael Deiter
34 A.J. Brown
35 Alex Barnes
36 Cameron Smith
37 Rodney Anderson
38 Diontae Johnson
39 Beau Benzschawel
40 Winston Dimel
41 Chase Winovich
42 Dre Greenlaw
43 Marquis Young
44 Will Grier
45 Gerri Green
46 Stephen Louis
47 Jarrett Stidham
48 Jerome Washington
49 TBA – Instant Impact
50 TBA – Instant Impact
51 TBA – Instant Impact
52 TBA – Instant Impact
53 TBA – Instant Impact
54 TBA – Instant Impact
55 TBA – Instant Impact
56 TBA – Instant Impact
57 TBA – Instant Impact
58 TBA – Instant Impact
59 TBA – Instant Impact
60 TBA – Instant Impact
61 TBA – Instant Impact
62 Dwayne Haskins – Next Level
63 D.K. Metcalf – Next Level
64 Damien Harris – Next Level
65 Zach Allen – Next Level
66 Devin White – Next Level
67 Kyle Shurmur – Next Level
68 Drew Lock – Next Level
69 Marquise Brown – Next Level
70 Brett Rypien – Next Level
Autographs
2019 SAGE Hit Premier Draft Football Autographs Checklists
Autographs
50 cards.
Parallels:
Black
Red
Gold – /100
Blue Ice – 1/1
A1 Nick Bosa
A2 John Santiago
A3 Rodney Anderson
A4 Iman Marshall
A5 Mike Weber Jr.
A6 Noah Fant
A7 Terry Mclaurin
A8 Brad Mayes
A9 Deebo Samuel
A10 Tre Watson
A11 Rob Rolle IV
A12 Devin Singletary
A13 T.J. Edwards
A14 Caleb Wilson
A15 Alex Barnes
A16 Dre'Mont Jones
A17 Christian Wilkins
A18 Charles Omenihu
A19 Chase Winovich
A20 Michael Deiter
A21 Nate Herbig
A22 Beau Benzschawel
A23 David Long Jr.
A24 Kerrith Whyte
A25 Hjalte Froholdt
A26 Dre Greenlaw
A27 Winston Dimel
A28 Drew Lock
A29 David Edwards
A31 Will Grier
A32 Mecole Hardman
A33 Jakobi Meyers
A34 Gary Johnson
A35 Diontae Johnson
A36 Cameron Smith
A37 Trenton Irwin
A38 Michael Walker
A39 Keesean Johnson
A40 Justice Hansen
A41 Blace Brown
A42 Deionte Thompson
A43 Jarrett Stidham
A44 Marquis Young
A45 A.J. Brown
A53 Dakota Allen
A67 Gerri Green
A83 Eurndraus Bryant
A84 Dexter Wright
A86 Braxton Hoyett
A87 Juwan Foggie
Next Level Autographs
47 cards.
Available in Low and High Series packs.
Parallels:
Red
Silver – /25
Gold – /10
Blue – /5
Blue Ice – 1/1
NL-AB Alex Barnes
NL-AJB A.J. Brown
NL-AO Amani Oruwariye
NL-AW Aca'Cedric Ware
NL-BB Brian Burns
NL-BR Brett Rypien
NL-CB Caleb Wilson
NL-CG Carl Granderson
NL-CS Cameron Smith
NL-CT Clayton Thorson
NL-CW1 Christian Wilkins
NL-CW2 Chase Winovich
NL-DA Dakota Allen
NL-DH1 Damien Harris
NL-DH2 Dwayne Haskins
NL-DJ Dre'Mont Jones
NL-DJ2 Daniel Jones
NL-DK Davis Koppenhaver
NL-DKM D.K. Metcalf
NL-DL Drew Lock
NL-DS Deebo Samuel
NL-DS2 Devin Singletary
NL-DT Dionte Thompson
NL-DW Devin White
NL-EH Emanuel Hall
NL-IM Iman Marshall
NL-JD Jake Dolegala
NL-JH Justice Hansen
NL-JL Johnathan Lloyd
NL-JO Josh Oliver
NL-JS Jarrett Stidham
NL-JS Jeffery Simmons
NL-KD Keelan Doss
NL-KS Kyle Shurmur
NL-MB Marquise Brown
NL-MH Mecole Hardman
NL-MW Mike Weber Jr.
NL-MY Marquis Young
NL-NB Nick Bosa
NL-NF Noah Fant
NL-RA Rodney Anderson
NL-RF Ryan Finley
NL-TJE Tj Edwards
NL-TM Terry Mclaurin
NL-WD Winston Dimel
NL-WG Will Grier
NL-ZA Zach Allen
Peak Performance Autographs
33 cards.
Parallels:
Silver
Red – /25
Gold – /10
Blue – /5
Blue Ice – 1/1
PKA-AB Alex Barnes
PKA-BM Brad Mayes
PKA-BR Brett Rypien
PKA-CS Cameron Smith
PKA-CW1 Christian Wilkins
PKA-CW2 Caleb Wilson
PKA-DH1 Damien Harris
PKA-DIj Diontae Johnson
PKA-DKM DK Metcalf
PKA-DS1 Deebo Samuel
PKA-DS2 Devin Singletary
PKA-EH Emanuel Hall
PKA-IM Iman Marshall
PKA-JD Jake Dolegala
PKA-JH Justice Hansen
PKA-JM Jakobi Meyers
PKA-JS John Santiago
PKA-JS2 Jarrett Stidham
PKA-KJ Keesean Johnson
PKA-KS Kyle Shurmur
PKA-KW Kerrith Whyte
PKA-MH Mecole Hardman Jr.
PKA-MVP Patrick Mahomes
PKA-MW Mike Weber Jr.
PKA-MY Marquis Young
PKA-NB Nick Bosa
PKA-NF Noah Fant
PKA-RA Rodney Anderson
PKA-TI Trenton Irwin
PKA-TM Terry Mclaurin
PKA-TW Tre Watson
PKA-WD Winston Dimel
PKA-WG Will Grier
Premium Portraits Autographs
15 cards.
Parallels:
Red
Silver – /25
Gold – /10
Blue – /5
Blue Ice – 1/1
PPA-01 Drew Lock
PPA-02 Alex Barnes
PPA-03 Jarrett Stidham
PPA-04 Devin White
PPA-05 Devin Singletary
PPA-06 Mike Weber Jr.
PPA-07 Marquise Brown
PPA-08 Jakobi Meyers
PPA-09 Emanuel Hall
PPA-10 Charles Omenihu
PPA-11 Justice Hansen
PPA-12 Rodney Anderson
PPA-13 Terry Mclaurin
PPA-14 Will Grier
PPA-15 Carl Granderson
Inserts
2019 SAGE Hit Premier Draft Football Inserts Checklists
Aspire
5 cards.
Parallels:
Gold – (hobby packs only)
Silver – (retail packs only)
ASP-1 Patrick Mahomes
ASP-2 Patrick Mahomes
ASP-3 Patrick Mahomes
ASP-4 Patrick Mahomes
ASP-5 Patrick Mahomes
Peak Performance
33 cards.
Parallels:
Silver
Red – /25
Gold – /10
Blue – /5
Cracked Ice – 1/1
PK-AB Alex Barnes
PK-BM Brad Mayes
PK-BR Brett Rypien
PK-CS Cameron Smith
PK-CW1 Christian Wilkins
PK-CW2 Caleb Wilson
PK-DH1 Damien Harris
PK-DIj Diontae Johnson
PK-DKM DK Metcalf
PK-DS1 Deebo Samuel
PK-DS2 Devin Singletary
PK-EH Emanuel Hall
PK-IM Iman Marshall
PK-JD Jake Dolegala
PK-JH Justice Hansen
PK-JM Jakobi Meyers
PK-JS John Santiago
PK-JS2 Jarrett Stidham
PK-KJ Keesean Johnson
PK-KS Kyle Shurmur
PK-KW Kerrith Whyte
PK-MH Mecole Hardman Jr.
PK-MVP Patrick Mahomes
PK-MW Mike Weber Jr.
PK-MY Marquis Young
PK-NB Nick Bosa
PK-NF Noah Fant
PK-RA Rodney Anderson
PK-TI Trenton Irwin
PK-TM Terry Mclaurin
PK-TW Tre Watson
PK-WD Winston Dimel
PK-WG Will Grier
Premium Portraits
15 cards.
Parallels:
Gold – (hobby packs only)
Silver – (retail packs only)
PP-01 Drew Lock
PP-02 Alex Barnes
PP-03 Jarrett Stidham
PP-04 Devin White
PP-05 Devin Singletary
PP-06 Mike Weber Jr.
PP-07 Marquise Brown
PP-08 Jakobi Meyers
PP-09 Emanuel Hall
PP-10 Charles Omenihu
PP-11 Justice Hansen
PP-12 Rodney Anderson
PP-13 Terry Mclaurin
PP-14 Will Grier
PP-15 Carl Granderson