2019 Rittenhouse Twin Peaks Archives trading cards are the followup to the company's set from the previous year. Covering both the original series and the revival, it has some familiar elements as well as some new ones.
Autographs are the central chase element once again, landing two per box. But there are a few different types available including ones with inscriptions as well as new dual autograph combinations.
Twin Peaks Archives has several other inserts as well.
2019 Rittenhouse Twin Peak Archives Overview
The base set has a total of 72 cards. Rather than recapping key plot points, the set focuses on the characters and the many layers of relationships.
Autographs come in three different types. First up are the traditional autographs, which have a signature from one of the show's actors.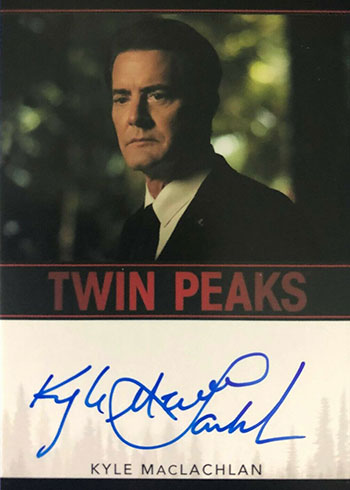 Inscription Autographs add a little extra in the form of a new to go with the signature. This might be a memorable quote, their character's name or something else that gives the card a more personalized tough.
Finally, Dual Autographs return with a pair of signatures. Sherilyn Fenn (Audrey Horne) and Billy Zane (John Justice Wheeler) are among the pairs.
Other signers in the set include Kyle MacLachlan, Richard Beymer, Sheryl Lee and Michael Ontkean.
Other Inserts
2019 Rittenhouse Twin Peaks Archives has plenty of other inserts.
Relationship cards center on the Limited Event revival series. These are relatively easy to pull at 1:8 packs. However, with 45 cards in the set, finishing it will be a bit of a challenge.
Original Stars of Twin Peaks has a total of 27 cards with two in each hobby box.
Quotable (12 cards), Scratch-n-Sniff (nine cards) and Welcome to Twin Peaks (18 cards) are all 1:24 packs, or one per box.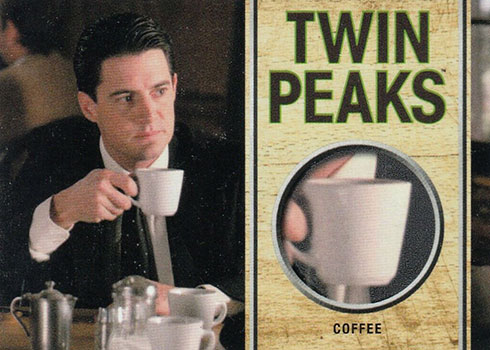 Rounding out the inserts are Twin Peaks Sheriff's Department Patches (seven cards, 1:288 packs) and special Casino Chip cards. The chips in the cards are in tact.
2019 Rittenhouse Twin Peaks Archives Incentives
As per usual for Rittenhouse, there are some extra cards available to those ordering multiple cases from the company. It starts with a nine-case incentive Dual Autograph signed by Madchen Amick and the late Peggy Lipton.
Those purchasing 18 cases receive a special Archives Box. Among the contents are found matching Printing Plates, an exclusive "Broken" Casino Chip card and ten variations autographs from Billy Zane, Eric DaRe, Robert Forster, Victoria Catlin. These are different from their more common regular autograph cards. They're also not in regular packs.
2019 Rittenhouse Twin Peaks Archives trading cards at a glance:
Cards per pack: 5
Packs per box: 24
Boxes per case: 12
Set size: 72 cards
Release date: October 30, 2019
What to expect in a hobby box:
Autographs – 2
Quotable Twin Peaks – 1
Relationships – 3
Scratch-n-Sniff – 1
Stars – 2
Welcome to Twin Peaks – 1
2019 Rittenhouse Twin Peaks Archives Checklist
Base
Autographs
Inserts
Promo Cards