2019 Rittenhouse Twilight Zone: Rod Serling Edition marks the first set of trading cards for the iconic series in a decade. Covering every season, it offers up a comprehensive look at the show.
Autographs play a big role in the product, as well. This includes some new autograph types, some new signers and a decent amount of cut signatures of the show's creator and set's namesake.
2019 Rittenhouse Twilight Zone: Rod Serling Edition Base Set Basics
The base set is a fairly big one. Arriving with 156 cards, every episode from every season is included. These feature the opening and closing monologues delivered by Serling to bookend each show.
Although Rittenhouse has done several sets of Twilight Zone trading cards since they debuted the license in 1999, this is only the second one to have every episode in one go. It's the first base set they've done to give each show its own card.
Autographs and Inserts
Autographs combine to land two per box in 2019 Rittenhouse Twilight Zone: Rod Serling Edition.
The original autograph design that the card maker has used throughout its run returns. And it's bringing several new signers for the series. Leading this list is late Academy Award winner, Martin Landau. The actor passed away in 2017, giving a hint at how long this set has been in the works.
Other new Twilight Zone autograph signers include Ann Jillian, Stephen Talbot, John Considine, Barbara Barrie, Nehemiah Persoff, Shelley Fabares, Denise Lynn, Jim Houghton, and Jim E. Titus.
2019 Rittenhouse Twilight Zone: Rod Serling Edition adds Inscription Autographs. These have a short note to go with the signature. Among these signers are Ron Howard, William Shatner, Cloris Leachman and Bill Mumy.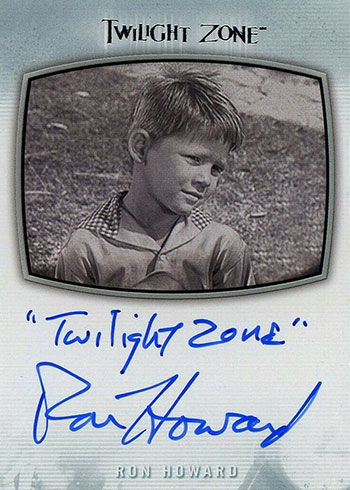 A total of 50 Rod Serling cut signature cards are available in the product.
According to Rittenhouse, Dual Autographs are also randomly inserted.
Five additional insert sets are part of the checklist. Juan Ortiz provides artwork for two of these. Juan Ortiz Portfolio Prints is a big 92 cards. These offer up stylized interpretations for the episodes Serling wrote or adapted. Nine Juan Ortiz Character Art Portfolio Prints delve into some of the most memorable faces from The Twilight Zone's run.
Additional inserts include Stars of The Twilight Zone (18 cards), Mirror/Mirror (nine cards) and Serling's Opening Monologue (six cards).
Case Incentives
2019 Rittenhouse Twilight Zone: Rod Serling Edition has a couple of case incentives. The first, which is given out for every nine cases ordered, is a Dual Autograph with signatures from Cloris Leachman and Bill Mumy. The two starred together in the episode "It's a Good Life."
The 18-case incentive is a special Archive Box. Among its contents is three sets of four matching Printing Plates.
2019 Rittenhouse Twilight Zone: Rod Serling Edition at a glance:
Cards per pack: 5
Packs per box: 24
Boxes per case: 12
Set size: 156 cards
Release date: July 24, 2019
What to expect in a hobby box:
2019 Rittenhouse Twilight Zone: Rod Serling Edition Checklist
Base
Autographs
Inserts
Promo Cards