2019 Rittenhouse Star Trek Inflexions Checklist and Details
2019 Rittenhouse Star Trek Inflexions trading cards cover a lot of the franchise's legacy. And it's doing so with a high-end configuration that includes an autograph in every pack. As a whole, the checklist encompasses five different shows plus films. The variety carries over into other parts of the product as well with signatures and inserts both taking on a variety of forms.
2019 Rittenhouse Star Trek Inflexions Base Set and Inserts
Spanning 100 cards, the base set takes a mirror foil approach. Each card includes multiple images, covering the Starfleet's Finest — the various Bridge Crews from the franchise.
Parallels come in a couple of basic forms: White (/150), Silver (/75) and Printing Plates (1/1). There's also an Onyx version of the set that comes in special Archive Boxes, which are given out as 18-case incentives. These have 40 copies each. Inflexions also has additional sketch cards as well.
A Quintuple Captains Relic Card has pieces of material from Captain Kirk, Picard, Sisko, Janeway and Archer. A Deep Space Nine relic card features memorabilia from sever characters.
The captains theme carries over to 50th Anniversary Stamp Cards (/125). Each of these has an official stamp from Canada Post embedded in the card.
Kevin Graham has a series of Starfleet's Finest Painted Portraits (/50) metal cards of key crew members.
Phaser Cut Bridge Crew (/100), Laser Cut Villains (/100), Metal Expressions of Heroism (/150) and Throwback Stickers are among the other inserts in 2019 Rittenhouse Star Trek Inflexions.
Autographs
Of the three autographs in every hobby box, there are a couple of certainties. One is guaranteed to come from a Bridge Crew member, which rank as some of the most recognizable and desirable signatures to come from the franchise.
A movie-themed autograph is also guaranteed in each box.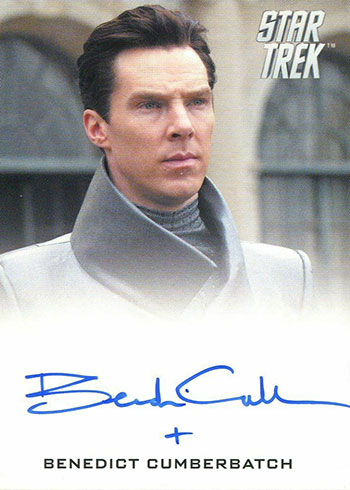 As far as designs go, there are a few. The 50th Anniversary and Movies layouts are the primary ones. There's also a small number of Autograph Relics, Quotable DS9 and Quotable Voyager cards.
Signers for 2019 Star Trek Inflexions include Leonard Nimoy, Benedict Cumberbach, Patrick Stewart, Whoopi Goldberg, Jason Alexander, Brent Spiner, Nichelle Nicholes, Jeri Ryan, Jonathan Frakes, Marina Sertis, Christopher Plummer, Malcolm McDowell and more.
Among the Dual Autograph Booklet pairings are William Shatner and Avery Brooks, Cumberbach and Ricardo Montalbon, and George Takei and Grace Whitney.
This set follows a similarly high-end Game of Thrones Inflexions release from earlier in 2019.
A binder's available separately that comes with an exclusive promo card.
2019 Rittenhouse Star Trek Inflexions has a print run of 350 cases, each of which has 20 boxes.
2019 Rittenhouse Star Trek Inflexions trading cards at a glance:
Cards per pack: 6
Packs per box: 3
Boxes per case: 20
Set size: 100 cards
Release date: December 18, 2019
What to expect in a 2019 Rittenhouse Star Trek Inflexions hobby box:
Bridge Crew Autographs – 1
Movie Autographs – 1
Additional Autographs – 1
Inserts – 6
2019 Rittenhouse Star Trek Inflexions Checklist
Base
Autographs
Memorabilia
Inserts
Promos