Rittenhouse Archives is no stranger to space. Star Trek has been a cornerstone for the card maker since the beginning. Other galactic franchises they've covered include Lost in Space, Farscape, Battlestar Galactica, Stargate SG-1 and more. Now they're boldly going somewhere new. 2019 Rittenhouse Orville Season 1 trading cards introduce collectors to the world of the Seth McFarlane comedy-drama.
The checklist is a fairly expansive mix of cards with boxes coming with a pair of autographs.
2019 Rittenhouse Orville Season 1 Trading Cards Overview
The show's first season is summed up with a 72-card base set. With just a dozen episodes to cover, that means six cards each. So lots of images and information.
The list of confirmed autographs has many of the main actors from the show including Adrianne Palicki (Cmdr. Kelly Grayson), Scott Grimes (Lt. Gordon Malloy), Penny Johnson Jerald (Dr. Claire Finn), Peter Macon (Lt. Cmdr. Bortus) and Mark Jackson (Isaac).

The checklist also features some notable guest stars, such as Rob Lowe, Sean Austin, Kelly Hu and Robert Picardo.
MacFarlane is not among the confirmed signers.
2019 Rittenhouse Orville Season 1 trading cards feature several chase sets to help round out the checklist. Key characters are given the spotlight in eight Bridge Crew cards, which land 1:24 packs. These also have tough Mirror versions that are a case hit at 1:288 packs.
Other inserts include Off-Duty (seven cards), Quotable (12 cards), The Orville Ship (nine cards), and Tour The Orville (nine cards). Each of these fall approximately one per box.
Ten Wardrobe Relic cards with memorabilia from the show are also available.
Incentives
Those ordering in bulk from Rittenhouse can qualify for some exclusive incentive cards. The six-case card is a Dual Autograph from Robert Picardo and Molly Hagan.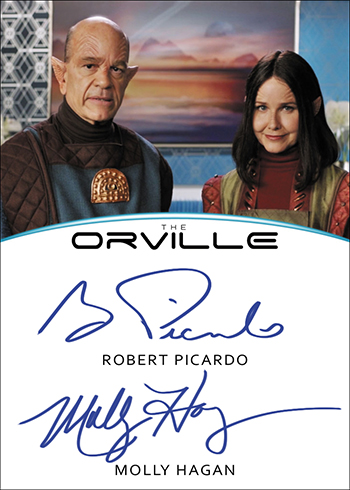 Signatures from Adrianne Palicki and Rob Lowe appear together on the nine-card Dual Autograph.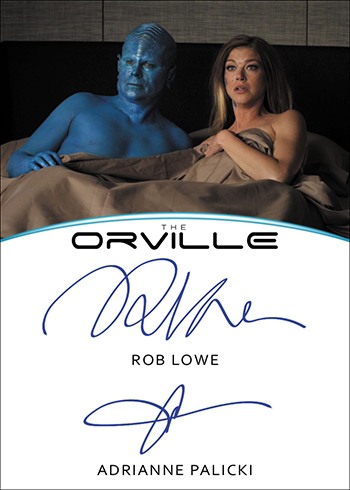 Those purchasing 18 cases get a special Archive Box.
2019 Rittenhouse Orville Season 1 trading cards at a glance:
Cards per pack: 5
Packs per box: 24
Boxes per case: 12
Set size: 72 cards
Release date: February 27, 2019
What to expect in a hobby box:
Autographs – 2
Bridge Crew – 1
Off-Duty – 1
Quotable – 1
The Orville Ship – 1
Tour the Orville – 1
2091 Rittenhouse Orville Season 1 Checklist
Autographs Checklists
The following is a list of signers confirmed for the set. It is subject to change and more names could be added.
Autographs
1:12 packs.
Seth Austin as The Clown
Larry Joe Campbell as Ch. Eng. Steve Newton
Scott Grimes as Lt. Gordon Malloy
Kelly Hu as Admiral Ozawa
Mark Jackson as Isaac
Penny Johnson Jerald as Dr. Claire Finn
Dylan Kenin as Krill Captain Haros
Robert Knepper as Hamelac
Rob Lowe as Darulio
Peter Macon as Lt. Cmdr. Bortus
Adrianne Palicki as Cmdr. Kelly Grayson
Robert Picardo as Ildis Kitan
Giorgia Whigham as Lysella
Dual Autographs
Rob Lowe as Darulio/Adrianne Palicki as Kelly Grayson
Robert Picardo as Ildis Kitan/Molly Hagan as Drenala Kitan