2019 Playoff Football Checklist, Team Set Lists and Details
2019 Playoff Football is one of those products that offers a little bit of everything. While not particularly high-end, it still has two autographs and a pair of memorabilia cards per box. Every pack also averages two total inserts and parallels. And for those who like building sets, it might not be the biggest one of the year, but it has some depth and is attainable.
2019 Playoff Football Base Set Basics
A total of 300 cards make up the main 2019 Playoff set. The first 200 are a mix of veterans and retired greats. Rookies round out the final third of the checklist. And with 100 of them, it's not just your typical top names. With one rookie per pack, they might also prove to be a little tougher for those working on the set, but not impossible.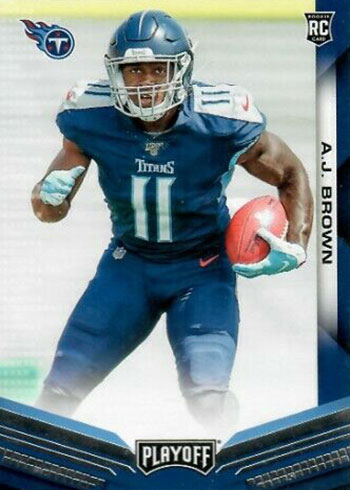 Parallels mimic the progression down the field. These include Goal Line, Kickoff, Red Zone, 1st Down (/99), blaster-exclusive 2nd Down (/49), 3rd Down (/25), 4th Down (/10) and Touchdown (1/1).
Autographs and Memorabilia Cards
Rookie Autographs make up a lot of 2019 Playoff's signature checklist. These use a design similar to the base set with the autograph added. Parallels are limited to Red Zone and Touchdown (1/1). Half of the players also have Rookie Autograph Variations.
Contenders Rookie Ticket Preview autographs return to Playoff. These offer a glimpse at what collectors can look for in 2019 Contenders Football. Blue, Green and Blue Variation versions max out at 23 copies each while Green Variations have just five.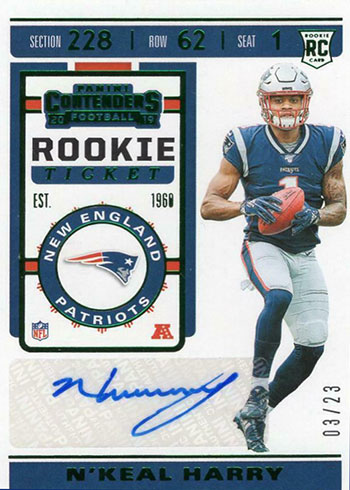 Veteran ink can be found in Game Day Signatures while NFL legends are in Hall of Fame Autographs.
The Game Day theme returns in 2019 Playoff Football's memorabilia lineup. They're joined by Accolades, Rookie Stallions and Turning Pro Memorabilia. All relics have Prime versions that are numbered to 50.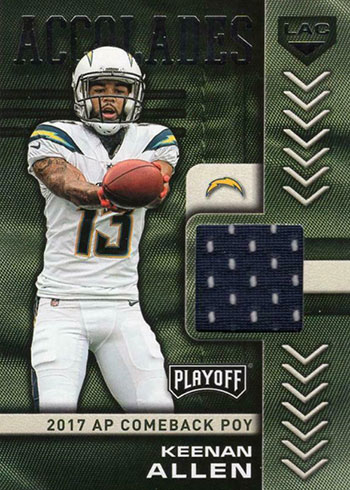 Other Inserts
2019 Playoff Football reaches into its past for many of its inserts. For these, designs are as distinct in their design as they are in their themes.
Air Command brings out the fighter jets to highlight top quarterbacks. Thunder and Lightning features teammates with a design reminiscent of the Costacos Brothers posters that hung on bedroom walls in the 1990s. Other inserts include Rookie Wave and Star Gazing.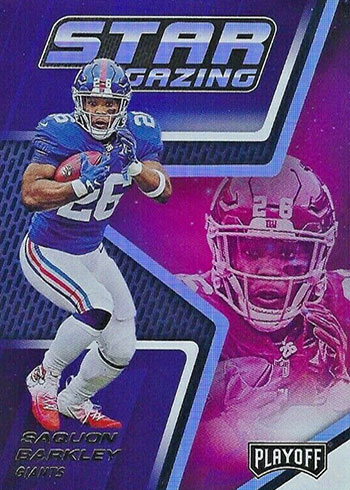 All have one-of-one Touchdown parallels.
2019 Playoff Football cards at a glance:
Cards per pack: Hobby – 8, Blaster – 8
Packs per box: Hobby – 12, Blaster – 7
Boxes per case: 20
Set size: 300 cards
Release date: November 6, 2019
Shop for 2019 Playoff Football boxes on eBay:
What to expect in a hobby box:
Autographs – 2
Memorabilia Cards – 2
Inserts – 20
Parallels – 4
2019 Playoff Football Checklist
Base
Autographs
Memorabilia
Inserts
Team Sets