Not everyone is going to get a one-of-one card from 2019 Panini Xr Football, but many will. The hits-heavy product averages a one-of-a-kind autograph patch card in every hobby case. The checklist features a lot more than that, with lots of combinations of signatures and memorabilia, particularly when it comes to rookies.
Each hobby box, which has just two packs, includes a pair of autographs and one memorabilia card.
2019 Panini Xr Football Base Set Basics
The main set is a mix of veterans and rookies, each with their own sections on the checklist. Panini describes the cards' construction as being "sleek, dull holographic card stock."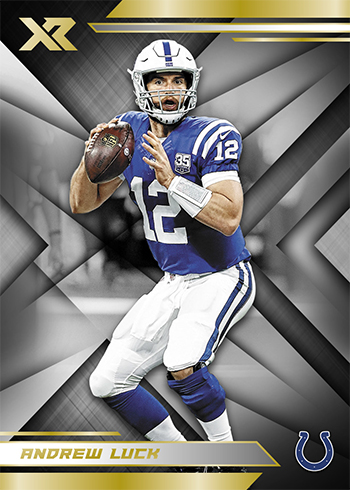 Parallels include Red (/299), Blue (/199), Orange (/99), Gold (/10), Green (/5), Printing Plates (1/1) and Black (1/1).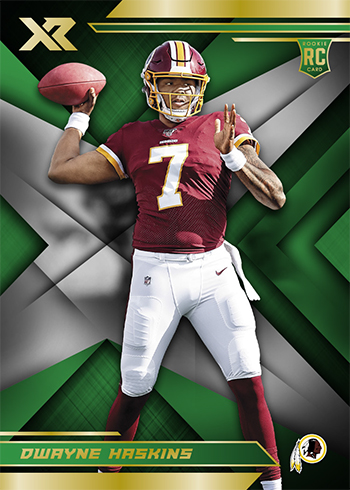 Autographs and Memorabilia Cards
The hits start with Rookie Swatch Autographs. These come with a handful of parallels including Red (/199), Blue (/75), Orange (/49), Gold (/25) and Green (/10). As for one-of-ones, these cards each have 11 different versions. This is a commonality among many of the memorabilia inserts in 2019 Xr.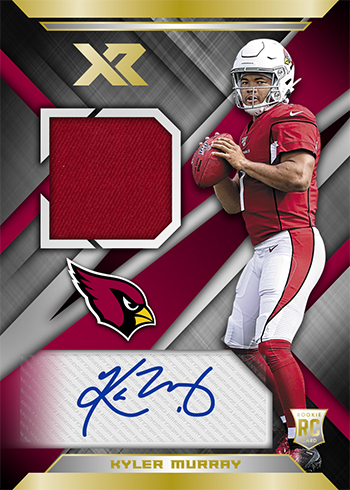 Rookie Triple Swatch Autographs come with three pieces of memorabilia and a signature. Red (/75), Blue (/49), Orange (/25), Gold (/10) and Green (/5) start the parallels. These have a dozen different one-of-one versions to chase.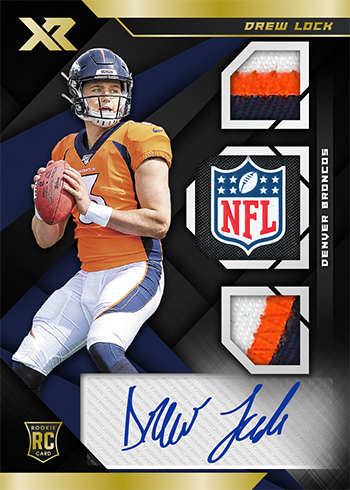 Rookie XL Swatch Autographs get their name from their jumbo memorabilia pieces. Parallel versions include Red (/75), Blue (/49), Orange (/25), Gold (/10), Green (/5) and 12 different one-of-one types.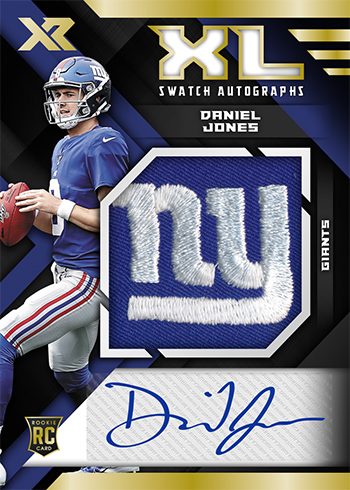 New for 2019 are Rookie Xcellence Autograph Swatches. Memorabilia on these are displayed with a die-cut window shaped like an 'X.' Parallel types here aren't quite as numerous: Gold (/25), Green (/5), Printing Plates (1/1), Super Prime (1/1) and Tag (1/1).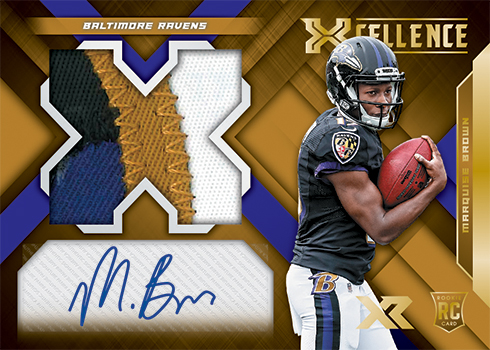 Luminous Endorsements return. A total of 40 rookies are on the checklist. The signatures are on acetate layered over top of a background that includes multiple images of the player. Parallels come in Blue (/49), Orange (/25), Gold (/10), Green (/5) and Black (1/1).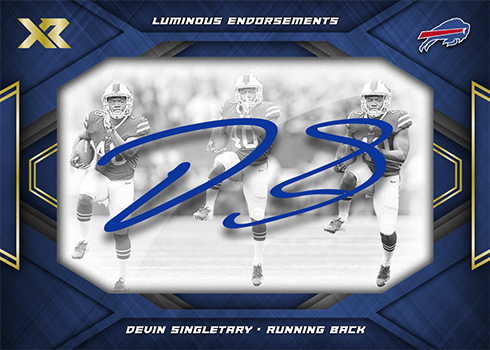 More signatures can be found in Acclaimed Autographs, which count Gold (/10) and Black (1/1) among its versions.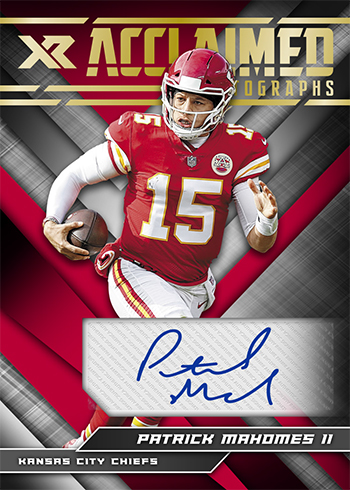 Not all of the one-of-ones in 2019 Panini Xr Football are parallels. Every card in NFL Shields has just one copy.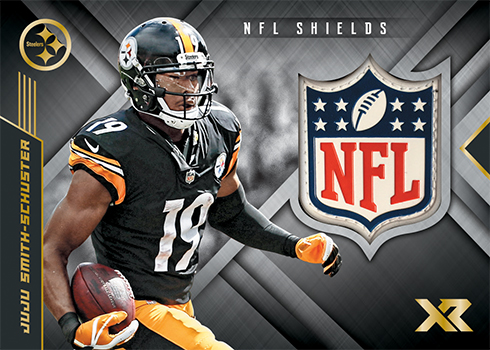 To get so many one-of-ones into so many parts of the product, 2019 Panini Xr Football uses a variety of memorabilia types. These include pieces of team logo patches, Nike logos, NFL Shields, footballs, gloves, cleats and draft caps.
2019 Panini Xr Football cards at a glance:
Cards per pack: 7
Packs per box: 2
Boxes per case: 15
Set size: 240 cards
Release date: September 18, 2019
What to expect in a hobby box:
Rookie Autograph Memorabilia Cards – 1
Additional Autographs – 1
Triple Swatch or Jumbo Swatch Memorabilia Cards – 1
Inserts – 1
Parallels – 4
2019 Panini Xr Football Checklist
Base
Autographs
Memorabilia
Inserts
Team Sets