2019 Panini Prestige Football Short Prints List and How Tough It Is to Pull One
The 2019 Prestige Football base set clocks in at 300 cards. While most are available in equal quantities, there are some outliers. A total of ten rookies make up the 2019 Prestige Football short prints list.
This approach isn't new for Prestige Football. And like many past years, it's not necessarily the biggest rookies heading into the season that get the SP treatment. Kyler Murray and Dwayne Haskins are both among the "common" cards as far as quantities go.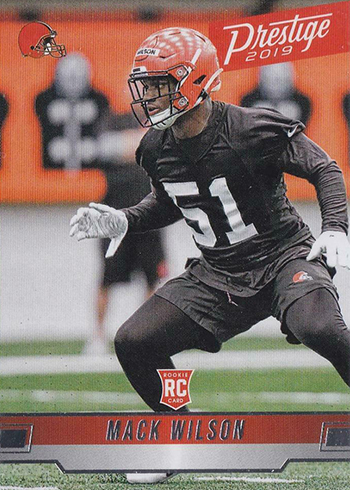 Here are the short prints to be on the lookout for:
2019 Panini Prestige Football Short Prints Checklist
219 Will Grier
222 Quinnen Williams
239 Dillon Mitchell
247 Jeffery Simmons
254 Justice Hill
255 Rodney Anderson
257 Damien Harris
270 Clayton Thorson
271 Bryce Love
273 Mack Wilson
As far as appearances go, they don't look any different than the regular base cards. Unless you stumble upon them buying packs from different places, you'll likely notice the gaps in your want lists if you're putting the set together.
How SP Are the Prestige SPs?
Just how rare are the short prints in 2019 Prestige? It varies by pack and box type for the retail-only release. For most, though, they're case hits.
If you want to dig in a little deeper, here are some numbers provided by Panini: