2019 Panini Prestige Football Checklist, Team Set Lists and Details
2019 Panini Prestige Football is keeping with last year as a retail-exclusive release. As usual for the brand, the checklist features a variety of inserts and autographs that run alongside the main set. There are also three distinct configurations: blasters, fat packs and hanger boxes. Each has their own exclusives.
2019 Panini Prestige Football Base Set Basics
The full set comes with 300 cards. Two hundred are veterans and 100 are Rookie Cards. Of those rookies, ten are short prints. And they're not easy to pull. Action images is a focal point, particularly among the veterans.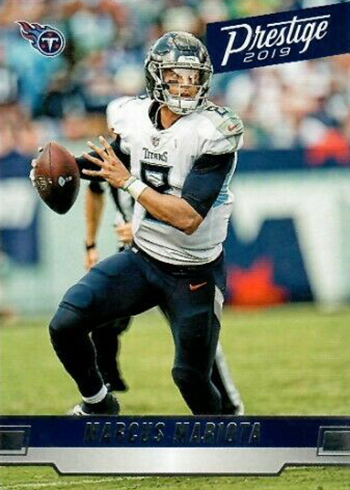 This marks one of the first releases of the year that not only list first-year players with their NFL teams but has photography that reflects this as well.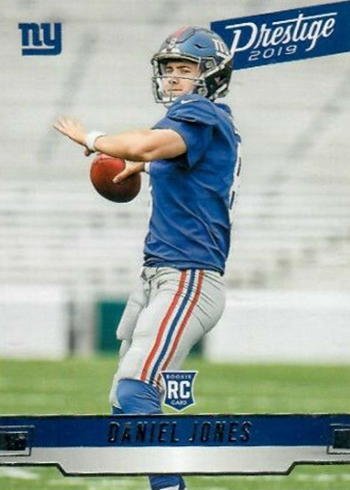 Once again, parallels fall under the Xtra Points name. Xtra Points Blue veterans are exclusive to blasters. Hanger boxes have Xtra Points Green vets as well as Red (/399) and Blue (/299) rookies. Xtra Points Green rookies are in 30-card fat packs.
Autographs, Memorabilia Cards and Inserts
Autographs in 2019 Prestige Football also fall under the Xtra Points banner. Xtra Points Signatures and Xtra Points Signatures Green for both rookies and veterans are in hanger boxes. Blasters are home to Blue versions.
Prestige has a handful of memorabilia inserts as well: Alma Mater, Changing Stripes, Gridiron Heroes, League Leaders and Stars of the NFL. Each has Prime parallels that are numbered to 50 or less.
Additional insert cover a wide range of themes and subjects. These include Banner Season, Blue Chip Recruits, Highlight Reel, History Makers, Honor Roll, Impression, Old School, Power House, Prestigious Pros and Rising Stars.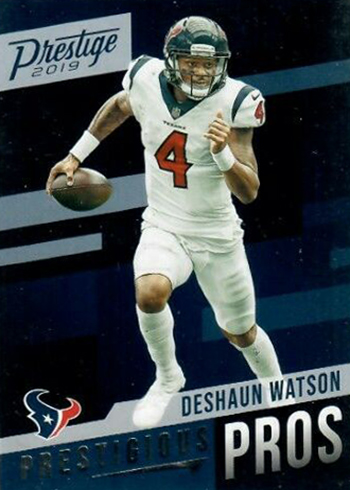 2019 Panini Prestige Football at a glance:
Cards per pack: Blaster – 8, Fat Packs – 30, Hanger Box – 60
Packs per box: Blaster – 8
Boxes per case: Blaster – 20
Set size: 300 cards
Release date: June 28, 2019
What to expect in a blaster box:
Autographs or Memorabilia Cards – 1
Inserts – 5
Parallels – 3
Rookies – 8
What to expect in a fat pack:
Inserts – 4
Parallels – 2
Rookies – 4
What to expect in a hanger box:
Inserts – 5
Parallels – 5
Rookies – 5
Every other hanger box has an autograph or memorabilia card.
2019 Panini Prestige Football Checklist
Base
Autographs
Memorabilia
Inserts
Team Sets