2019 Panini Phoenix Football cards fire in a lot of ways. While not one of the company's more premium lines, it does bring a lot of varied content. Hobby boxes have multiple autographs, a memorabilia card, lots of inserts and even more parallels. All the while, rookies average out to one per pack.
Overall, it's three hits per box, two of which are autographs.
2019 Panini Phoenix Football Checklist Overview
The base set is a slow burn with 200 cards. The checklist mixes rookies and veterans evenly. Like past Phoenix sets, the design is one of the bolder ones of the season.
Parallels combine to land one per pack. The rainbow is a big one encompassing Silver, Red (/299), Pink (/199), Purple (/149), Orange (/99), Yellow (/75), Blue (/35), Green (/25), Black (/10), Printing Plates (1/1) and Gold (1/1).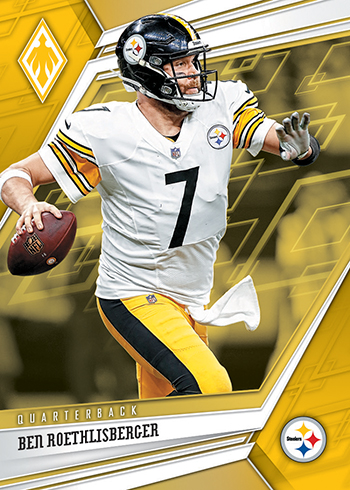 Color Burst parallels return. These land at a rate of one per box. There are also tough Fire Burst versions, which are one per eight-box inner case.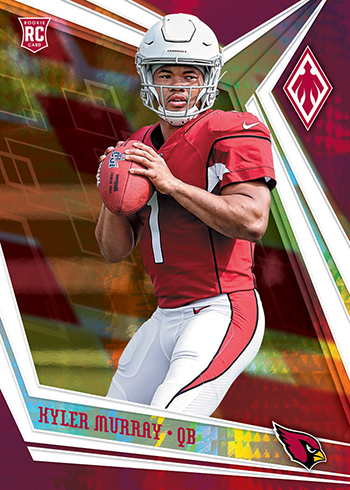 Rookies also have additional autograph versions. While the Silver versions do not have serial numbers, other Rookies Autographs parallels do: Pink (/99 or less), Orange (/49 or less), Blue (/25 or less), Green (/10 or less), Black (/5) and Gold (1/1).
Additional Autographs and Memorabilia Cards
Of the three hits in each 2019 Panini Phoenix Football box, one is usually a rookie autograph memorabilia card. RPS Rookie Auto Jersey cards are where many of these come from. Base versions are numbered to 299 or less. Additional parallels land in Orange (/199 or less), Yellow Prime (/75 or less), Green Prime (/25 or less), Blue Super Prime (1/1), Brand Logo (1/1), Laundry Tag (1/1), and NFL Shield (1/1).
RPS Rookie Auto Dual Jersey cards (/149 or less) double up the memorabilia pieces. Parallels are similar to single-swatch versions only Orange copies are noticeably more scarce with no more than 125 copies each.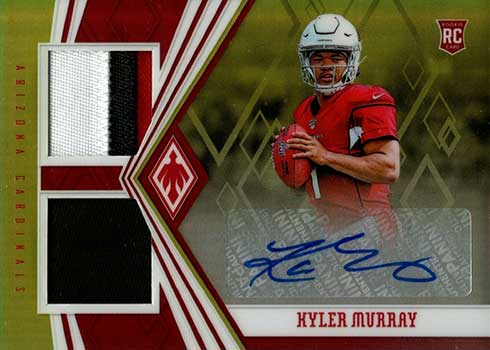 Rising Rookie Material Signature cards bring in different types of memorabilia beyond regular jersey swatches. Football are the most common with print runs of 199 and under. Getting tougher are Gloves (/99 or less), Helmet (/50 or less) and Helmet Logo (/25 or less). There are also one-of-one Vapor Jet, Team Logo, Nike Swoosh and NFL Shield versions.
All three of the above rookie autograph memorabilia sets are done with chromium stock this year.
Additional ink can be found on Triple Patch Autograph cards (/50 or less). These have one-of-one Super Prime parallels.
Vets and retired stars also have individual autographed memorabilia insert sets.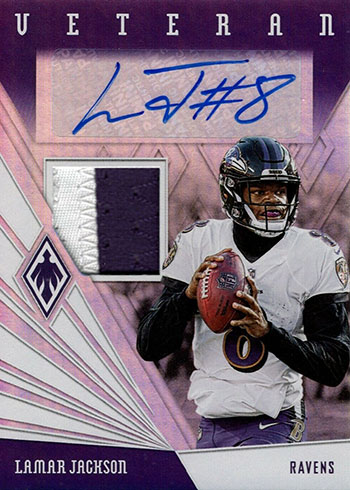 Among the memorabilia inserts in 2019 Panini Phoenix Football is RPS Jumbo Memorabilia, which use oversized swatches. Base versions are numbered to no higher than 100. Parallels are Purple (/75 or less), Prime Blue (/25 or less), Prime Green (/10 or less) and Super Prime Blue (1/1).
Inserts
2019 Phoenix Football has five regular insert sets that, like some of the rookie autograph memorabilia cards, are done using Opti-Chrome. Themes are Adrenaline Rush, Catching Fire, Comeback. Rookie Rising and QB Vision.
All of these have several color-based parallels: Red (/299), Pink (/199), Purple (/149), Orange (/99), Yellow (/75), Blue (/35), Green (/25), Black (/10) and Gold (1/1).
2019 Panini Phoenix Football cards at a glance:
Cards per pack: 5
Packs per box: 12
Boxes per case: 16 (two 8-box inner cases)
Set size: 200 cards
Release date: October 16, 2019
Shop for 2019 Panini Phoenix Football boxes on eBay:
What to expect in a hobby box:
Autographs – 2
Memorabilia Cards – 1
Inserts – 9
Color Burst Parallels – 1
Additional Parallels – 11
2019 Panini Phoenix Football Checklist
Base
Autographs
Memorabilia
Inserts
Team Sets