2019 Panini Obsidian Football Pops with Design, Style
2019 Panini Obsidian Football is back to build off its stylish reputation with unique die cuts. The checklist outlines the new inserts and parallels that will be sure to catch a collector's eye, as well as autographs from veterans and retired players.
The designs are as impressive as the football players on them, with each featuring opti-chrome looks and unique features. As always is the case with Panini, the die cuts are perfectly in-tune with its theme.

2019 Panini Obsidian Football Autographs
True to form, eyes are drawn to the autographs in the set. Rookie Jersey Ink is certain to stand out. The centered photo, dual-jersey and autograph makes the card a great find. The standard is numbered to 150 or less. Other variations are rarer: Electric Etch Orange (/75), Electric Etch Green (/50), Electric Etch Yellow (/25), Electric Etch Red (/10), Electric Etch Blur Finite (1/1).
Storming into the set, Lightning Strike Electric Etch brings the thunder. There is an lightning next to the signature and the whole card has an electric feel to it. Joe Montana, Joe Namath, Bo Jackson, Aaron Rodgers, Terry Bradshaw, Brett Favre are among the possible autograph finds. Supply is limited, for Green (/25) Yellow (/10) Red (/5) are maxed out in small numbers. More rare, Blue Finite is maxed at 1/1.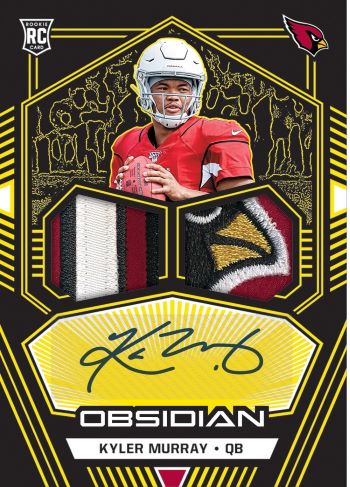 Obsidian focuses on game changers with Matrix Materials. It features a mix of current NFL greats and legends, including Baker Mayfield, Patrick Mahomes, Barry Sanders and Brian Dawkins. The player-worn material is featured prominently above the autograph. Each parallel is numbered low: Matrix Material Autos (/100), Orange (/50), Green (/25), Yellow (/10), Red (/5), Blue Finite (1/1). Aurora Autos (/100) rounds out the Obsidian signature options, which features NFL greats like Tom Brady and Dan Marino. Variations include Green (/25), Yellow (/10), Red (/5) and Blue Finite (1/1).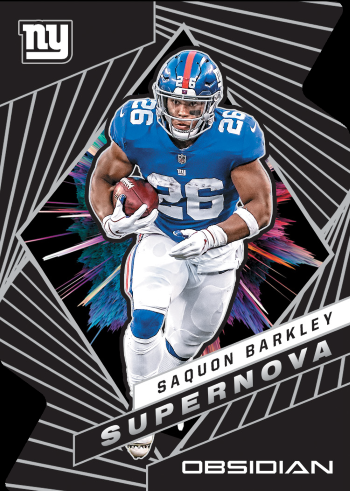 2019 Panini Obsidian Football Autographs Die Cuts
2019 Panini Obsidian Football features a few impressive die-cuts. Each is unique and perfectly ties into the theme. Tunnel Vision looks like the opening montage of a 007 film, which is cool. Eclipse perfectly encompasses the space feel the name indicates and Supernova has jagged edges that are also symmetrical.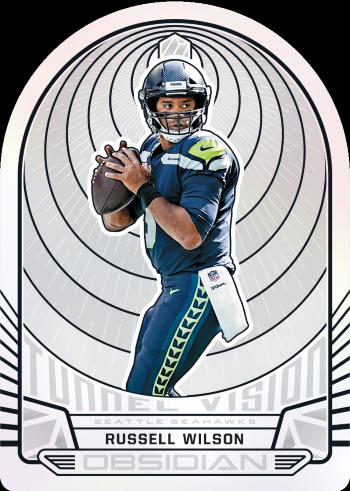 2019 Panini Obsidian Football Autographs Base and rookies
2019 Obsidian Football has an Electric base set with current and former NFL players. Its also sports a Rookie Electric set. Variations for each includes Purple (/75), Orange (/50), Green (/25), Yellow (/10) Contra (/7) and Blue Finite (1/1).
2019 Panini Obsidian Football at a glance:
Cards per pack: 7
Packs per box: 1
Boxes per case: 12
Set size: TBD
Release date: November 13, 2019
What to expect in a hobby box:
Four autographs or memorabilia
Two base or insert parallels
One base
The 2019 Panini Obsidian Football checklist will be added as soon as it's available, likely a short time before it is released.