2019 Panini National Treasures Collegiate Football might be center on NCAA. But it still has a lot of the same sort of super-premium content as its NFL counterpart. Here it means six total autographs and memorabilia cards per hobby box.
Autographs and Memorabilia Cards
College Material Signatures are the equivalent of the Rookie Patch Autographs found in NT NFL. That means on-card ink and jumbo prime pieces.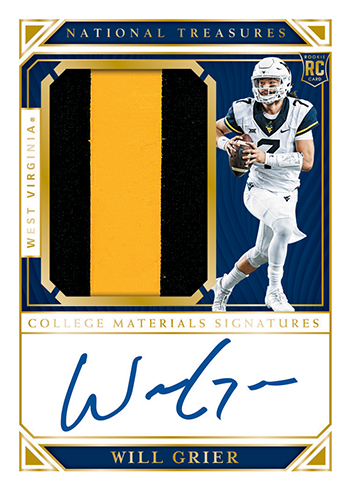 College Silhouettes Signatures is another part of the checklist with on-card autographs and oversized prime and patch pieces. However, these integrate more of a layered look to the card design and layout.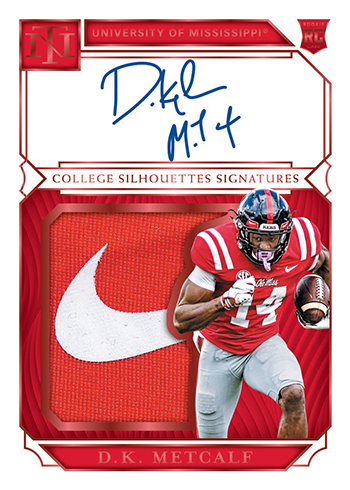 Notable Nicknames return. Not only do these have hard signatures, but they're joined by inscriptions.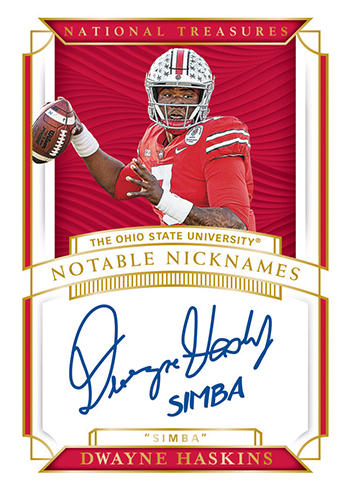 Team Logos is another place with on-card autographs. Top rookies are the focus as far as subject matter goes. These inserts get their name for a large school logo on the card and not from memorabilia.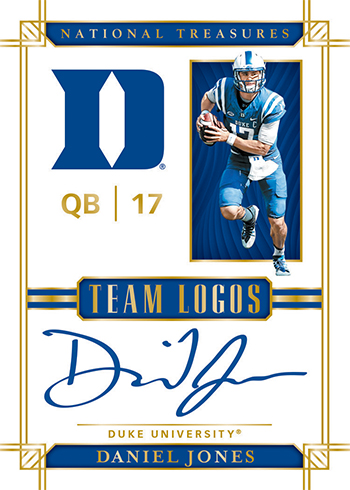 On the booklet side, there's Combo Player Signature. These open up to have a jumbo swatch on one side with the signature on the other.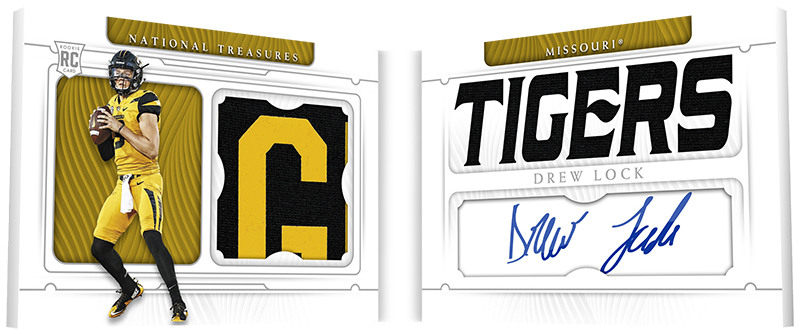 Other autographs in 2019 National Treasures Collegiate include Materials Signatures, which feature veteran and retired players.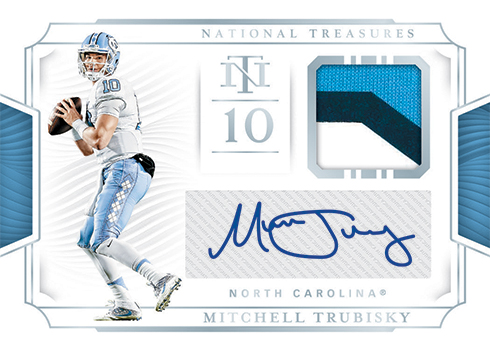 Dual Signatures highlight a pair of players from the same school.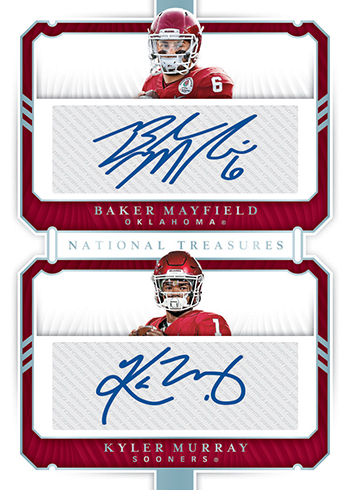 Among the parallels for the product's various autograph memorabilia cards are patches with Bowl, Conference and Championship logos.
On the scarce side, Laundry Tag Dual Brand Logo cards are all one-of-ones. A total of ten cards make up the checklist.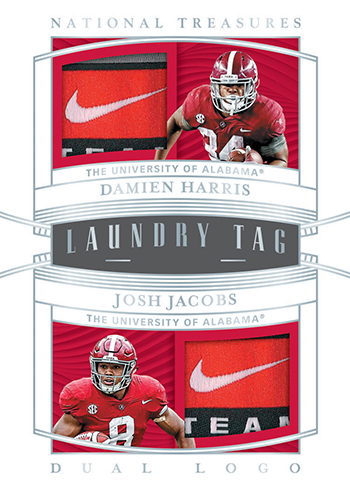 2019 Panini National Treasures Collegiate Football Base Set Basics
The shell set is the one place in the product where signatures and swatches do not reside. Featuring 50 players with images from the college, each is numbered to 99.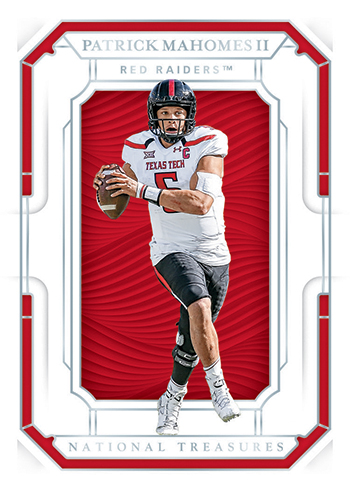 Century-theme parallels come in Silver (/49), Red (/25), Gold (/10), Emerald (/5) and Black (1/1).
2019 Panini National Treasures Collegiate Football cards at a glance:
Cards per pack: 8
Packs per box: 1
Boxes per case: 4
Set size: 168 cards
Release date: August 21, 2019
Shop for 2019 Panini National Treasures Collegiate Football boxes on eBay:
What to expect in a hobby box:
Autographs or Memorabilia Cards – 6 Total
Base Cards or Parallels – 1
Additional Cards – 1
2019 Panini National Treasures Collegiate Football Checklist
Base
Autographs
Memorabilia
2015 Updates