2019 Panini National Treasures Baseball Checklist, Team Set Lists and Details
2019 Panini National Treasures Baseball cards are sticking with the all-hits configuration of the past couple of years. Like other sports, the brand sticks at the top-tier of the hobby as far as content goes with lots of different types of autographs and memorabilia cards. As with previous baseball releases, the checklist takes a deep dive into baseball's past and present.

More specific to here, hobby boxes have eight cards. One is a booklet while the rest round out with only signatures and relics.
2019 Panini National Treasures Baseball Overview
Among the headline elements are Rookie Material Signatures. Autographs on these are on-card and memorabilia pieces are big. Vladimir Guerrero Jr., Fernando Tatis Jr., Nick Senzel, Eloy Jimenez and Chris Paddack are among the first-year standouts included on the checklist for these.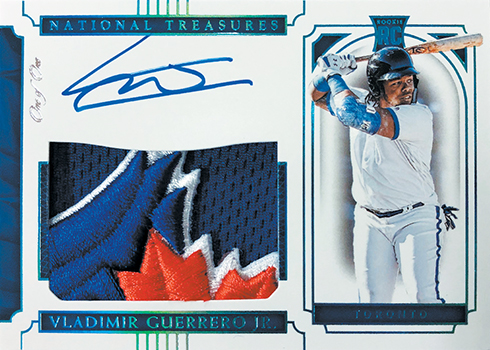 More 2019 Panini National Treasures Baseball on-card autographs are in Rookie Triple Material Ink, Rookie Signature Jumbo Material Booklet, Rookie Signature Names, Rookie Signatures, Six Pack Material Signatures Booklet, and Social Signatures.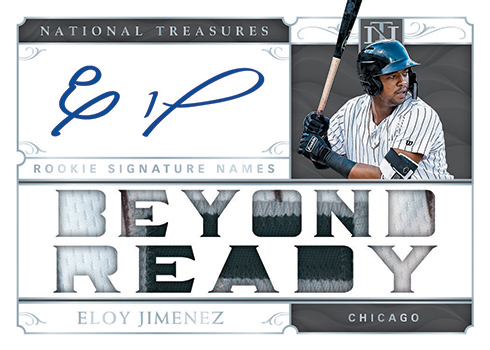 While many of the 2019 Panini National Treasures Baseball insert themes are returning ones from previous years, 2019 Panini National Treasures Baseball does have some new ones for the sport. These include Rookie Silhouette Threads, Shadowbox Signatures and Treasured Threads.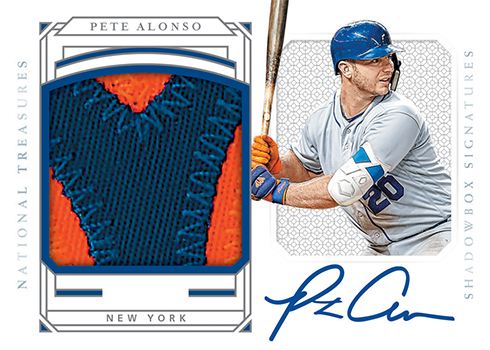 Retro Signatures are all hard-signed. Some of the players are 'retro' in the sense that they're from the past. Others are current players like Ronald Acuna Jr. and Juan Soto.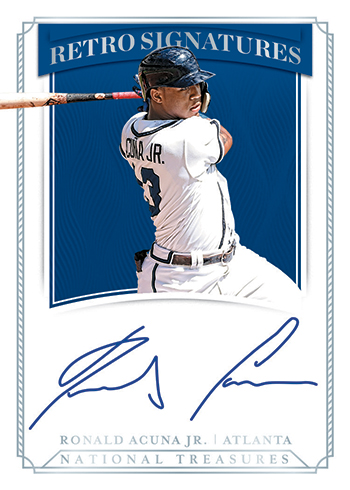 One of the places collectors will find a lot of memorabilia from generations past are with Legends Materials Booklets. These come in a variety of forms with anywhere from one to four relics.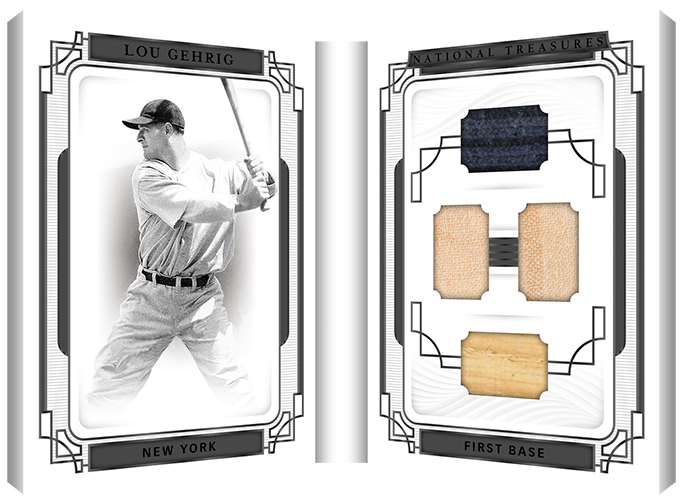 The marquee card of 2018 National Treasures Baseball was a dual cut signature card featuring Babe Ruth and Lou Gehrig (as well as memorabilia from both). Two similarly styled cards are available this year, one with Ruth and Honus Wagner and another combining Ruth and Ty Cobb.

Besides jersey and patch pieces, 2019 Panini National Treasures Baseball has some rarities with other distinct pieces of memorabilia like bat knobs, bat barrels, nameplates and ID tags. Cleat cards also return.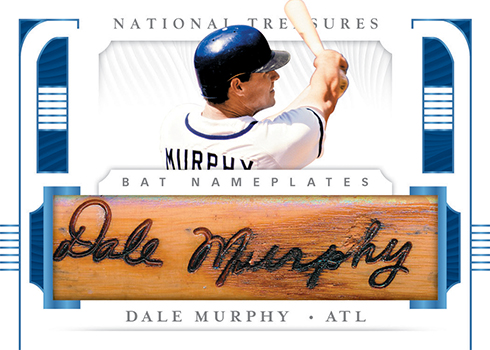 2019 Panini National Treasures Baseball cards at a glance:
Cards per pack: 8
Packs per box: 1
Boxes per case: 4
Set size: 215 cards
2019 Panini National Treasures Baseball Release date: September 25, 2019
What to expect in a 2019 Panini National Treasures Baseball hobby box:
Book Cards – 1
Additional Autographs or Memorabilia Cards – 7 Total
2019 Panini National Treasures Baseball Checklist
Base
Autographs
Memorabilia
Team Sets