When Luminance debuted in 2018, it brought with it an instantly recognizable, modern look. The concept returns for a sophomore season with 2019 Panini Luminance Football.
In addition to its stylized designs, the product boasts a variety of chase-focused content including an autograph or memorabilia card per pack. Four-pack hobby boxes also have a quartet of inserts and five parallels.
2019 Panini Luminance Football Base Set Basics
The base set centers on veterans and rookies. Coming out not too long after the 2019 NFL Draft, first-year players are listed with their pro clubs, although images have them in their college uniforms.
Once again, images use a full-bleed design cast against a dark filter. Combine that with the edgy font choices and it makes for a distinct look.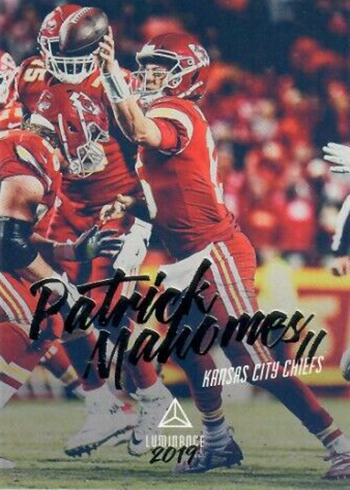 Parallels, which are a little better than one per pack, include Gold (/275), Blue (/99), Green (/49), Orange (/25), Red (/10), Pink (/5), and Platinum (1/1).
Autographs, Memorabilia Cards and Other Inserts
Draft Day Signatures offer up some on-card ink from the 2019 rookie class. These work out to be one of the three autographs in each 2019 Panini Luminance Football hobby box. A pair of parallels play with the signature color. Gold ink have 25 copies or less while Blue are limiteded to 5 or less.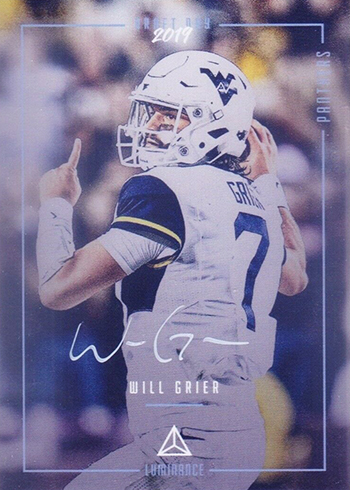 Taking a similar on-card approach are Draft Day Dual Signatures.
Like the base set, Spotlight Signatures use action photography as a backdrop. Veterans are on the checklist here.
On the memorabilia side, Jumbo get their name from the over-sized swatch that comes with them. Parallels include Prime Gold (/49 or less), Red (/25 or less) and Platinum (1/1).
Bright Beginnings and Vintage are among the other memorabilia sets in 2019 Panini Luminance Football.
The set includes a handful of other insert sets as well. Like everything in the product, these bring bold designs. Sets include Lightspeed, Dynamic, Dynamic Rookies, Vintage Performers and Luminary. Insert parallels come in Orange (/100) and Platinum (1/1).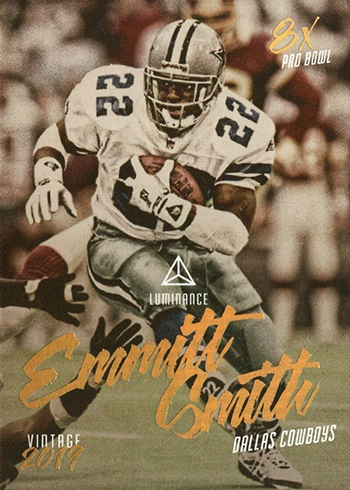 2019 Panini Luminance Football cards at a glance:
Cards per pack: 10
Packs per box: 4
Boxes per case: 12
Set size: 200 cards
Release date: June 7, 2019
What to expect in a hobby box:
Draft Day Signatures – 1
Additional Autographs – 2
Memorabilia Cards – 1
Inserts – 4
Parallels – 5
2019 Panini Luminance Football Checklist
Base
Autographs
Memorabilia
Inserts
Team Sets