2019 Panini Instant Football Checklist and Details
2019 Panini Instant Football cards cover the NFL season from start to finish. And that's even before any official games are played. Kicking off at the NFL Combine, the checklist will continue to evolve over the course of the year through the end of the Super Bowl and beyond.
2019 Panini Instant Football Overview
The print-on-demand set, which is available initially through the Panini website, highlights the events of the season. For select Combine participants, the set also represents their first NFL-licensed football cards. Kyler Murrary, Dwayne Haskins and Nick Bosa are among them.
From there, collectors will find additional cards highlighting special events, the regular season, the postseason and more. Basically, 2019 Panini Instant Football tells the season's story.
Where to Get 2019 Panini Instant Football Cards
Available exclusively on the company's website and through their Panini Direct app, 2019 Panini Instant Football cards are available for a limited time. Usually, that's 24 hours, although it can vary. As with previous years, individual copies are $9.99, although there is a discount for buying in bulk. After the sales window closes, the production run is determined. Only those ordered are printed.
After that, it's to the secondary market and places like eBay for cards.
Cards also have a couple of parallels. Green versions have ten copies each, while Black are one-of-ones. These are available until sold out. Some 2019 Panini Instant Football cards have limited autograph versions as well.
2019 Panini Instant Football Checklist
This checklist will continue to expand in the months ahead. Known print runs are noted.
Parallels:
NFL Combine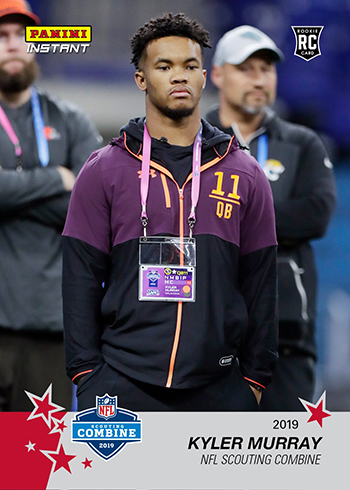 1 Kyler Murray – NFL Scouting Combine – 428
2 Drew Lock – NFL Scouting Combine – 116
3 Dwayne Haskins – NFL Scouting Combine – 201
4 Daniel Jones – NFL Scouting Combine – 95
5 Will Grier – NFL Scouting Combine – 110
6 Parris Campbell – NFL Scouting Combine – 72
7 D.K. Metcalf – NFL Scouting Combine – 77
8 Nick Bosa – NFL Scouting Combine – 108
2019 NFL Hall of Fame Induction Ceremony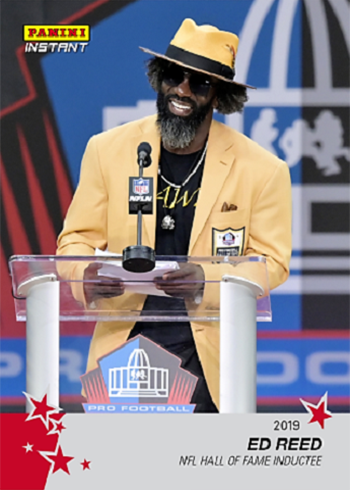 9 Ty Law – NFL Hall of Fame Inductee – 72
10 Champ Bailey – NFL Hall of Fame Inductee – 77
11 Ed Reed – NFL Hall of Fame Inductee – 76
12 Tony Gonzalez – NFL Hall of Fame Inductee – 71
Week 1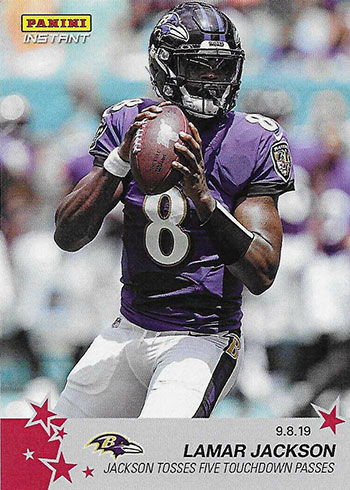 13 Lamar Jackson, Baltimore Ravens – Jackson Tosses Five Touchdown Passes (9.8.19) – 63
14 Marquise Brown, Baltimore Ravens – "Hollywood" Shines in Opener (9.8.19) – 73
15 A.J. Brown, Tennessee Titans – Brown Hits Century Mark (9.8.19) – 73
16 Gardner Minshew II, Jacksonville Jaguars – Minshew "Fearless" in Debut (9.8.19) – 98
17 Patrick Mahomes II/Sammy Watkins, Kansas City Chiefs – Mahomes, Watkins Connect for Three Scores (9.8.19) – 76
18 Terry McLaurin, Washington Redskins – Rookie Wideout Score of 69-Yarder (9.8.19) 71
19 Dak Prescott, Dallas Cowboys – Prescott Airs It Out in Win (9.8.19) – 66
20 T.J. Hockenson, Detroit Lions – Hockenson Makes Record-Setting Debut (9.8.19) – 63
21 Kyler Murray, Arizona Cardinals – Murray Rallies Cards for Tie (9.8.19) – 176
22 Tom Brady, New England Patriots – Brady Starts 20th Season with a Win (9.8.19) – 96
23 Josh Jacobs, Oakland Raiders – Rookie Back Stars in Home Opener (9.9.19) – 91
Week 2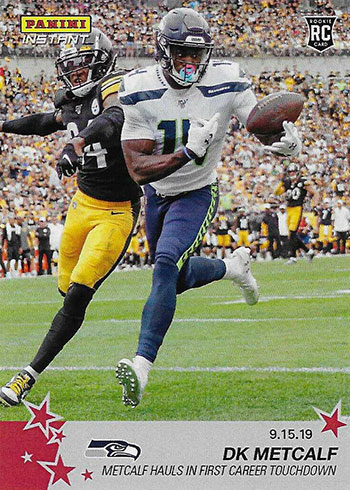 24 Adrian Peterson, Washington Redskins – Peterson Moves to Fifth in Rushing TDs (9.15.19) – 60
25 Antonio Brown, New England Patriots – Brown Scores in Patriots Debut (9.15.19) – 140
26 Lamar Jackson, Baltimore Ravens – Jackson's Feat One of a Kind (9.15.19) – 65
27 Kyler Murray, Arizona Cardinals – Murray Hits Hitoric Milestone (9.15.19) – 160
28 Parris Campbell, Indianapolis Colts/Deebo Samuel, San Francisco 49ers/Mecole Hardman, Kansas City Chiefs – Receivers Score Their First Career Touchdowns (9.15.19) – 66
29 DK Metcalf, Seattle Seahawks – Metcalf Hauls in First Career Touchdown (9.15.19) – 66
30 Devin Singletary, Buffalo Bills – Singletary Sprints for First Career Touchdown (9.15.19) – 66
31 Patrick Mahomes II/Demarcus Robinson, Kansas City Chiefs – Chiefs Dominate Second Quarter (9.15.19) – 66
32 David Montgomery, Chicago Bears – Rookie Scroes First Career Touchdown (9.15.19) – 71
33 Eddy Pineiro, Chicago Bears – Pineiro Nails Game-Winner as Time Expires (9.15.19) – 90
34 Matt Ryan/Julio Jones, Atlanta Falcons – Duo Hooks Up Twice, Including Game Winner (9.15.19) – 66
35 Baker Mayfield/Odell Beckham Jr., Cleveland Browns – Duo Connects for First Touchdown (9.16.19) – 85
Week 3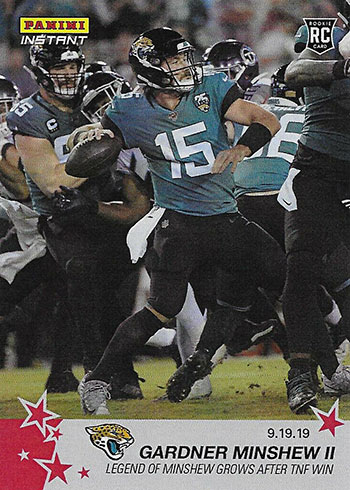 36 Garner Minshew II, Jacksonville Jaguars – Legend of Minshew Grows After TNF Win (9.19.19) – 164
37 Ezekiel Elliott/Tony Pollard, Dallas Cowboys – RB Duo Rushes for 100-Plus Yards Each in Win (9.22.19) – 71
38 Mecole Hardman Jr., Kansas City Chiefs – Hardman Scores on 83-Yard Touchdown (9.22.19) – 88
39 Patrick Mahomes II, Kansas City Chiefs – Mahomes Tosses 13th Career 300-Yard Game (9.22.19) – 66
40 Adam Thielen, Minnesota Vikings – Thielen Scores Two Different Ways (9.22.19) – 66
41 Alexander Mattison, Minnesota Vikings – Mattison Leaps in for First Career TD (9.22.19) – 89
42 Daniel Jones New York Giants – Rookie QB Leads Giants' Comeback (9.22.19) – 668
43 Kyle Allen, Carolina Panthers – Allen Stars in Second Career Start (9.22.19) – 63
44 Diontae Johnson, Pittsburgh Steelers – Johnson Scores First Career Touchdown (9.22.19) – 64
45 Minkah Fitzpatrick, Pittsburgh Steelers – Fitzpatrick Stars in Steelers Debut (9.22.19) – 81
46 Deonte Harris, New Orleans Saints – Harris Celebrates After 53-Yard Punt Return for TD (9.22.19) – 84
Week 4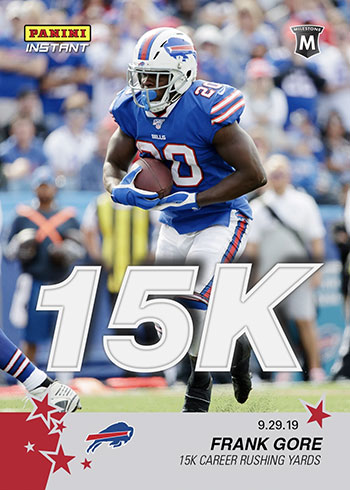 47 Frank Gore, Buffalo Bills – 15K Career Rushing Yards (9.29.19) – 88
48 Nick Chubb, Cleveland Browns – Chubb Sprints 88 Yards for Third TD (9.29.19) – 64
49 A.J. Brown, Tennessee Titans – Brown Hauls in Two Touchdowns (9.29.19) – 87
50 Larry Fitzgerald, Arizona Cardinals – Second All-Time in Receptions (9.29.19) – 88
51 Kyler Murray, Arizona Cardinals – Murray Records First Rushing Touchdown (9.29.19) – 89
52 Daniel Jones, New York Giants – Jones Leads Giants to Second Straight Victory (9.29.19) – 261
53 Noah Fant, Denver Broncos – Fant Hauls in First Career Touchdown (9.29.19) – 87
54 Leonard Fournette, Jacksonville Jaguars – Fournette Has Career Day in Denver (9.29.19) – 86
55 Gardner Minshew II, Jacksonville Jaguars – Jags Win in Comeback Behind Minshew Magic (9.29.19) – 102
56 Jameis Winston/Chris Godwin, Tampa Bay Buccaneers – Winston, Godwin Air It Out in High-Scoring Affair (9.29.19) – 81
Week 5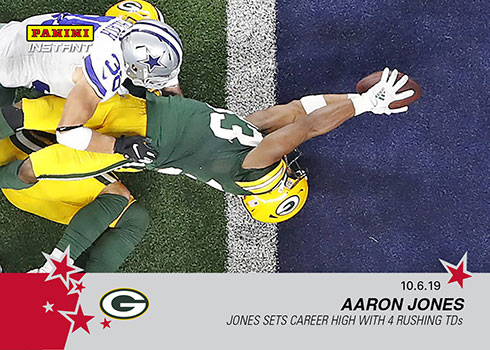 57 Christian McCaffrey, Carolina Panthers – McCaffrey Scores Three Touchdowns (10.6.19) – 63
58 Brian Burns, Carolina Panthers – Rookie Scores First Career TD on Fumble Return (10.6.19) – 88
59 Kyler Murray, Arizona Cardinals – Murray Leads Cardinals to Their First Win (10.6.19) – 63
60 Deshaun Watson, Houston Texans – Watson Airs It Out at Home (10.6.19) – 64
61 Josh Jacobs, Oakland Raiders – Jacobs Scores Twice in London (10.6.19) – 90
62 Tom Brady, New England Patriots – Brady Moves to No. 3 All-Time in Passing Yards (10.6.19) – 109
63 Teddy Bridgewater, New Orleans Saints – Bridgewater Tosses 4 Touchdown Passes (10.6.19) – 87
64 Daniel Jones/Darius Slayton, New York Giants – Giants Rookies Hook Up for 35-Yard Score (10.6.19) – 85
65 Aaron Jones, Green Bay Packers – Jones Sets Career High with 4 Rushing TDs (10.6.19) – 84
66 Byron Pringle, Kansas City Chiefs – Pringle Celebrates After Scoring 1st NFL TD (10.6.19) – 84
67 Nick Bosa, San Francisco 49ers – 49ers First Round Pick Stars on MNF (10.7.19) – 103
Week 6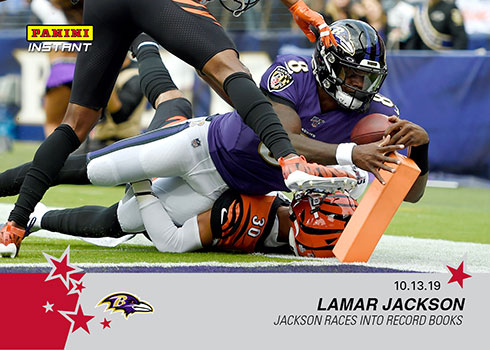 68 Tom Brady, New England Patriots – Brady Moves Into No. 2 All Time in Passing Yards (10.10.19) – 132
69 Lamar Jackson, Baltimore Ravens – Jackson Races Into Record Books (10.13.19) – 80
70 Terry McLaurin, Washington Redskins – McLaurin Scores Twice in Win (10.13.19) – 79
71 Miles Sanders, Philadelphia Eagles – Sanders Hauls in 32-Yard Pass for First TD (10.13.19) – 86
72 Kyler Murray, Arizona Cardinals – Murray Tosses Three Touchdown Passes (10.13.19) – 61
73 Devin Bush II, Pittsburgh Steelers – Bush Disruptive on Sunday Night Football (10.13.19) – 90
74 Devlin Hodges, Pittsburgh Steelers – Hodges Wins His First NFL Start (10.13.19) – 182
Week 7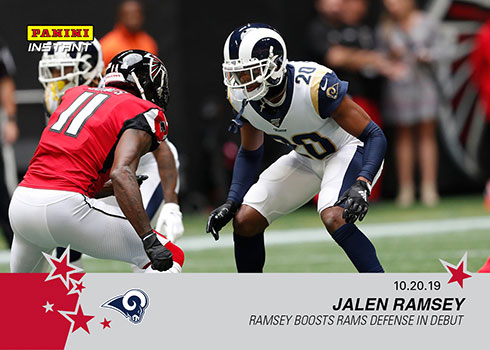 75 Matthew Stafford/Marvin Jones Jr., Detroit Lions – Lions Duo Connect for Four Touchdowns (10.20.19) – 71
76 Dalvin Cook, Minnesota Vikings – Cook Runs for 142 and Scores Twice (10.20.19) – 71
77 Jalen Ramsey, Los Angeles Rams – Ramsey Boosts Rams Defense in Debut (10.20.19) – 69
78 Marcus Peters, Baltimore Ravens – Peters Scores in Ravens Debut (10.20.19) – 69
79 Chase Edmonds, Arizona Cardinals – Edmonds Stars in Lead Role (10.20.19) – 69
80 Kyler Murray, Arizona Cardinals/Daniel Jones, New York Giants – Cardinals Best Giants in Rookie QB Matchup (10.20.19) – 71
81 Nick Bosa, San Francisco 49ers – 49ers Pitch Shutout Behind Bosa (10.20.19) – 71
82 Aaron Rodgers, Green Bay Packers – Rodgers Has Historic Day Vs. Oakland (10.20.19) – 82
Week 8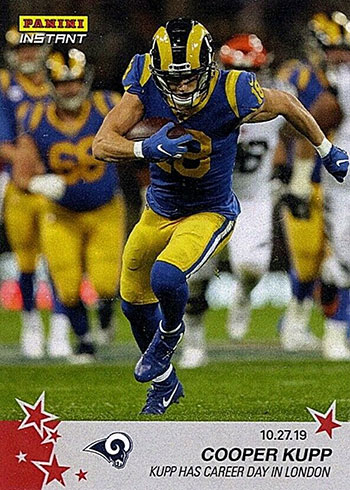 83 Cooper Kupp, Los Angeles Rams – Kupp Has Career Day in London (10.27.19) – 79
84 DK Metcalf, Seattle Seahawks – Metcalf Scores Twice in Win (10.27.19) – 79
85 Gardner Minshew II, Jacksonville Jaguars – Minshew Tosses Three TDs in Win (10.27.19) – 79
86 Drew Brees, New Orleans Saints – Brees Stars in Return (10.27.19) – 82
87 Miles Sanders, Philadelphia Eagles – Sanders Rips Off 65-Yard TD Run (10.27.19) – 61
88 David Montgomery, Chicago Bears – Montgomery Hits Century Mark (10.27.19) – 80
89 Daniel Jones, New York Giants – Jones Throws Four Touchdowns (10.27.19) – 91
90 Hunter Renfrow, Oakland Raiders – Renfrow Scores First NFL Touchdown (10.27.19) – 76
91 Emmanuel Sanders, San Francisco 49ers – Sanders Hits Paydirt in 49ers Debut (10.27.19) – 63
92 Tevin Coleman, San Francisco 49ers – Coleman Scores Four Touchdowns (10.27.19) – 76
93 Nick Bosa, San Francisco 49ers – Bosa Dominant Again, Pushes 49ers to 7-0 (10.27.19) – 74
Week 9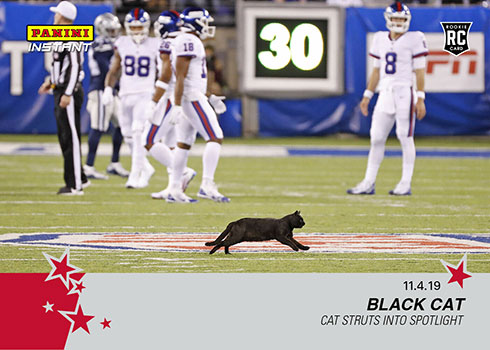 94 Kyler Murray/Andy Isabella, Arizona Cardinals – Cards Rookie Duo Connects on 88-Yard TD (10.31.19) – 77
95 Jimmy Garoppolo, San Francisco 49ers – Garoppolo Sets Career High with 4 TD Passes (10.31.19) – 71
96 Christian McCaffrey, Carolina Panthers – McCaffrey Dominates at Home (11.3.19) – 82
97 Preston Williams, Miami Dolphins – Williams Scores Twice in Dolphins' First Win (11.3.19) – 82
98 Devin Singletary, Buffalo Bills – Singletary Totals 140 Yards and a Score (11.3.19) – 78
99 Russell Wilson, Seattle Seahawks – Wilson Matches Career-Best 5 TD Passes (11.3.19) – 77
100 Jacob Hollister, Seattle Seahawks – Hollister Hauls in Game-Winner (11.3.19) – 72
101 Josh Jacobs, Oakland Raiders – Jacobs Scores Twice in Win (11.3.19) – 72
102 Noah Fant, Denver Broncos – Fant Bulldozes His Way to 75-Yard TD (11.3.19) – 81
103 Brandon Allen, Denver Broncos – Allen Wins First Career Start (11.3.19) – 82
104 Lamar Jackson, Baltimore Ravens – Jackson Leads Ravens Past Unbeaten Patriots (11.3.19) – 73
105 Black Cat – Black Cat Struts Into Spotlight (11.4.19) – 634
Week 10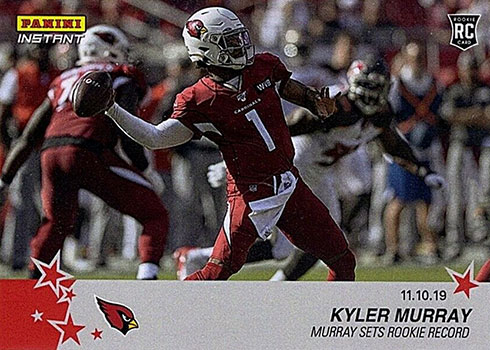 106 Lamar Jackson, Baltimore Ravens – Dual-Threat Dazzles in Cincinnati (11.10.19) – 86
107 Darius Slayton, New York Giants – Slayton Hauls in Two Touchdown Passes (11.10.19) – 81
108 Daniel Jones, New York Giants – Jones Records Second Four-TD Game (11.10.19) – 61
109 Patrick Mahomes II, Kansas City Chiefs – Mahomes Airs It Out in Return (11.10.19) – 86
110 Kyler Murray, Arizona Cardinals – Murray Sets Rookie Record (11.10.19) – 86
Week 11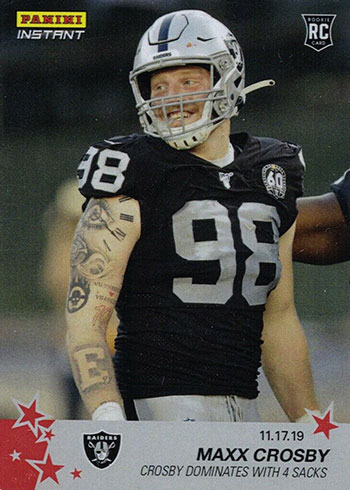 111 Dak Prescott, Dallas Cowboys – Prescott Throws for 444 Yards in Win (11.17.19) – 81
112 Jimmy Garoppolo, San Francisco 49ers – Garoppolo Leads 49ers to Comeback Win (11.17.19) – 71
113 Ross Dwelley, San Francisco 49ers – Dwelley Hauls in Two Touchdowns (11.17.19) – 80
114 Julian Edelman, New England Patriots – Edelman Tosses TD to Dorsett (11.17.19) – 71
115 Maxx Crosby, Oakland Raiders – Crosby Dominates with 4 Sacks (11.17.19) – 68
Week 12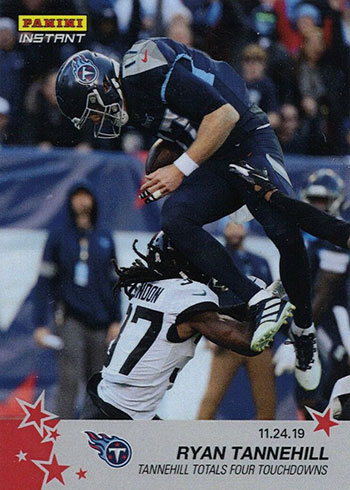 116 Frank Gore, Buffalo Bills – Gore Moves to No. 3 All Time in Rushing (11.24.19) – 77
117 Delvin Hodges, Pittsburgh Steelers – Quack Attack: Hodges Has Steelers Soaring (11.24.19) – 141
118 Ryan Tannehill, Tennessee Titans – Tannehill Totals Four Touchdowns (11.24.19) – 67
119 N'Keal Harry, New England Patriots – Harry Hauls in First Career Touchdown (11.24.19) – 77
120 Lamar Jackson, Baltimore Ravens – Jackson Dominates in MNF Debut (11.25.19) – 69
Week 13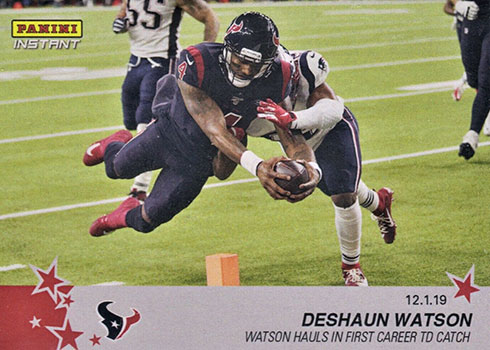 121 Taysom Hill, New Orleans Saints – Hill Steals the Show on Thanksgiving (11.28.19) – 87
122 Jason Sanders/Matt Haack, Miami Dolphins – Dolphins Kicking Duo Hooks Up for TD (12.1.19) – 77
123 Lamar Jackson, Baltimore Ravens – Jackson Makes QB Rushing Record (12.1.19) – 62
124 Devlin Hodges/Benny Snell Jr., Pittsburgh Steelers – Rookie Pair Powers Steelers Win (12.1.19) – 85
125 Patrick Mahomes II, Kansas City Chiefs – Fastest Quarterback to 70 Career TDs (12.1.19) – 85
126 Drew Lock, Denver Broncos – Lock Wins in NFL Debut (12.1.19) – 84
127 Deshaun Watson, Houston Texans – Watson Hauls in First Career TD Catch (12.1.19) – 85
Week 14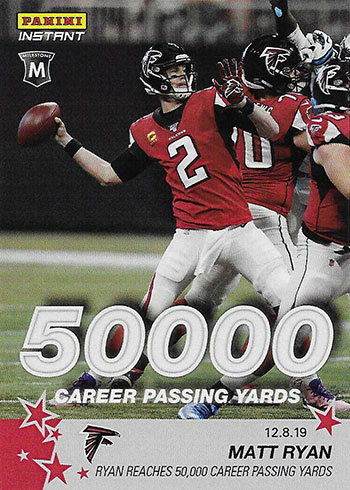 128 Olamide Zaccheaus, Atlanta Falcons – Rookie Sets NFL Record with First Reception (12.8.19) – 78
129 Matt Ryan, Atlanta Falcons – Ryan Reaches 50,000 Career Passing Yards (12.8.19) – 78
130 Lamar Jackson, Baltimore Ravens – Jackson Rushes to Milestone (12.8.19) – 85
131 Jimmy Garoppolo, San Francisco 49ers/Drew Brees, New Orleans Saints – Quarterback Duo Combines for 10 TDs (12.8.19) – 74
132 Adrian Peterson, Washington Redskins – Peterson Passes 14,000 Career Rushing Yards (12.8.19) – 79
133 Drew Lock, Denver Broncos – Lock Airs It Out in Second Start (12.8.19) – 61
134 Austin Ekeler, Los Angeles Chargers – Ekeler Keeps It 100 as a Receiver, Rusher (12.8.19) – 74
135 Patrick Mahomes II, Kansas City Chiefs/Tom Brady, New England Patriots – Chiefs Best Pats in AFC Showdown (12.8.19) – 65
Week 15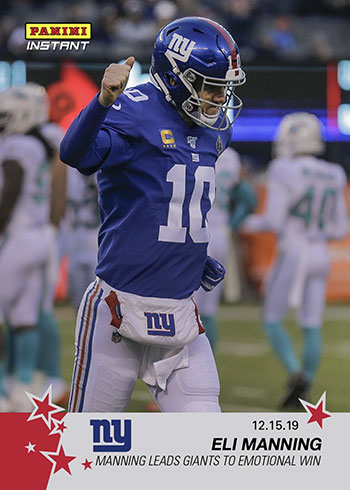 136 Lamar Jackson, Baltimore Ravens – Jackson Sets QB Rushing Record (12.15.19) – 164
137 Tom Brady, New England Patriots – Brady Sets Another Record (12.15.19) – 66
138 Patrick Mahomes II, Kansas City Chiefs – Mahomes Airs It Out in the Snow (12.15.19) – 66
139 Eli Manning, New York Giants – Manning Leads Giants to Emotional Win (12.15.19) – 86
140 Greg Ward Jr., Philadelphia Eagles – Ward Comes Up Clutch for Eagles (12.15.19) – 87
141 Miles Sanders, Philadelphia Eagles – Sanders Does It All in Win (12.15.19) – 87
142 Ezekiel Elliott/Tony Pollard, Dallas Cowboys – Cowboys RB Duo Runs Wild (12.15.19) – 61
143 Michael Thomas, New Orleans Saints – Thomas Continues Historic Season (12.16.19) – 78
144 Drew Brees, New Orleans Saints – Brees Sets Completion Percentage Record (12.16.19) – 85
145 Drew Brees, New Orleans Saints – Brees Becomes All-Time Leader in TD Passes (12.16.19) – 116
Week 16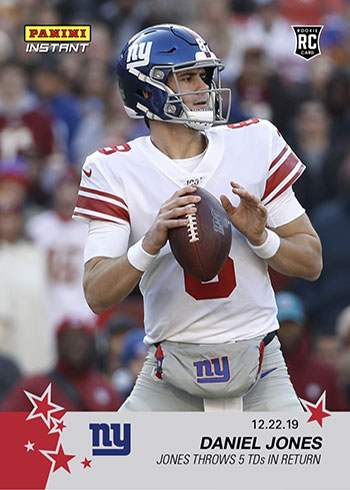 146 Tom Brady, New England Patriots – Pats Clinch 11th Straight AFC East Title (12.21.19) – 61
147 Saquon Barkley, New York Giants – Barkley Sets Franchise Record (12.22.19) – 81
148 Daniel Jones, New York Giants – Jones Throws 5 TDs in Return (12.22.19) – 81
149 Christian Wilkins, Miami Dolphins – Wilkins Hauls in Rare TD (12.22.19) – 74
150 Nyheim Hinds, Indianapolis Colts – Hines Returns Two Punts for TDs (12.22.19) – 74
151 Christian McCaffrey, Carolina Panthers – McCaffrey Breaks Own Record (12.22.19) – 74
152 Adrian Peterson, Washington Redskins – No. 4 All-Time Rushing Touchdowns (12.22.19) – 75
153 Michael Thomas, New Orleans Saints – Thomas Breaks Season Record for Receptions (12.22.19) – 85
Week 17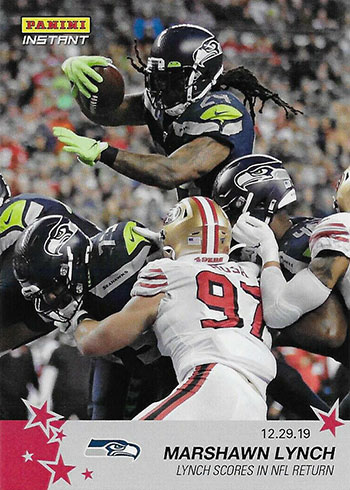 154 David Blough, Detroit Lions – Blough Celebrates After 19-Yard TD Catch (12.29.19) – 77
155 Aaron Rodgers, Green Bay Packers – Rodgers Powers Packers' Comeback (12.29.19) – 62
156 Mecole Hardman Jr., Kansas City Chiefs – Mecole Returns Kickoff for 104-Yard Score (12.29.19) – 85
157 Tom Brady, New England Patriots – Brady Moves to No. 2 All-Time in Passing TDs (12.29.19) – 68
158 Christian McCaffrey, Carolina Panthers – McCaffrey Joins 1K/1K Club (12.29.19) – 87
159 Michael Gallup, Dallas Cowboys – Gallup Records Hat Trick in Season Finale (12.29.19) – 90
160 Lamar Jackson/Mark Ingram/Gus Edwards, Baltimore Ravens – Ravens Set Single-Season Team Rushing Record (12.29.19) – 65
161 Boston Scott, Philadelphia Eagles – Scott Leads Eagles to Division Title (12.29.19) – 61
162 Derrick Henry, Tennessee Titans – Henry Wins NFL Rushing Title (12.29.19) – 84
163 Marshawn Lynch, Seattle Seahawks – Lynch Scores in NFL Return (12.29.19) – 77
Playoffs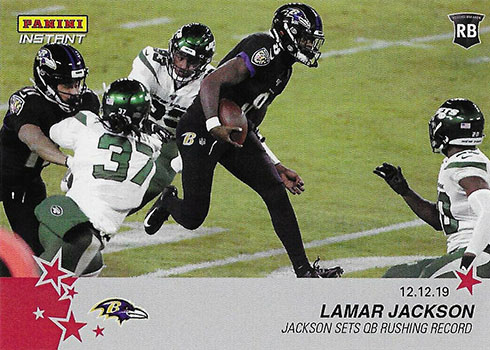 164 Deshaun Watson, Houston Texans – Watson Provides Second-Half Spark (1.4.20) – 77
165 Derrick Henry, Tennessee Titans – Titans Ride Henry to Wild Card Upset (1.4.20) – 74
166 Dalvin Cook, Minnesota Vikings – Cooks Scores Twice in First-Round Win (1.5.20) – 69
167 DK Metcalf, Seattle Seahawks – Metcalf Sets Playoff Rookie Record (1.5.20) – 77
168 Nick Bosa, San Francisco 49ers – Bosa Helps 49ers Earn Playoff Win (1.11.20) – 217
169 Ryan Tannehill, Tennessee Titans – Tannehill's Three Touchdowns Lead Titans (1.11.20) – 82
170 Derrick Henry, Tennessee Titans – Henry Makes Playoff History (1.11.20) – 80
171 Travis Kelce/Damien Williams, Kansas City Chiefs – Chiefs Duo Accounts for Six Touchdowns (1.12.20) – 87
172 Patrick Mahomes, Kansas City Chiefs – Mahomes Leads Epic Chiefs Comeback (1.12.20) – 152
173 Aaron Rodgers/Aaron Jones/Davante Adams, Green Bay Packers – Packers Punch Ticket to NFC Championship Game – 80
Conference Championships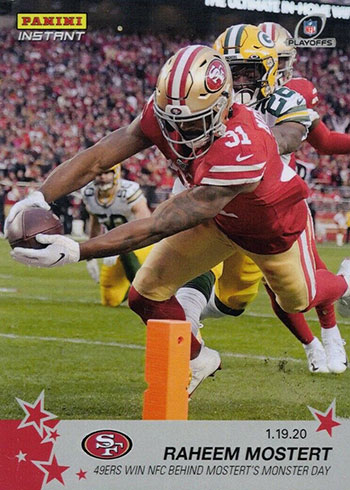 174 Patrick Mahomes, Kansas City Chiefs – Mahomes Leads Chiefs to Super Bowl LIV (1.19.20) – 233
175 Raheem Mostert, San Francisco 49ers – 49ers Win NFC Behind Mostert's Monster Day (1.19.20) – 312
Pro Bowl/Award Winners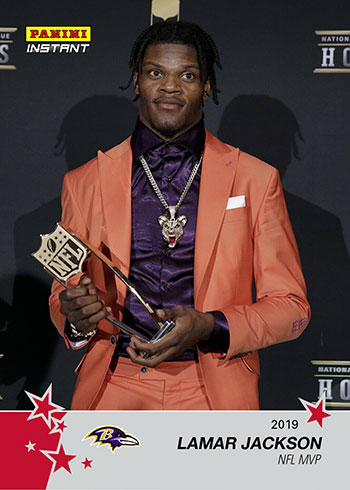 176 Lamar Jackson, Baltimore Ravens – Pro Bowl MVP (1.26.20) –
177 Stephon Gilmore, New England Patriots – Defensive Player of the Year –
178 Michael Thomas, New Orleans Saints – Offensive Player of the Year –
179 Nick Bosa, San Francisco 49ers – Defensive Rookie of the Year –
180 Kyler Murray, Arizona Cardinals – Offensive Rookie of the Year –
181 Lamar Jackson, Baltimore Ravens – NFL MVP –
Super Bowl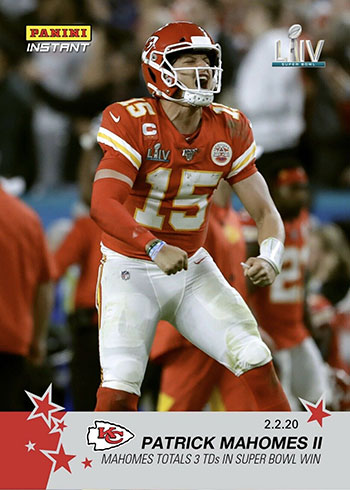 182 Tyreek Hill, Kansas City Chiefs – Hill Converts Crucial Third Down (2.2.20) –
183 Travis Kelce, Kansas City Chiefs – Kelce Hauls in Fourth-Quarter Touchdown (2.2.20) –
184 Damien Williams, Kansas City Chiefs – Williams Scores Twice in Fourth Quarter (2.2.20) –
185 Patrick Mahomes, Kansas City Chiefs – Mahomes Totals 3 TDs in Super Bowl Win (2.2.20) –
186 Patrick Mahomes, Kansas City Chiefs – Super Bowl LIV MVP (2.2.20) –