2019 Panini Immaculate Collection Football cards put autographs and memorabilia in the forefront. But if you've followed Immaculate in the past, that won't come as a surprise. The high-end set has six cards per hobby box, five of which are hits.
2019 Panini Immaculate Collection Football Autographs
Every year, 2019 Immaculate has a lot of variety when it comes to signature themes. One of the cornerstones each year, no matter the sport, are the Rookie Patch Autograph. They return with print runs of 99 plus Gold (/25 or less), NFL Shield (1/1) and Platinum Tag (1/1) parallels.
Premium Patch Rookie Autographs (/99 or less) follow a similar pattern only with bigger swatches. Parallel versions are similar, available in Gold (/25), Logo (1/1) and NFL Shields (1/1).
There's a lot going on with the Immaculate Players Collection Autographs (/99 or less). For starters, they're on acetate stock. The signatures are on-card and they're joined by three pieces of memorabilia. Parallels are Gold (/5 or less) and Tag (1/1).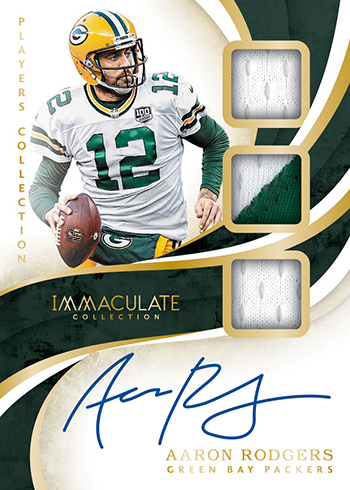 Marks of Greatness highlights all-time NFL greats. These have on-card signatures and no more than 25 copies each.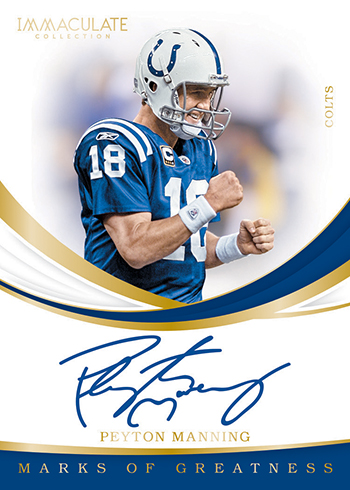 Other hard-signed inserts include Immaculate Number Rookie Patch Autographs, Draft Class Signatures and Pro Bowl Signatures.
Eye black stickers have been used in Immaculate in the past. New for this set are Eye Black Triples, which have three autographs.
Memorabilia Highlights
The variety doesn't end with the autographs. Memorabilia themes in 2019 Immaculate Football cover a lot of ground, both in what they offer and how they deliver it.
Monuments cards are new, each coming with swatches from four all-time greats. The idea behind these is a hobby Mt. Rushmore of sorts.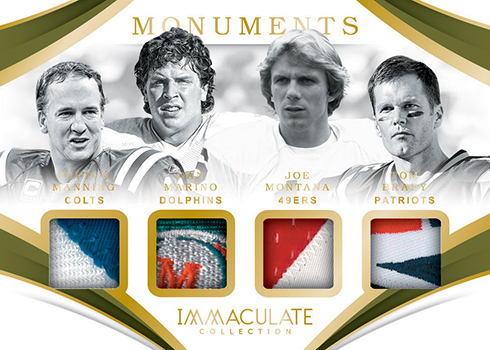 Rookie Reserves (/25 or less) also make their debut. These have five pieces of memorabilia — one in each corner of the card plus an oversized piece in the center. These also have one-of-one Brand Logo and NFL Shield versions.
Sneak Peek returns with pieces of player-worn cleats.
Immaculate also has memorabilia from other types of gear, including gloves and helmets. The checklist also has jumbo relics with things like logos, laundry tags and NFL Shields.
2019 Panini Immaculate Collection Football cards at a glance:
Cards per pack: 6
Packs per box: 1
Boxes per case: 6
Set size: 140
Release date: November 15, 2019
Shop for 2019 Immaculate Football boxes on eBay:
What to expect in a hobby box:
Autographs or Memorabilia Cards – 5
Base Cards or Parallels – 1
2019 Panini Immaculate Collection Football Checklist
Base
Autographs
Memorabilia
Updates
Team Sets