2019 Panini Gold Standard Football sees the distinct-looking, high-end brand return for another year of autographs, memorabilia cards and tough base cards. Hobby boxes have seven total cards, five of which are hits.
2019 Panini Gold Standard Football Autographs and Memorabilia Cards
Rookie Jersey Autographs are one of the central parts of the product. These picture first-year players in their NFL uniform. Besides single-swatch versions, there are also Duals and Triples with additional memorabilia. No matter the number of swatches, these have Prime (/49 or less) and Tag (1/1) parallels as well.
2019 Panini Gold Standard Football has several areas with autographs from veteran and retired players. Among them is Gold Strike (/99 or less). Platinum (/49 or less) and one-of-one Black versions are also available.
Gold Jacket Signatures (/99 or less) is exclusively Canton inductees.
24K Signatures (/49 or less) sticks with the gold theme of the product while giving it a double-meaning appropriate for a set of football cards. All players on this part of the checklist have racked up at least 24,000 yards in their career. Parallels are sparse with Platinum versions numbered to 10 and one-of-one Black. Similar 10K Signatures cards feature players with 10,000 or more career yards.
One of the most common places to find gold is on a ring. Super Bowl Diamond Signatures (/5 or less) uses a ring motif to include both a signature and a diamond.
Dual-signed versions are also part of the product, although these are on the extreme side of rarity. The checklist has just a handful of cards, all one-of-ones.
Bullion Brand Tag Signatures return. These one-of-ones combine an autograph with a laundry tag.
Memorabilia inserts in 2019 Gold Standard include Gold Gear, Gold Rush, Golden Pairs, Hall of Gold Threads, Mother Lode, Newly Minted and White Gold. Each has Prime (/49 or less) and Premium (1/1) parallels.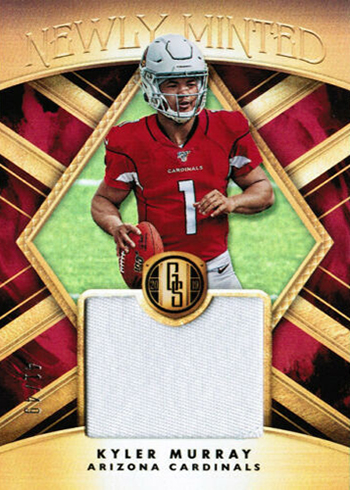 Base Set
Despite all the high-end elements on the checklist, it starts with the main base set. Consisting of 200 cards, it's a challenging build when you consider there are just two per box including parallels. Veterans, retired players and rookies are all part of the mix. All base versions are numbered to 99.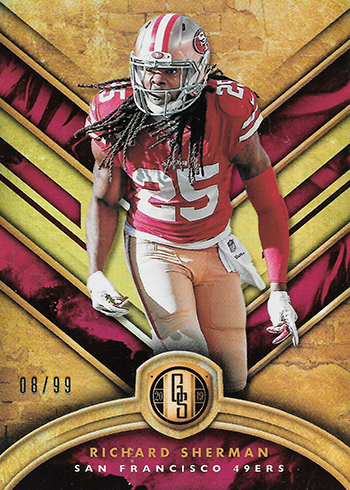 For the parallels, there are Platinum (/75), Rose Gold (/25), Emerald (/10) and Black (1/1).
2019 Panini Gold Standard Football cards at a glance:
Cards per pack: 7
Packs per box: 1
Boxes per case: 12
Set size: 339 cards.
Release date: July 10, 2019
Shop for 2019 Panini Gold Standard Football boxes on eBay:
What to expect in a hobby box:
Autographs or Memorabilia Cards – 5
Base Cards or Parallels – 2
2019 Panini Gold Standard Football Checklist
Base
Autographs
Memorabilia
Team Sets