2019 Panini Flawless Football has a lot of the elements you'd expect from the luxury line. Everything about it is intended to be super premium. Autographs are on-card, premium swatches are plentiful, cards with gems and print runs for individual cards are all low. There's also the price tag, putting it in the top tier of the sports card world.
Similar to 2018, boxes have ten total cards. Six of those are on-card autographs. Memorabilia cards fall two or three per box with gem cards rounding things out.

2019 Panini Flawless Football Base Set Basics
No card in 2019 Flawless has more than 25 copies. It doesn't matter if it's an autograph, relic or gem card. Numbers for individual cards are kept low.
For base Ruby cards, it's a little lower with each numbered to 20. There are parallels, which come with different types of gems: Sapphire (/10), Diamond (/7), Emerald (/5) and Platinum (1/1). The base set has three sections: veterans, legends and rookies.
All told, it's a 130-card set.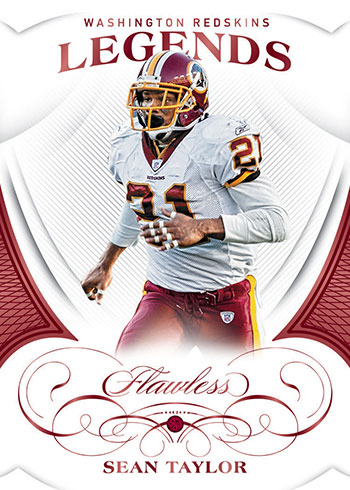 Autographs, Memorabilia Cards and Other Gems
Gems are also on some of Flawless' autographs. Among them is Rookie Gem Signatures (/20). While the checklist includes the usual big first-year names like Kyler Murray, there's also Gardner Minshew who doesn't have a lot of on-card signatures. The are here. Additional versions include Sapphire (/15 or less), Diamond (/10 or less), Emerald (/5 or less) and Platinum (1/1).
The first-year theme carries over to Rookie Patch Autographs (/25), which also have Siver (/20), Ruby (/15), Sapphire (/10), Emerald (/5) and Platinum (1/1) versions.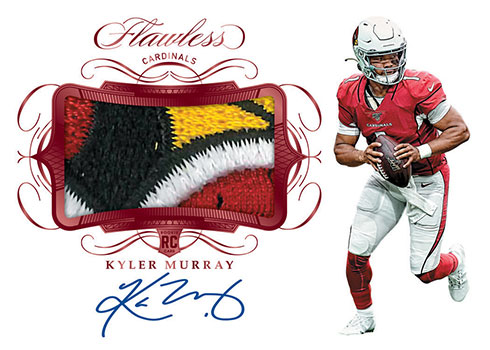 Dual Autographs (/25 or less) make their NFL debut. Pairings here are a mix of present and past players. The parallel mix for these is similar to the Rookie Patch Autographs with several levels, all numbered to 20 and under.
Star Swatch Signatures (/25 or less) feature veterans like Russell Wilson and Drew Brees. In addition to the autograph is an oversized piece of memorabilia. Rarer versions come in Siver (/20 or less), Ruby (/15 or less), Sapphire (/10 less), Emerald (/5 or less) and Platinum (1/1).
Shield Signatures are all one-of-ones.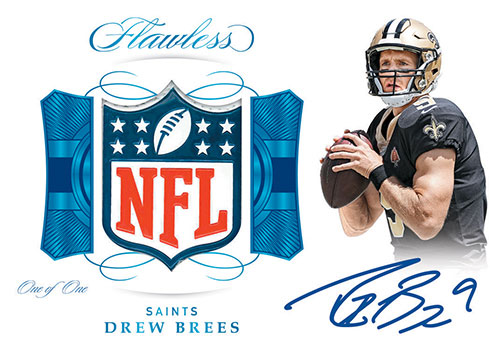 Some of the other signature themes in 2019 Flawless Football include NFL 100 Autographs, Rookie Cleat Autographs and Rookie Shadow Signatures.
Among the memorabilia inserts are Flawless Spikes and Super Bowl Swatches.
Collectors can find some book cards as well: Rookie Booklets, Veteran Booklets, Flawless Duals Platinum and Super Bowl Gems Platinum.
2019 Panini Flawless Football cards at a glance:
Cards per pack: 10
Packs per box: 1
Boxes per case: 2
Set size: 130 cards
Release date: April 8, 2020
Shop for 2019 Panini Flawless Football boxes on eBay:
What to expect in a hobby box:
Autographs – 6
Memorabilia Cards – 2-3
Gem Cards – 1-2
2019 Panini Flawless Football Checklist
Base
Autographs
Memorabilia
Inserts
Updates
Team Sets