2019 Panini Flawless Collegiate Basketball Aims To Be Precious
Although football season just started, the month of September also indicates basketball is around the corner. With that in mind, Panini is giving glimpses into its latest line of products. 2019 Panini Flawless Collegiate Basketball comes in with the goal to satisfy the thirst for hoops cards.
The cards feature 2019 rookies, former All-Americans and hardwood legends. Each autograph is on-card, as opposed to sticker on the card, and are numbered to 25 or less.
Flawless Rookie Patch Autos
Flawless Collegiate Basketball has the variety of a college curriculum for its patch selections. Materials include team logo swatches, conference, brand and Final Four patches. Each comes with on-card autograph.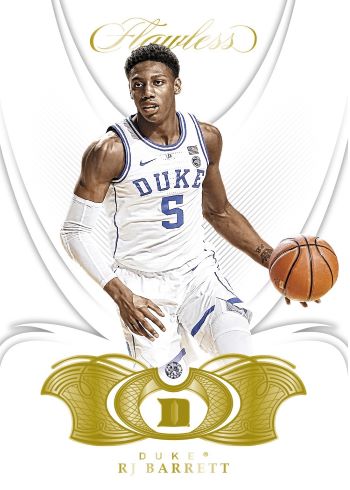 Base Diamonds
The enclosed precious Gems are in versions: Base Diamond – /20 Emerald – /5 Oversized Diamond –  1/1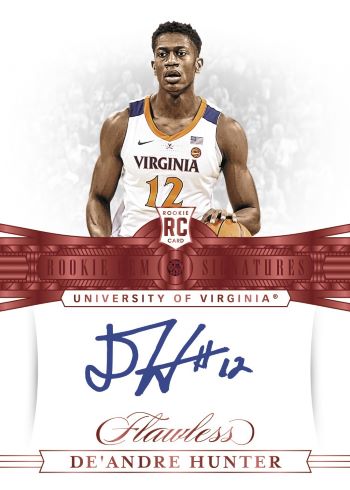 Rooke Gem Signatures
Autographs from top 2019 rookies associated with precious gems: Base (Diamond) – /25; Ruby – /20; Sapphire – /15; Gold (Diamond) – /10; Emerald – /5; Black (Oversized Diamond) – 1/1.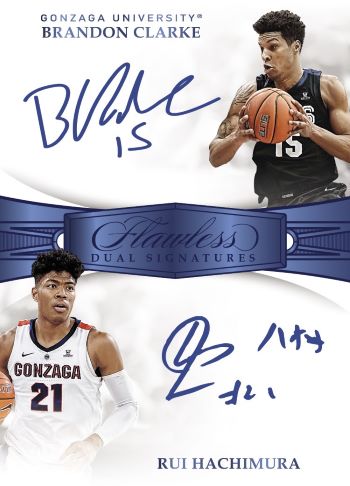 Flawless Dual Autographs
Dual on-card autographs from 2019 rookie class.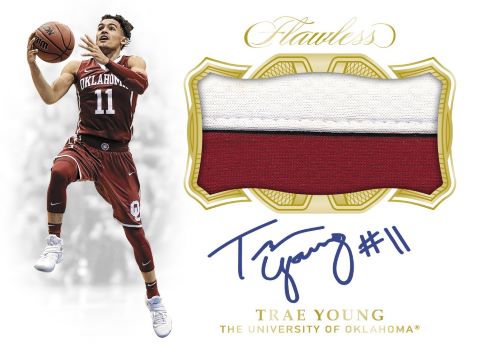 Patch Autographs
Autographs from current and retired stars that include "premium" swatches.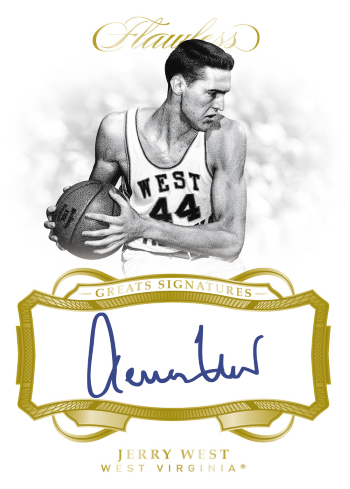 Greats Signatures
Autographed cards featuring some of the best college basketball players of all time, including Jerry West and Bill Russell.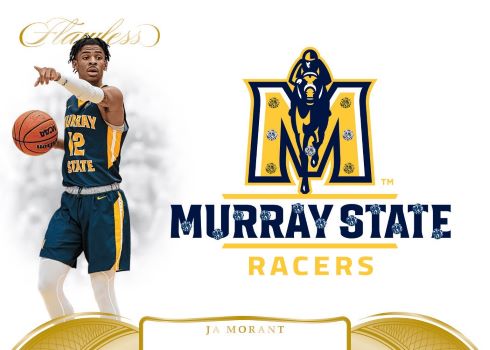 Flawless Team Player Gems
Features school logo that aligns with "color-coordinated" gemstones and prominent alumni.
Flawless Rookie Team Slogan Signatures
Autographs pairs with school-related phrases and spirit calls.
2019 Panini Flawless Collegiate Basketball cards at a glance:
Cards per pack: 10
Packs per box: 1
Boxes per case: 2
Set size: TBD
Release date: November 13, 2019
What to expect in a hobby box:
6 autographs
2 Memorabilia cards
2 Gemstone cards
The 2019 Panini Flawless Collegiate Basketball checklist will be added as soon as it's available, likely a short time before it's released.