2019 Panini Contenders Draft Picks Football is a combination of early cards of draft prospects and a retrospective look back on the college careers of current and past stars. Like its NFL brand counterpart, autographs play a major role on the checklist. They're also plentiful with its hobby configuration. Each six-pack hobby box comes with six autographs.
2019 Panini Contenders Draft Picks Football Overview
The 2019 Panini Contenders Draft Picks Football checklist has a couple of main parts. Season Ticket highlights current NFL veterans from their college days.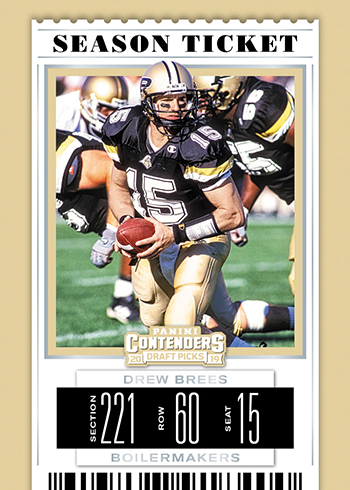 Draft Ticket and autographed College Ticket cards go deep into the year's draft picks. According to Panini, more than 150 prospects are on the checklist, offering up a comprehensive look at top college players from 2018 including many who will be moving up to the NFL. Some of the top players heading into the draft have on-card autographs.
College Ticket parallels come in several levels. These include Bowl Ticket (/99), Cracked Ice (/23), Playoff Ticket (/15), Printing Plates (1/1) and Championship Ticket (1/1). Blue Foil parallels, which are available for both Season Ticket and College Ticket cards, are exclusive to retail blasters.
Variations also return for key College Ticket autograph cards.
2019 Panini Contenders Draft Picks 1st Off the Line boxes are the only place to find Optic Autographs.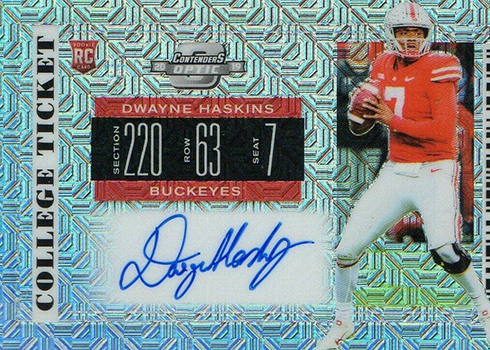 2019 Panini Contenders Draft Picks Football has a handful of other autograph inserts as well. Game Day Ticket Signatures return, highlighting players from some of the country's biggest college football programs.
School Color Signatures are also back.
Collegiate Connections Signatures are dual autographs. The theme here is players from the same school or a star paired with their coach.
Season Ticket Signatures have past college players. Patrick Mahomes and Hershel Walker are among those in this tough autograph insert set.
2019 Panini Contenders Football has some regular inserts as well. Collegiate Connections, Draft Class, Game Day Tickets and Legacy are among them.
2019 Panini Contenders Draft Picks Football at a glance:
Cards per pack: 18
Packs per box: 6
Boxes per case: 12
Set size: 303 cards.
Release date: April 24, 2019
Shop for 2019 Panini Contenders Draft Picks Football boxes on eBay:
What to expect in a hobby box:
Autographs – 6
Inserts or Parallels – 5 Total
What to expect in a retail blaster box:
Autographs – 2
Inserts or Parallels – 4 Total
2019 Panini Contenders Draft Picks Football Checklist
Base
Variations
Autographs
Inserts