2019 Panini Chronicles Football Checklist, Team Set Lists and Details
Not every brand makes an appearance every year. Some take a break. Some evolve into something else. 2019 Panini Chronicles Football finds a home for several of them making for an eclectic checklist with lots of different designs, themes and card styles.

Autographs are two per hobby box. There's also a memorabilia card and six parallels, not to mention the variety of brands.
Among the lines found in 2019 Chronicles Football are: Classics, Crown Royale, Gala, Gridiron Kings, Legacy, Luminance, Panini, Score Update and Vertex.
2019 Panini Chronicles Football Checklist Basics
Past iterations of Chronicles in basketball and baseball have used newspapers as the basis for the base set. Here, it's different. Cards take on an NFL 100 theme, prominently featuring the logo used during the season.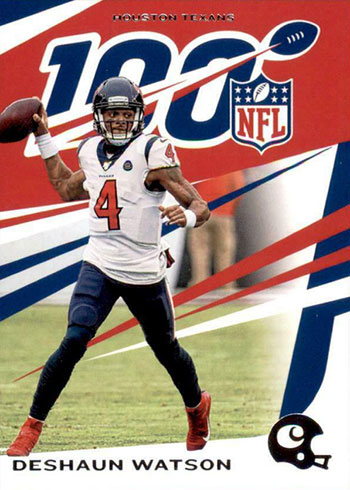 Parallels come in Red (/199), Blue (/99), Purple (/49), Gold (/10) and Platinum (1/1).
There are also Jersey versions that top out at 199 copies plus additional Prime (/25 or less) and Tag (1/1) parallels.
Beyond Base
For those who were wondering what happened to the throwback-inspired Classics this year, it makes an appearance in Chronicles. Keeping the old-school look, these have similar parallels as the base set with (/199), Blue (/99), Purple (/49), Gold (/10) and Platinum (1/1).
Bringing some colorful artistic flair, Gridiron Kings cards come on canvas stock. These also have (/199), Blue (/99), Purple (/49), Gold (/10) and Platinum (1/1) versions.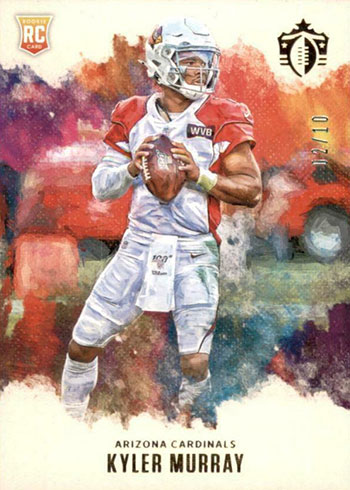 Gala's return comes with one of its most notable features — rookies that have print runs of just eight copies.
Crown Royale has several spots on the checklist. Among them are Silhouette Autographs, which also feature sizeable swatches of memorabilia. Both rookies and veterans are present. The die-cut crown design is included on Crown Royale Rookie Autographs.
Reaching to a more distant past are Dynagon cards. This brand originated with Pacific and last appeared back in 2001. They return as short prints.
It's not just breaking sets in 2019 Chronicles Football. 2019 Score, Luminance and Legacy all get updates done with opti-chrome stock this time around. While the early-season sets have 2019, they use college uniforms. These updated versions use NFL photography.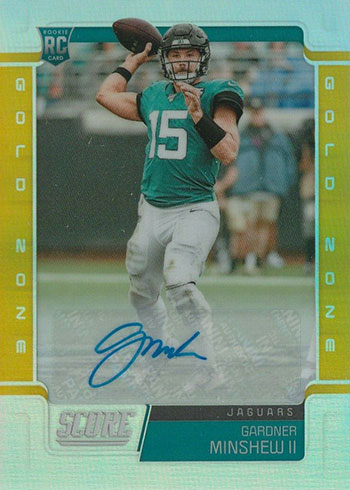 2019 Panini Chronicles Football cards at a glance:
Cards per pack: 8
Packs per box: 6
Boxes per case: 12
Set size: 100 cards.
Release date: May 15, 2020
Shop for 2019 Panini Chronicles Football boxes on eBay:
What to expect in a hobby box:
Autographs – 2
Memorabilia Cards – 1
Parallels – 6
2019 Panini Chronicles Football Checklist
Click on the tabs to see checklists sorted by brand. Team set lists are in the final tab.
Base
Classics
Crown Royale
Dynagon
Field Level
Gala
Gridiron Kings
Hometown Heroes
Legacy
Luminance
Momentum
Panini
Pinnacle
Prime
Score
Signature Series
Studio
SB Signatures
Timeless Treasures
Titan
Titanium
Vertex
Team Sets