2019 Panini Chronicles Baseball cards provide a spot for a lot of the company's brands that don't have their own release for the sport. This time around, it also introduces some new lines. No matter how you look at it, variety is the key. Brands, card technologies, card types all bring varying elements. Even at the pack level, collectors will find several different types of cards.
2019 Panini Chronicles Baseball Overview
While there are plenty brands represented on the checklist, it all starts with Chronicles base cards. Now in its third year, these continue to evolve, although the headline feature remains a defining design mark. This is one of the places in the product where rookies and veterans can both be found.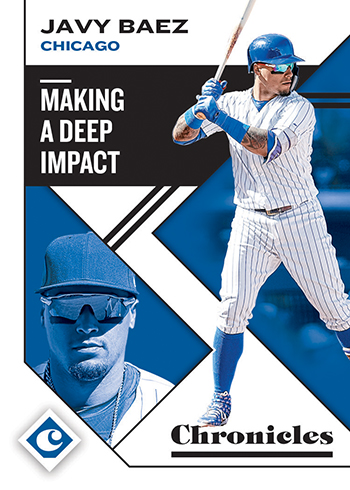 But this is just the launching point. According to Panini, the entire product encompasses more than 20 brands.
Among the autographs, which combine to land three per hobby box, are a couple of rookie-themed lines that have both signatures and memorabilia. Rookie Cornerstones have four swatches as well as on-card ink. Spectra Rookie Jersey Autographs are also hard-signed. These use chromium card stock for the foundation with parallels working in bright colors and some patterns.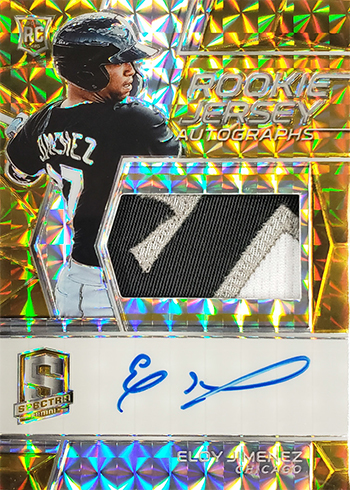 2019 Panini Chronicles Baseball has some Contenders Rookie Ticket Autographs from the likes of Pete Alonso, Fernando Tatis Jr., Chris Paddack and more. Cracked Ice versions numbered to 23 are among the parallels.
America's Pastime makes its first appearance since its 2013 debut. While there's a retro look to the cards, this time around, the tech is different. They're printed on a plastic-like stock. America's Pastime, America's Pastime Material Signatures and Boys of Summer inserts all come with on-card signatures.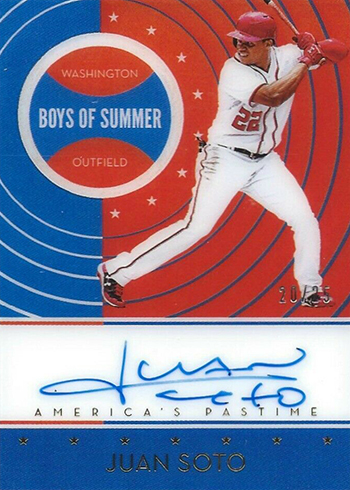 While 2018 Chronicles Baseball has a similar far-reaching checklist, this year still manages to add a total of eight new brands. In addition to America's Pastime, others include Ascension, Absolute, Prime, Hometown Heroes, Timeless Treasures and Playoff.
Obsidian makes its baseball debut as well with both base-style cards and autographs. Both types have Electric Etch parallels.
Titan isn't just making its Chronicles debut, it's making its first appearance, period. This is a new chromium brand.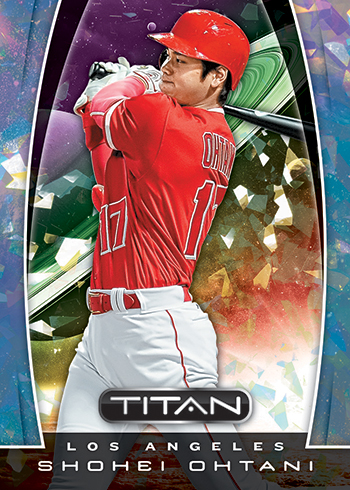 Brands in 2019 Chronicles Baseball
Here's a look at some of the lines collectors will find in the product:
Absolute
America's Pastime
Ascension
Certified
Contenders
Contenders Optic
Cornerstones
Crusade
Donruss
Hometown Heroes
Limited
Obsidian
Playoff
Prime
Rookies and Stars
Score
Sectra
Timeless Treasures
Titan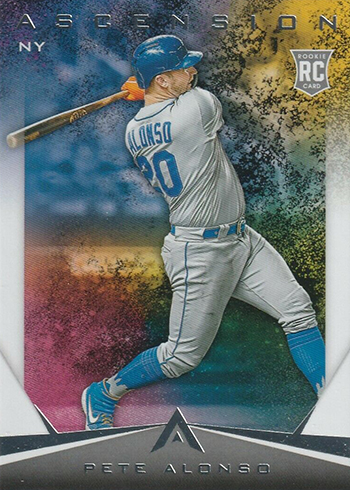 2019 Panini Chronicles Baseball cards at a glance:
Cards per pack: 8
Packs per box: 6
Boxes per case: 16
Release date: August 21, 2019
Shop for 2019 Panini Chronicles Baseball boxes on eBay:
What to expect in a hobby box:
Autographs – 3
Memorabilia Cards – 1
Spectra Base Cards – 2
2019 Panini Chronicles Baseball Checklist
Please use the tabs to jump between brands.
Base
Absolute
America's Pastime
Ascension
Certified
Classics
Contenders
Contenders Optic
Cornerstones
Crusade
Donruss
Hometown Heroes
Limited
Obsidian
Panini
Phoenix
Playoff
Prestige
Prime
Rookies & Stars
Score
Spectra
Status
Timeless Treasures
Titan
Unparalleled
Team Sets