2019 Leaf Metal Pop Century Checklist and Autograph Details
When you click on links to various merchants on this site, like eBay, and make a purchase, this can result in this site earning a commission.
2019 Leaf Metal Pop Century sees the celebrity-centric trading card line return. While it's primarily autographs, memorabilia cards also return to the mix. All told, boxes come with four cards.
As usual with Pop Century, autograph signers come from all walks of entertainment. Actors and musicians from multiple eras make up the checklist. Returning headliners include Harrison Ford, Al Pacino and Daisy Ridley.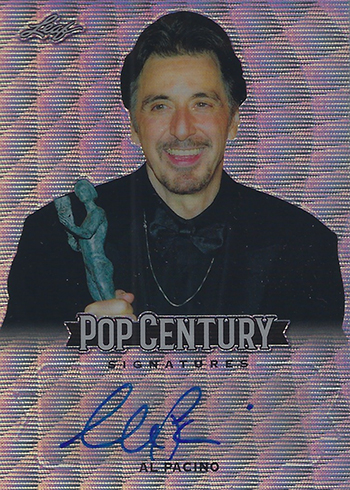 There are several new additions, too. For some, it's their first certified autograph cards. Jamie Foxx, Geena Davis, Steven Segal and Matthew Broderick are among those making their Pop Century debuts.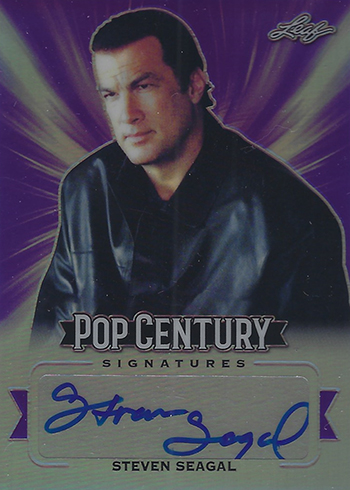 In addition to the main Pop Century Autographs, which are the de facto base cards, a handful of thematic inserts are also on the checklist. Dual Autographs, Classic Roles, Heartbreakers, Sci-Fi Signatures and Vinyl Signs are among them.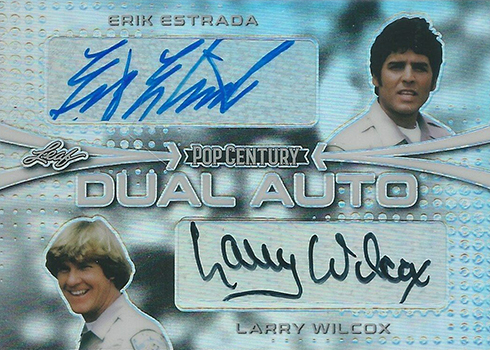 Like other Leaf Metal sets, parallels bring a rainbow of colors and keep print runs for individual cards low. Besides the basic rainbow, there are patterned Wave versions.
Cut Signatures are also randomly inserted.
Prop Century memorabilia cards feature pieces of clothing worn by celebrities. These come with as many as eight swatches from eight different people.
2019 Leaf Metal Pop Century trading cards at a glance:
Cards per pack: 4
Packs per box: 1
Boxes per case: 12
Release date: July 31, 2019
What to expect in a hobby box:
Autographs and Memorabilia Cards – 4
2019 Leaf Metal Pop Century Checklist
The following is a 2019 Leaf Metal Pop Century checklist that does not include a parallel breakdown but does show all the signers.
For a full checklist with all of the parallels, please download the following files:
Autographs
Base Autographs
59 cards.
Buy on: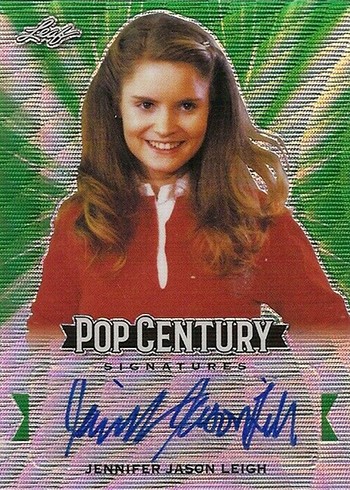 BA-AMH Anthony Michael Hall
BA-AP1 Al Pacino
BA-BA1 Ben Affleck
BA-BR1 Brande Roderick
BA-BR2 Brandon Routh
BA-BT1 Bella Thorne
BA-CB1 Corbin Bernsen
BA-CS1 Charlie Sheen
BA-CT1 Carrot Top
BA-DC1 Dean Cain
BA-DN1 Daniel Negreanu
BA-DR1 Daisy Ridley
BA-DR2 Denise Richards
BA-E1 Edge
BA-EE1 Emilio Estevez
BA-EH1 Ernie Hudson
BA-FD1 Felicia Day
BA-GD1 Geena Davis
BA-GLN Gena Lee Nolin
BA-HF1 Harrison Ford
BA-IZ1 Ian Ziering
BA-JC1 James Caan
BA-JF1 Jamie Foxx
BA-JJL Jennifer Jason Leigh
BA-JLH Jennifer Love Hewitt
BA-JOH John O'Hurley
BA-JR1 Jeremy Renner
BA-JW1 Jaleel White
BA-LB1 Linda Blair
BA-LD1 Laura Dern
BA-LF1 Louise Fletcher
BA-LL1 Lorenzo Lamas
BA-LM1 Lee Majors
BA-LW1 Lindsay Wagner
BA-MB1 Matthew Broderick
BA-MB2 Michael Beck
BA-MBB Millie Bobby Brown
BA-MK1 Martin Klebba
BA-ML1 Mike Lookinland
BA-MN1 Michael Nesmith
BA-MP1 Michael Pare
BA-MW1 Mary Wilson
BA-PA1 Pamela Anderson
BA-PB1 Pat Boone
BA-PS1 Parker Stevenson
BA-RC1 Robert Carradine
BA-RD1 Richard Dreyfuss
BA-RH1 Ryan Hurst
BA-SG1 Steve Guttenberg
BA-SMG1 Sarah Michelle Gellar – no base version
BA-SMG2 Sarah Michelle Gellar – no base version
BA-SS1 Steven Seagal
BA-TA1 Tom Arnold
BA-TB1 Tom Berenger
BA-TG1 Tracey Gold
BA-TH1 Tonya Harding
BA-VK1 Val Kilmer
BA-VP1 Vincent Pastore
BA-WB1 Wilford Brimley
Classic Roles Autographs
19 cards.
Buy on: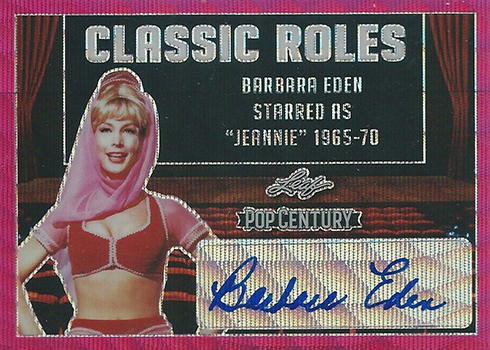 CR-BE1 Barbara Eden
CR-BR1 Burt Reynolds
CR-CL1 Christopher Lloyd
CR-DC1 Dean Cain
CR-DW1 Dawn Wells
CR-GL1 George Lazenby
CR-GW1 George Wendt
CR-HL1 Hal Linden
CR-JH1 Jon Heder
CR-JR1 John Ratzenberger
CR-JW1 Jaleel White
CR-KS1 Kristy Swanson
CR-LF1 Louise Fletcher
CR-LM1 Lee Majors
CR-LW1 Lindsay Wagner
CR-MI1 Michael Imperioli
CR-RC1 Robert Carradine
CR-RH1 Ryan Hurst
CR-SJ1 Shirley Jones
Dual Autographs
11 cards.
Buy on: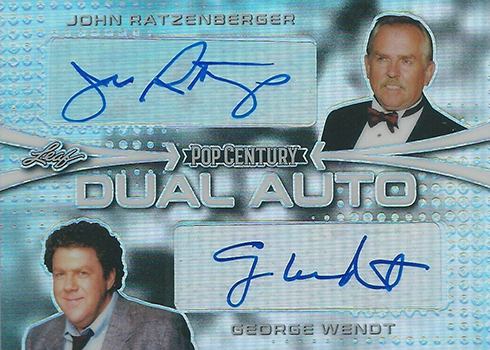 DA-01 Vincent Pastore/Federico Castelluccio
DA-02 Mickey Dolenz/Michael Nesmith
DA-03 Michael Imperioli/Federico Castelluccio
DA-04 Erik Estrada/Larry Wilcox
DA-05 John Ratzenberger/George Wendt
DA-06 Jeremy Miller/Tracey Gold
DA-07 Harrison Ford/Adam Driver
DA-08 Christopher Lloyd/Lea Thompson
DA-09 Dennis Haysbert/Charlie Sheen
DA-10 Brandon Routh/Dean Cain
DA-11 Al Pacino/Jamie Foxx
Heartbreakers
12 cards.
Buy on: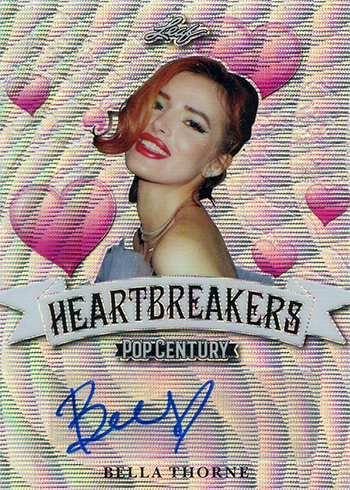 H-BE1 Britt Ekland
H-BR1 Brande Roderick
H-BT1 Bella Thorne
H-GLN Gena Lee Nolin
H-JLH Jennifer Love Hewitt
H-KS1 Kristy Swanson
H-LT1 Lea Thompson
H-LV1 Laura Vandervoort
H-NE1 Nicole Eggert
H-TH1 Tricia Helfer
H-TL1 Traci Lords
H-TON Tatum O'Neal
Inscription Autographs
1 card.
Buy on: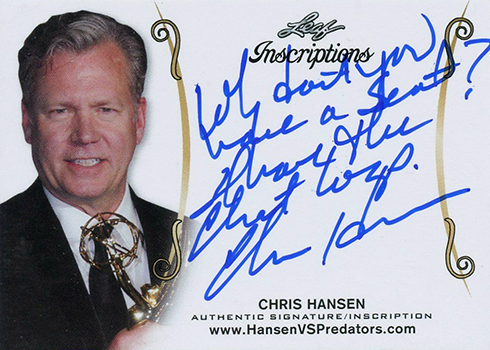 I-CH1 Chris Hansen
Sci-Fi Signatures
7 cards.
Buy on: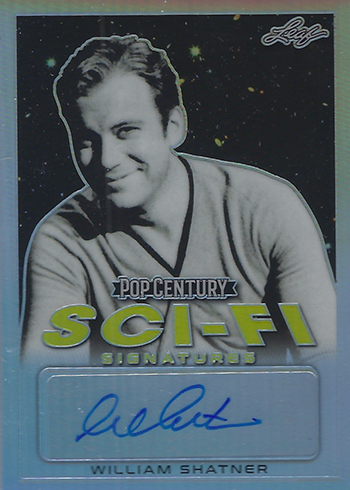 SFS-CM1 Caleb McLaughlin
SFS-FD1 Felicia Day
SFS-GM1 Gaten Matarazzo
SFS-LV1 Laura Vandervoort
SFS-SS1 Sadie Sink
SFS-TH1 Tricia Helfer
SFS-WS1 William Shatner
Stars of The Sandlot
1 card.
Buy on: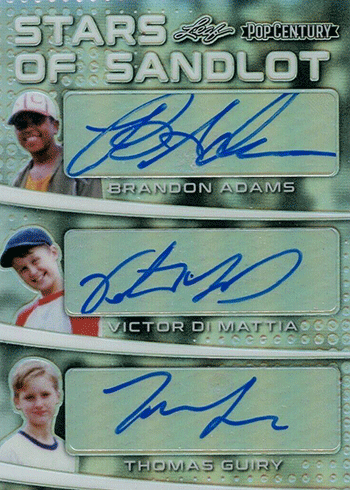 SA6-01 Brandon Adams/Victor Di Mattia/Thomas Guiry/Shane Obedzinski/Marty York/Chauncey Leopardi
Stars of The Sopranos
1 card.
Buy on: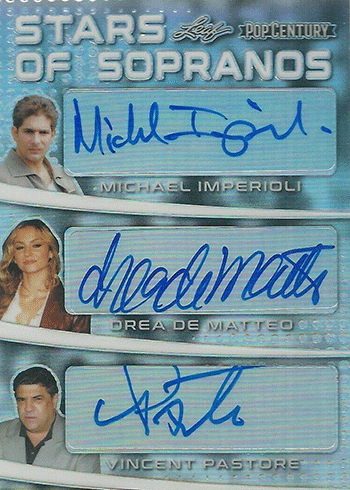 SS6-01 Michael Imperioli/Drea De Matteo/Vincent Pastore/Federico Castelluccio/Dominic Chianese/Aida Turturro
Stunning Starlets
1 card.
Buy on: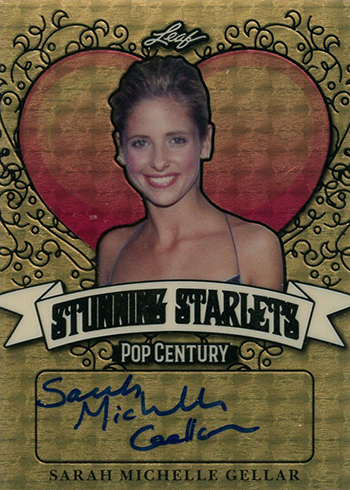 SS-SMG Sarah Michelle Gellar
Vinyl Signs
5 cards.
Buy on: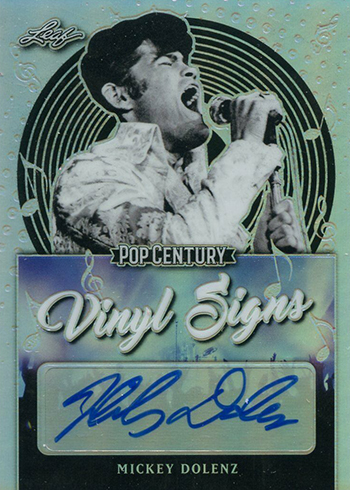 VS-AP1 Artimus Pyle
VS-BT1 Bella Thorne
VS-MD1 Mickey Dolenz
VS-MW1 Mary Wilson
VS-PB1 Pat Boone
Memorabilia
Prop Century 4 Stars
5 cards.
PC4-01 Tom Hanks/Kevin Costner/Denzel Washington/Brad Pitt
PC4-02 Jennifer Lawrence/Keira Knightley/Amy Adams/Jennifer Garner
PC4-03 Bing Crosby/Dean Martin/Frank Sinatra/Elvis Presley
PC4-04 Uma Thurman/Samuel L. Jackson/Bruce Willis/Christopher Walken
PC4-05 Steve Martin/Robin Williams/Eddie Murphy/Richard Pryor
Prop Century Co-Stars
11 cards.
PC2-01 Jack Nicholson/Dennis Hopper
PC2-02 Matthew McConaughey/Kate Hudson
PC2-03 Jennifer Lopez/Alex Rodriguez
PC2-04 Russell Crowe/Paul Giamatti
PC2-05 Robert Redford/Dustin Hoffman
PC2-06 Christopher Walken/Bruce Willis
PC2-07 Bill Murray/Chevy Chase
PC2-08 Jack Black/Ben Stiller
PC2-09 Ewan McGregor/Samuel L. Jackson
PC2-10 Sacha Baron Cohen/Will Ferrell
PC2-11 Kim Kardashian/Kourtney Kardashian
Prop Century Decades of Stars
6 cards.
PCDS-01 Robert Redford/Jack Nicholson/Robert Duvall/Burt Reynolds/Chevy Chase/Richard Dreyfuss
PCDS-02 Denzel Washington/Kevin Costner/John Malkovich/Brad Pitt/Tom Hanks/Samuel L. Jackson
PCDS-03 Eddie Murphy/Bruce Willis/Steve Martin/Bill Murray/Kevin Costner/Robin Williams
PCDS-04 James Stewart/Jerry Lewis/Dean Martin/Elvis Presley/Danny Kaye/Frank Sinatra
PCDS-05 Bradley Cooper/Jennifer Lawrence/Jonah Hill/Jack Black/Mark Wahlberg/Dwayne Johnson
PCDS-06 Uma Thurman/Michelle Pfeiffer/Helen Hunt/Sandra Bullock/Kate Winslet/Charlize Theron
Prop Century Eight
5 cards.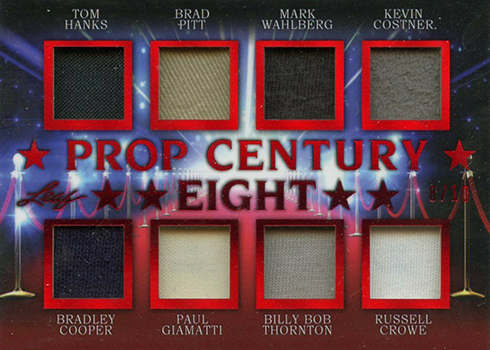 PC8-01 Ed O'Neill/Ariel Winter/Sofia Vergara/Jesse Tyler Ferguson/Sarah Hyland/Rico Rodriguez/Eric Stonestreet/Ty Burrell
PC8-02 Adam Sandler/David Spade/Chris Rock/Mike Myers/Eddie Murphy/Will Ferrell/Bill Murray/Chevy Chase
PC8-03 Tom Hanks/Brad Pitt/Mark Wahlberg/Kevin Costner/Bradley Cooper/Paul Giamatti/Billy Bob Thornton/Russell Crowe
PC8-04 Halle Berry/Charlize Theron/Sandra Bullock/Jennifer Lawrence/Amy Adams/Keira Knightley/Michelle Pfeiffer/Diane Lane
PC8-05 Elvis Presley/Bing Crosby/Frank Sinatra/Buddy Holly/Dean Martin/Danny Kaye/Debbie Reynolds/Ginger Rogers
Prop Century Trios
5 cards.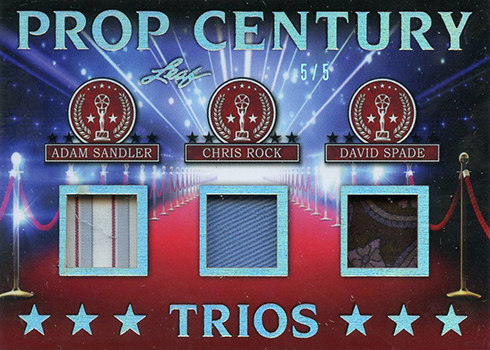 PC3-01 Elvis Presley/Buddy Holly/Frank Sinatra
PC3-02 Zach Galifianakis/Bradley Cooper/Mike Tyson
PC3-03 Mark Wahlberg/Burt Reynolds/Philip Seymour Hoffman
PC3-04 Jennifer Aniston/Matthew Perry/Courteney Cox
PC3-05 Adam Sandler/Chris Rock/David Spade
Cut Signatures
2019 Leaf Metal Pop Century Cut Signatures Checklist
210 cards.
Print runs on Cut Signatures not announced.
Buy on: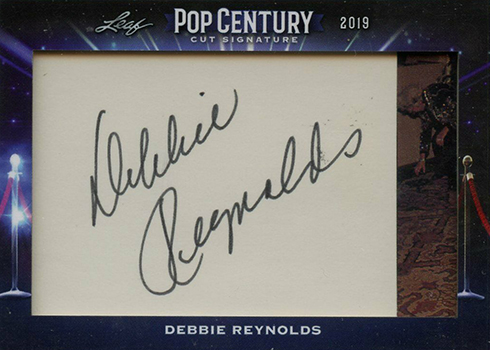 Steven Adler
Buzz Aldrin
Jason Alexander
Muhammad Ali
Awkwafina
Lew Ayres
Lauren Bacall
Barbara Bain
Kim Basinger
Jim Belushi
Tony Bennett
Pete Best
Ivan Boesky
Ray Bolger
Michael Bolton
Jon Bon Jovi
Zach Braff
Lloyd Bridges
James Brolin
Michael Buble
George Burns
Levar Burton
Barbara Bush
Gerard Butler
Art Carney
Johnny Carson
Rosalynn Carter
Vint Cerf
Damien Chazelle
Frances Cleveland
Chelsea Clinton
Lee J. Cobb
Common
Jeff Conaway
Sean Connery
Chuck Connors
Robert Conrad
Denton Cooley, MD
Grace Coolidge
Mary Costa
Nikki Cox
Billy Crystal
Tony Curtis
Matt Damon
Charlie Daniels
Pete Davidson
William R. Day
Oscar de la Renta
Jack Dempsey
Judi Dench
Matt Dillon
Diplo
Snoop Dogg
Fats Domino
Adam Duritz
Robert Duvall
Sheena Easton
Mamie Eisenhower
Peter Falk
Ron Ferdinand
Sally Field
Glenn Ford
Francis Ford Coppola
John Forsythe
Redd Foxx
Peter Gabriel
Lady Gaga
Crystal Gayle
Ricky Gervais
Newt Gingrich
Lillian Gish
Al Gore
Lou Gramm
Sammy Hagar
Anthony Michael Hall
Armie Hammer
Kirk Hammett
Mark Harmon
Woody Harrelson
Rex Harrison
Woody Herman
Freddie Highmore
Anita Hill
Clint Hill
Henry Hill
Edmund Hillary/Junko Tabei
Lee Iacocca
Tito Jackson
Kendall Jenner
Kylie Jenner
Scarlett Johansson
Angelina Jolie
James Earl Jones
Tom Jones
Milla Jovovich
Diane Keaton
Val Kilmer
Ben Kingsley
Phil Knight
Walter Knott
Walter Koenig
Shia LaBeouf
Walter Lantz
Peter Lawford
Norman Lear
James Leavelle
Ang Lee
Janet Leigh
Jack Lemmon
Melissa Leo
Joan Leslie
Jerry Lewis
Cleavon Little
Sophia Loren
Ludacris
Loretta Lynn
John Malkovich
Mickey Mantle
Al Martino
Zeppo Marx
Peter Max
Virginia Mayo
Robert McClelland, MD
Maureen McCormick
Audrey Meadows
John Mellencamp
Robert Merrill
Ricardo Montalbán
Clayton Moore
Roger Moore
Dave Navarro
Bob Newhart
Richard Nixon
Carroll O'Connor
Sinead O'Connor
Robert O'Neill
Yoko Ono
Julia Ormond
Al Pacino
Arnold Palmer
Linus Pauling
Bill Paxton
Rose Perez
Regis Philbin
Brad Pitt
Jeremy Piven
Eve Plumb
Amy Poehler
Colin Powell
Eleanor Powell
Chris Pratt
Priscilla Presley
Bill Pullman
Dennis Quaid
Tony Randall
Carl Reiner
Rob Reiner
Debbie Reynolds
Tim Rice
Don Rickles
Margot Robbie
Marty Robbins
Smokey Robinson
Chris Rock
Fred "Mister" Rogers
Ginger Rogers
Roy Rogers
Ray Romano
John Romita Sr.
Ronda Rousey
Rene Russo
Arnold Schwarzenegger
Martin Sheen
Talia Shire
Gene Simmons
Neil Simon
Tom Skerritt
Jaden Smith
Steven Soderbergh
David Spade
Tori Spelling
Kristen Stewart
Sting
Danny Thomas
Mel Tormé
Bess Truman
Ivanka Trump
Theodore "Dutch" Van Kirk
Fred M. Vinson
Jon Voight
Mark Wahlberg
Mia Wasikowska
Carl Weathers
Lucy Webb Hayes
Andrew Lloyd Webber
Adam West
Mae West
Dr. Ruth Westheimer
Forest Whitaker
Cornel Wilde
Barry Williams
John Williams
Hank Williams Jr.
Chill Wills
Henry Wilson
Luke Wilson
Elijah Woods
Steve Wozniak
Chuck Yeager
Hans Zimmer