2019 Leaf Metal Babe Ruth Collection Baseball Has a Bat Card (or Better) Per Box
If you've ever wanted a piece of game-used memorabilia from the Sultan of Swat, the 2019 Leaf Metal Babe Ruth Collection has made it easy and relatively affordable. Among the contents in every six-card box is either a bat card or something fancier along the lines of a cut signature.
2019 Leaf Metal Babe Ruth Collection Baseball Overview
This isn't the first set (or even the second) from Leaf to focus solely on Babe Ruth. However, it is the first to be done entirely in the Metal format. That means chromium cards throughout in both the base set and memorabilia cards.
The main set has 50 cards, which chronicle his life and career. Like other Leaf Metal sets, parallels come in several colors with one-of-one Super Prismatic being the rarest.
Game-used bat cards come in a variety of forms with one, two, three and four pieces. Each of these also have 50 cards plus their own mix Prismatic parallels.
Fifty Stadium Seat cards come from the original Yankee Stadium.
The set has a few bigger hits that replace the regular game-used bat cards, all one-of-ones. These include a cut signature autograph card, a bat knob and a bat barrel.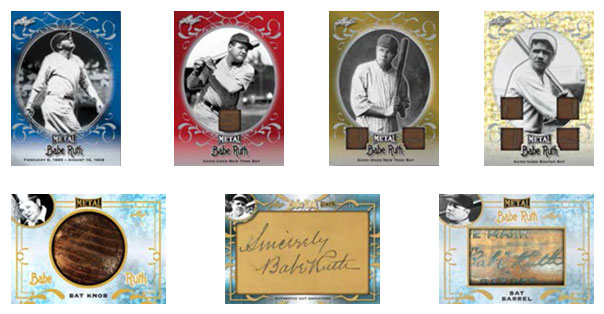 2019 Leaf Metal Babe Ruth Collection Baseball cards at a glance:
Cards per pack: 6
Packs per box: 1
Boxes per case: 10
Set size: 50 cards
Release date: September, 2019
What to expect in a hobby box:
Game-Used Bat or Cut Signature Cards – 1
Yankee Stadium Seat Cards – 1
Base Cards or Parallels – 4