2019 Leaf In the Game Used Sports Covers Lots of Ground
2019 Leaf In the Game Used Sports doesn't limit itself to just one area. Or two. Rather, it goes all-in with all the major sports. Everything in the product features memorabilia but within that are several different themes, styles and combinations.
Hobby boxes come with five cards.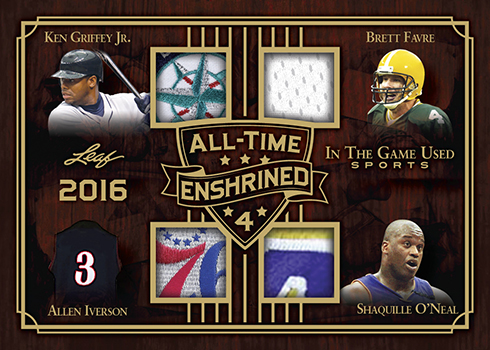 Like the sports it covers, players come from a variety of eras. Mickey Mantle, Willie Mays, Wilt Chamberlain, Kirby Puckett, Pele, Babe Ruth, Muhammad Ali, Emmitt Smith and Jack Nicklaus are some of the headline names to be found on the checklist in some form or another.
2019 Leaf In the Game Used Sports Overview
The Journey offers up a pair of swatches to highlight players who switched teams over the course of their respective careers. The Art of Sport has three pieces.
The Nickname Hall of Fame uses alternate monikers as a focus for a memorabilia insert.
Jumbo Patch has some of the biggest pieces in the product. The checklist for these also includes some big names like Tony Gwynn and Ichiro. Super Swatch Signature uses the same jumbo patch idea, but adds an autograph.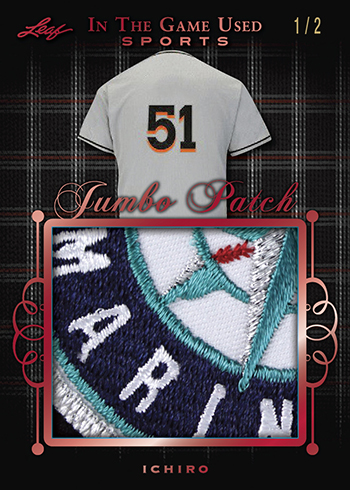 Fantastic Fabrics goes the bulk memorabilia route, offering eight pieces from a single athlete. Besides standard jersey swatches, things like gloves, patches, skates, bats and socks are also possible.
Jersey letters are on display in In the Name Used Letter.
In the Game Used Autographs are on the checklist as well, pair a signature with a swatch.
Multi-Player Themes
Among the combinations in 2019 Leaf In the Game Used Sports are several inserts that come with gear from more than one player.
The Final Curtain matches up two players whose playing careers ended in the same year. In a similar vein are MVP Signatures. Except instead of the end of playing days, player pairs center on MVP winners from the same year. These also come with autographs to compliment the swatches. Legendary Numbers is about players who shared a common number on the backs of their uniforms. We Built This City doesn't have a foundation on rock 'n roll. Rather, player pair-ups look to greats who played in the same metropolitan area.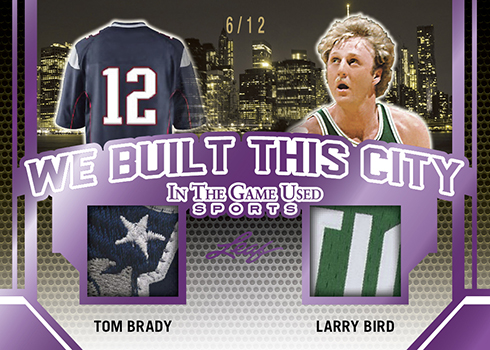 Legacy cards have pieces from three players, all of whom defined their respective sports in some fashion.
Four-Sport Phenoms include players from baseball, basketball, football and hockey all on the same card. All-Time Enshrined has Hall of Famers inducted during the same year and can be found with both two and four players.
Moving up to six players is Fantasy Baseball Studs. The common thread here is players who were all dominant in the same season. Draft History connects players by the year they were picked. All-Star Game History limits its scope to baseball and basketball, using combinations of stars from the same year of their mid-season games.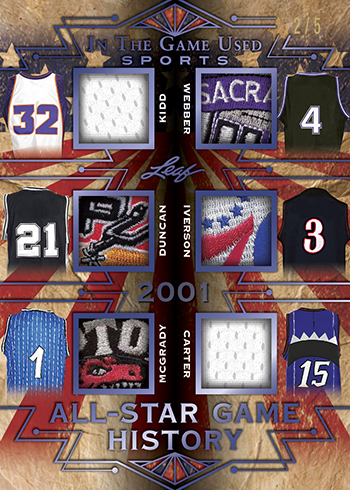 Eight-player themes include MVP 8s and The Gr8test of All-Time.
The Ten requires both sides of the card to showcase swatches from ten different stars.
In the Game Used Dual and Triple Autograph cards are exactly as they sound. Not only do they have memorabilia from two and three players, but signatures as well.
The Chosen Few Redemptions
Randomly inserted in boxes are redemptions for cards under The Chosen Few banner. These one-of-ones represent some of the top cards in 2019 Leaf In the Game Used Sports.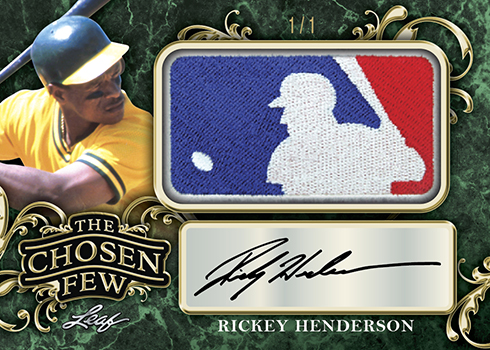 The idea behind this program is that you use your redemption to pick the card you want from what's available. This gives early redemptions an advantage as they'll have more to choose from.
2019 Leaf In the Game Used Sports at a glance:
Cards per pack: 5
Packs per box: 1
Boxes per case: 12
Release date: July 31, 2019
What to expect in a hobby box:
Memorabilia Cards or Autographed Memorabilia Cards – 5 Total