2019 Leaf Best of Sports Checklist and Details
When you see "Leaf" and "Best of" together, it's going to be a product highlighted by premium level repurchased cards. Usually, it's specific to a single sport. For 2019 Leaf Best of Sports, everything is in play.
The concept is still the same. Headlining each 2019 Leaf Best of Sports box is a card from the past. These include Rookie Cards, autographs, vintage cards and more. Really, anything deemed high-end from the world of sports cards is possible. Redemptions for autographed memorabilia are also randomly inserted.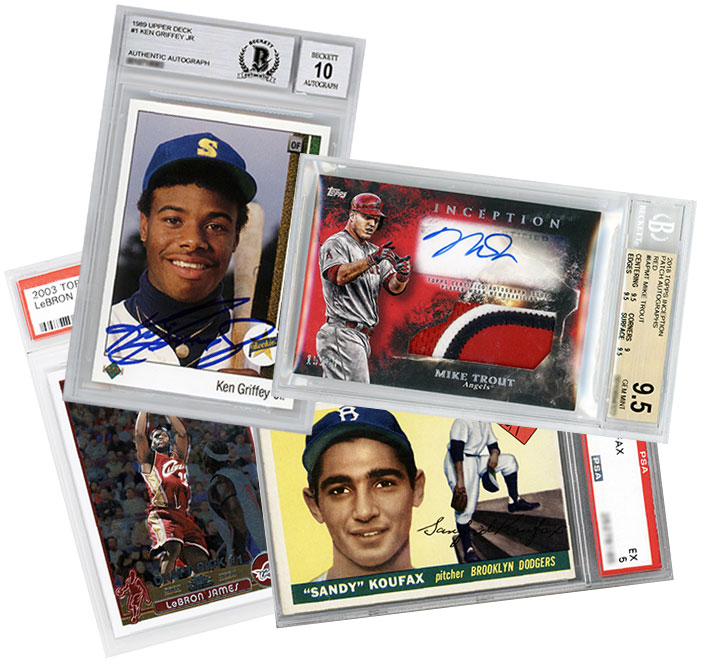 2019 Leaf Best of Sports boxes have a second card as well. This time around they're exclusive to the product. Leaf Original Best of Sport inserts cover take the product's eclectic nature to heart, offering cards of athletes from several areas. Done as Leaf Metal cards, parallels come in a variety of colors.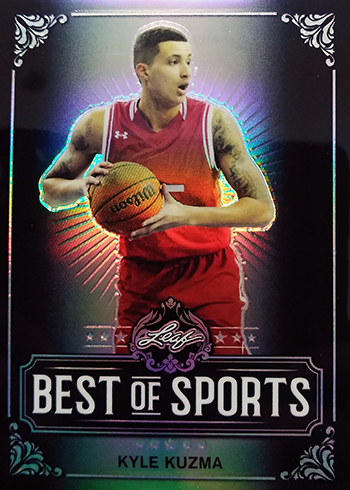 2019 Leaf Best of Sports at a glance:
Cards per box: 2
Boxes per case: 10
Release date: May, 2019
What to expect in a hobby box:
Repurchased Cards or Special Redemptions – 1
Leaf Original Best of Sport Inserts – 1
2019 Best of Sports Checklist
A checklist of repurchased cards has not been released. The following covers the exclusive cards in the product.
Base
12 cards.
Parallels:
Blue – /35
Purple – /25
Blue Wave – /20
Pink – /20
Black – /15
Purple Wave – /15
Green – /10
Pink Wave – /10
Black Wave – /7
Orange – /7
Green Wave – /5
Red – /5
Orange Wave – /3
Red Wave – /2
Gold – 1/1
Gold Super – 1/1
Printing Plates – 1/1 (each has Black, Cyan, Magenta and Yellow versions)
Wave Gold – 1/1
Wave Gold Super – 1/1
M-BF1 Brett Favre
M-BR1 Bill Russell
M-DH2 Dwayne Haskins
M-FM1 Floyd Mayweather Jr.
M-GH1 Gordie Howe
M-GV1 Georges Vézina
M-KK1 Kyle Kuzma
M-KO1 Kenny Omega
M-LM1 Lionel Messi
M-RF1 Roger Federer
M-SA1 Steve Austin
M-SC1 Stephen Curry
Rookie Impact
16 cards.
Parallels:
Purple – /10
Pink – /7
Purple Wave – /7
Green – /5
Pink Wave – /5
Green Wave – /3
Red – /3
Red Wave – /2
1 Anfernee Simons
2 Baker Mayfield
3 Calvin Ridley
4 D.J. Moore
5 Fernando Tatis Jr.
6 Josh Allen
7 Josh Rosen
8 Juan Soto
9 Kyle Kuzma
10 Mo Bamba
11 Nick Chubb
12 Ronald Acuna
13 Sam Darnold
14 Shohei Ohtani
15 Sony Michel
16 Wander Franco