As they embark on their final tour, one of the greatest rock bands of all-time is returning to cardboard. 2019 Dynamite KISS trading cards take a premium pack approach that focuses largely on autographs and sketch cards.
While there are other elements, these are the product drivers with one signed card per pack to go along with a pair of sketch cards.
2019 Dynamite KISS Trading Cards Overview
The product does have a base set, although a brief one that's nothing like past sets from Donruss and Press Pass. This time around, the base portion of the checklist has just 18 cards. That said, finishing it will still be a challenge as each pack has just two.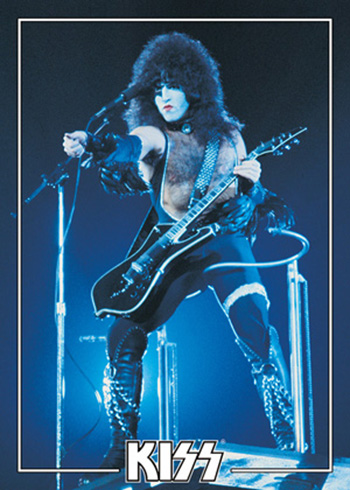 If you go from a bulk perspective, most of the autograph signers in 2019 Dynamite KISS come from the creative teams behind recent comics. However, there are a couple members of the band — and they're big ones. Gene Simmons and Paul Stanley each have two different autograph cards. Over a 12-pack box, there's at least one Simmons or Stanley autograph.
With such a visual look to the band and their make-up, sketch cards are a natural fit for the product. More than 50 artists worked on the set, providing for a variety of takes and styles.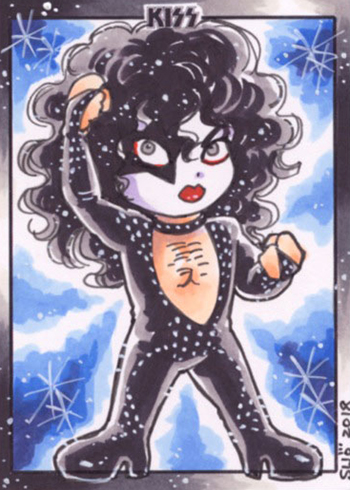 2019 Dynamite KISS has a couple of other insert sets. Black and White Line Art and Puzzle cards are both one per pack. There are also two box toppers, one of which is in every sealed box.
2019 Dynamite KISS trading cards at a glance:
Cards per pack: 7
Packs per box: 12
Set size: 18 cards
Release date: TBA
What to expect in a premium pack:
Autographs – 1
Sketch Cards – 2
Black and White Art Inserts – 1
Puzzle Inserts – 1
Base Cards – 2
2019 Dynamite KISS Checklist
Base Set
18 cards.
2 cards per pack.
Autographs Checklist
12 cards.
1 per pack.
Michael Adams
Kewber Baal
Rodney Buchemi
Amy Chu
Tom Mandrake
Anthony Marquez
Gene Simmons – 2 different
Paul Stanley – 2 different
Kyle Strahm
Charles Wilson III
Black and White Line Art Checklist
12 cards.
1 per pack.
Box Topper Checklist
2 cards.
1 per sealed box.
Puzzle Checklist
9 cards.
1 per pack.
Sketch Cards
2 per pack.
Axebone
Mitch Ballard
Jeffrey C. Benitez
Bobby Blakey
Andy Bohn
Roger Bonet Martinez
Lee Brown
Matt Buttich
Chris Caniano
Chenduz
Kevin B. Cleveland
Roy Cover
Dan Curto
Joe DelBeato
Allen Douglas
Andrew Edge
Ryan Finley
Dana Fitcher
Sarah Fletcher
Rusty Gilligan
Daniel Gorman
Kevin Graham
Ken Haeser
Scott Harrell
Christopher Hoffman
Karl Jones
Carl Kent
Brian Kong
Mike Lilly
Pablo Marcos
Christian Martinez
Jim Mehsling
Steven Miller
Rich Molinelli
Logan Monette
Jason Mooers
Mariano Nicieza
CJ Oechsle
Jorge Pacheco
Carlos Parker
John Pleak
Gordon Purcell
Fabio Ramacci
Wilson Ramos
Barry Renshaw
Scott Rorie
Jim Sabo
Edward Santia
Chad Scheres
Brent Scotchmer
Tim Shay
Michael Spivey
Matt Stewart
Adam Talley
TheScaredycat
Mick Trimble
Sanna U.
Martheus Wade
Adam Worton
XinJin