2019 Donruss Optic Football adds a little shine to the earlier flagship release. And with the chromium foundation comes lots of color and a mix of on-card autographs. Hobby boxes have one autograph and ten parallels.

2019 Donruss Optic Football Overview
The base set adopts the same general design as 2019 Donruss Football, only this time it's on chrome stock. The checklist starts with 100 veterans. Joining them are Rated Rookies and Rookies subsets, which combine to land one per hobby pack.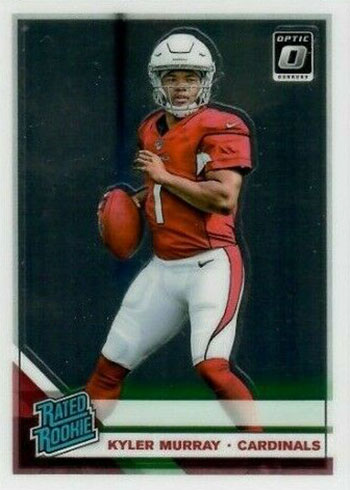 Collectors can expect to find a large mix of parallels, which average one per pack.
Rated Rookies Autographs headline Optic's signature chase. These have on-card signatures. Parallels include Holo (/99 or less), Blue (/75 or less), Red (/50 or less), Purple (/35 or less), Black Pandora (/25 or less), Gold (/10 or less), Green (/5 or less) and Gold Vinyl (1/1).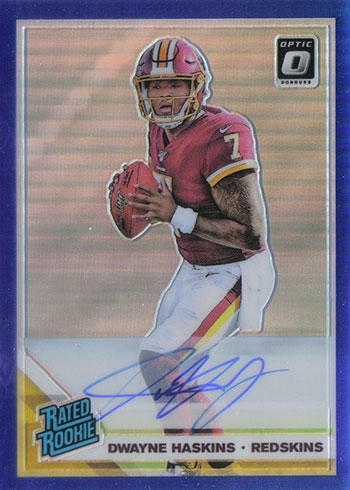 Patch-signature combinations are only in hobby packs. Themes include Rookie Patch Autographs (/25 or less), Legendary Patch Autographs and Dynamic Patch Autographs.
Rookie Triple Autographs aren't hard-signed but they do have signatures from three different NFL freshmen. These have no more than 25 copies each.
Jumping back into Donruss' past are 1989 Tribute and 1999 Tribute Autographs. These use original Donruss designs with signature upgrades. Both also have regular insert versions.
Among the other inserts in 2019 Donruss Optic Football are MVP, Mythical, Power Formulas and Rookie Kings. Tough Downtown inserts return. According to Panini, they're a case hit.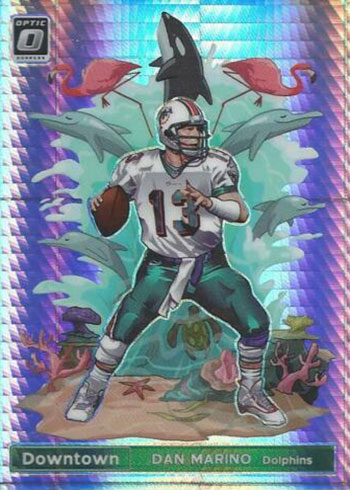 2019 Donruss Optic Retail Exclusives
2019 Donruss Optic also has some additional retail configurations, each with their own mix of exclusives. Blasters are the only place to find Pink parallels. Mega boxes have six Red and Yellow cards plus an exclusive Red and Yellow memorabilia card. Twelve-card fat packs each have four Green Velocity cards not available anywhere else.
2019 Donruss Optic Football cards at a glance:
Cards per pack: Hobby – 4, Blasters – 4, Retail Mega Boxes – 4, Retail Fat Packs – 12
Packs per box: Hobby – 20, Blasters – 6, Retail Mega Boxes – 10, Retail Fat Packs – 12
Boxes per case: Hobby – 12
Set size: 200 cards
Release date: December 20, 2019
Shop for 2019 Donruss Optic Football boxes on eBay:
What to expect in a hobby box:
Autographs – 1
Inserts – 4
Parallels – 10
What to expect in a retail blaster box:
Inserts – 1
Pink Parallels – 2
Holo Parallels – 1
What to expect in a retail Mega Box:
Red and Yellow Memorabilia Cards – 1
Inserts – 2
Holo Parallels – 2
Red and Yellow Parallels – 6
2019 Donruss Optic Football Checklist
Base
Autographs
Memorabilia
Inserts
Team Sets