2019 Donruss Optic Baseball cards give the year's main Donruss line a chromium makeover. That means lots of Prizms parallels (more than a dozen) and an updated autograph checklist that covers the past, present and future of the game. All told, hobby boxes have a pair of signature cards and ten parallels.
2019 Donruss Optic Baseball Base Set Basics
A complete set consists of 200 cards. Half of this is the main player cards.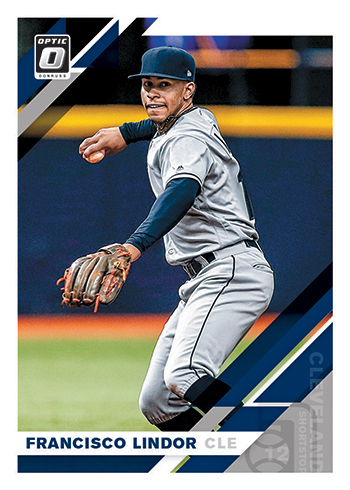 The remaining 100 cards on the checklist include some familiar subsets: Diamond Kings, Rated Rookies and All-Stars.
As for the Prizms parallels, there are 14 different color and pattern combinations. Ten Prizms are in each hobby box. Five are base Prizms while the other five are all numbered.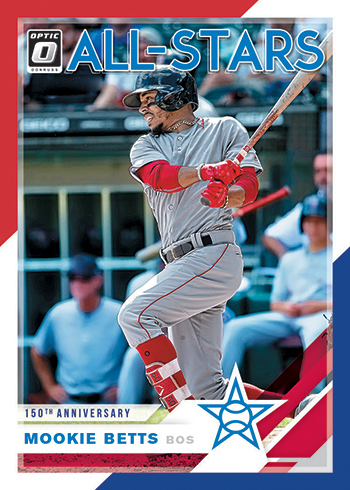 Autographs and Inserts
Nostalgia is tapped in a couple of regards with the product's autographs. Players from past generations are among the signers. Retro 1985 Signatures channel an '80s vibe, using the 34-year-old design as its foundation. Parallels come in Holo (/99 or less), Blue (/50 or less), Red (/25 or less), Gold (/10 or less), Green (/5 or less), and Gold Vinyl (1/1).
Rated Prospect Autographs have on-card signatures and bring a young element to the checklist. Among the youthful signers in the product as a whole are Vladimir Guerrero Jr. and Eloy Jimenez, two of the game's top prospects heading into the season.
MVP Signatures are a mix of veteran and retired player autographs.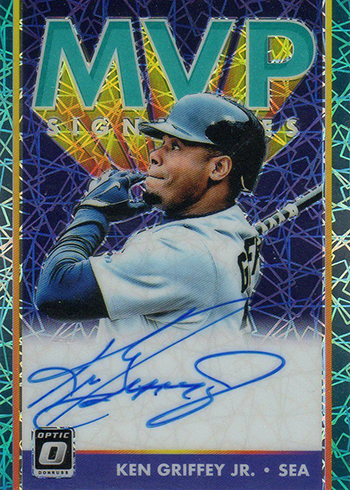 While most of the designs in 2019 Donruss Optic Baseball are tweaked from regular Donruss, there are some inserts that are entirely new. These include Mythical and Optic Illusions. In addition to their base versions, these have Holo, Gold (/10) and Gold Vinyl (1/1) parallels.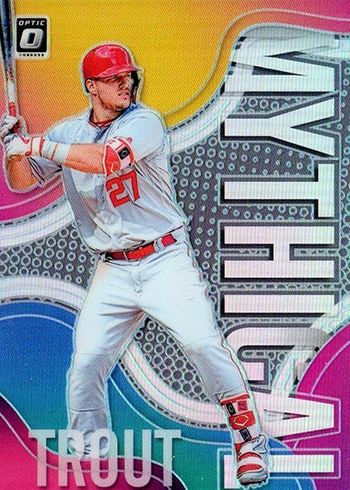 Hot Boxes
2019 Donruss Optic cases are made up of a dozen boxes. In each case are four hot boxes. Two are autograph hot boxes, which have five autographs versus the usual two. Prizm hot boxes, which are also two per case, have 20 numbered parallels.
2019 Donruss Optic Baseball cards at a glance:
Cards per pack: 4
Packs per box: 20
Boxes per case: 12
Set size: 200 cards
Release date: July 17, 2019
Buy 2019 Donruss Optic Baseball boxes on eBay:
What to expect in a hobby box:
Autographs – 2
Inserts – 12
Prizms – 10
2019 Donruss Optic Baseball Checklist
Base
Autographs
Inserts
Team Sets