2019 Cryptozoic Outlander CZX trading cards bring a new high-end spin to not just the license but Cryptozoic as a whole. Going beyond traditional autographs and memorabilia cards, the checklist features upgrades at every turn. And while boxes still deliver one autograph and one wardrobe card like the previous seasonal sets, there is a higher concentration of big things to be found.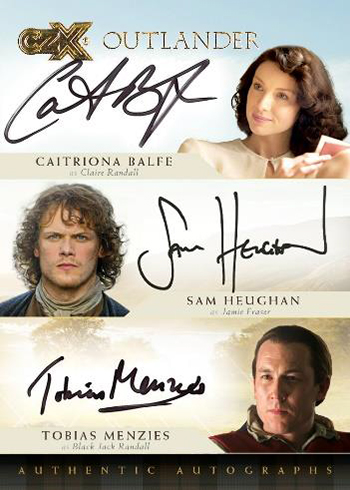 2019 Cryptozoic Outlander CZX Base Set Basics
The high-end nature starts with the base set. Spanning 54 cards, it covers the show's first four seasons. This time around they come on thick, glossy stock with somewhat intricate gold foil highlights.
Additional foil parallels and Printing Plates are also available.
Autographs, Memorabilia Cards and Other Inserts
Autographs have been the big draw since Cryptozoic bowed their first Outlander set. That's not going to change here. This is the first set to include both of the set's lead stars, Caitriona Balfe and Sam Heughan. Sophie Skelton and Tobias Menzies are among the other key names on the checklist. According to Cryptozoic, each case will have at least one signature from either Balfe or Heughan.
Although her face may not be known to fans of the show, Diana Gabaldon is a major name getting her first autograph card in the product. She is the author of the Outlander novels. She's also a writer on the show.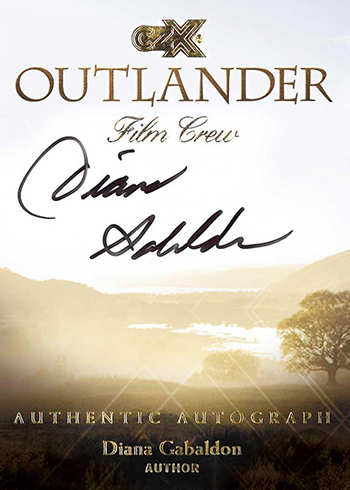 Besides single-signed cards, dual and triple autographs are also available. So, too, are Autograph Wardrobe cards, something Cryptozoic has done very little of outside of a handful of Walking Dead cards.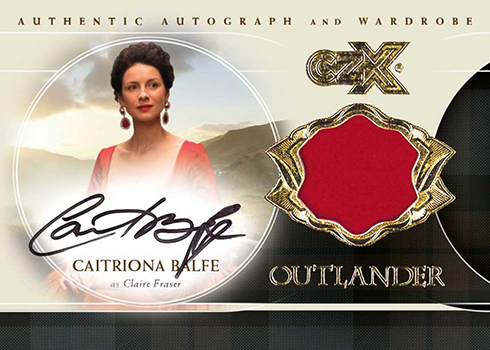 Similar to the autographs, memorabilia cards also have dual and triple versions.
The product has two additional insert sets. STR PWR makes its second appearance in a set of Outlander trading cards. They debuted in 2017's Season 2 release.
Lenticular cards can also be found.
Available separately, a custom binder for the set comes with an exclusive Wardrobe card not available in packs.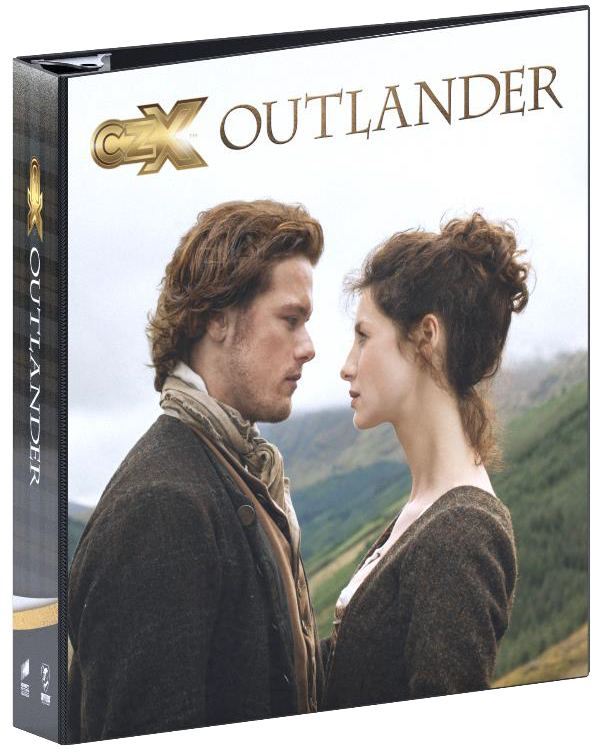 2019 Cryptozoic Outlander CZX trading cards at a glance:
Cards per pack: 4
Packs per box: 6
Boxes per case: 6
Set size: 54 cards
Release date: August 14, 2019
What to expect in a hobby box:
Autographs – 1
Memorabilia Cards – 1
Lenticular Cards – 1
STR PWR – 1
Red Deco Foil Parallels – 1
2019 Cryptozoic Outlander CZX Checklist
Base
Autographs
Memorabilia
Inserts
Promos