Bowman's Best might not get the attention of Bowman Chrome. But it continues to have many of the similar elements as well as going a little bit further down the rabbit hole of color and bolder designs. 2019 Bowman's Best Baseball continues with all that along with more of a bulk approach to autographs than 2019 Bowman Baseball.
The format is largely the same as recent years with hobby boxes broken down into two six-pack mini boxes. Hobby boxes deliver four signed cards. Every pack also has a Refractor.
2019 Bowman's Best Baseball Base Set Basics
The main portion of 2019 Bowman's Best includes a mix of veterans and rookies. Like Bowman Chrome, cards are done on chromium stock, but the colors are bolder and there are bigger design elements. It's kind of like the Bowman equivalent of Finest.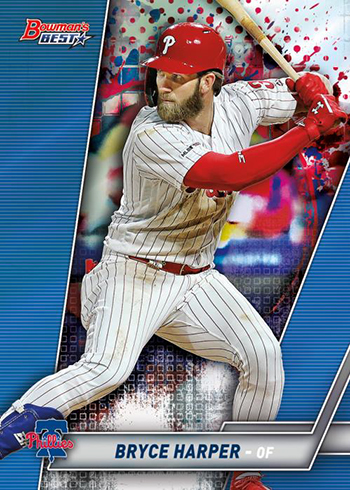 Prospects and draft picks have a similar collection of cards, although they're numbered differently, making them more akin to inserts.
Besides regular Refractors, which are one per pack, other parallels include Atomic Refractors (1:12 packs), Purple Refractors (/250), Blue Refractors (/150), Green Refractors (/99), Gold Refractors (/50), Orange Refractors (/25), Red Refractors (/10) and Superfractors (1/1).
Autographs
The bulk of the signatures in 2019 Bowman's Best Baseball fall under the Best of 2019 Autographs set. While there are a lot of prospects, rookies and draft picks, there are also veterans on the checklist, another difference from the main Bowman Chrome autograph content.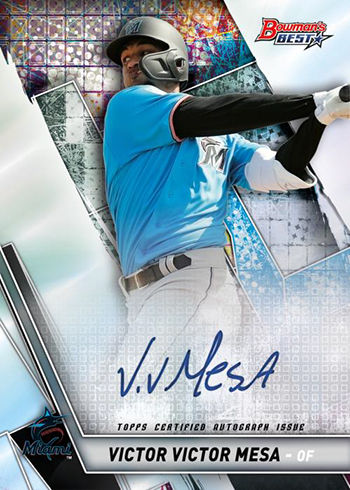 Parallels include Refractors, Blue Refractors (/150), Green Refractors (/99), Gold Refractors (/50), Atomic Refractors (/25), Red Refractors (/10), Printing Plates (1/1) and Superfractors (1/1).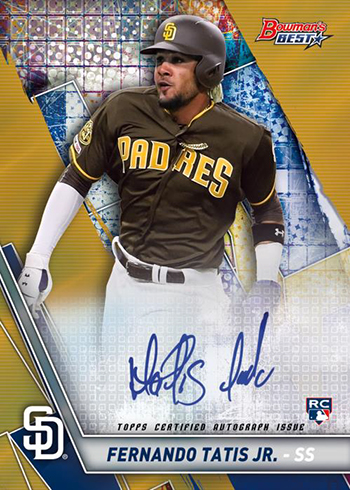 Dual Autographs live up to their name with signatures from two players.
Additional Inserts
2019 Bowman's Best Baseball has four other regular insert sets as well. Neophyte Sensations centers on the year's rookie class while new Future Foundations Die-Cuts delve into prospects.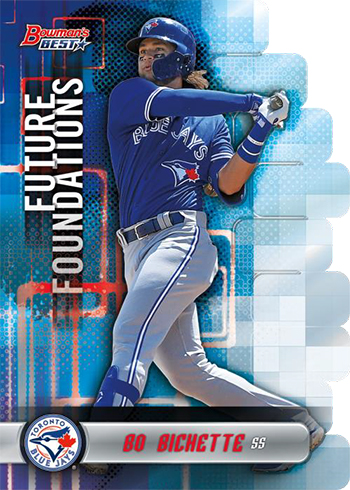 Power Producers crosses all levels of baseball from the minors to the majors to spotlight home run hitters.
Finally, there's 1999 Franchise Favorites, which finds its roots 20 years in the past.
All four of these insert sets have Atomic Refractors, Gold Refractors (/50) and Superfractors (1/1) as well as their base versions. Select cards in Neophyte Sensations and Power Producers also have autographs and Superfractor Autographs (1/1).
1999 Franchise Favorites Autographs are a case hit. Future Foundations Die-Cut Autographs are also available. Both of these autograph versions have Gold Refractor (/50), Atomic Refractor (/25) and Superfractor (1/1) parallels.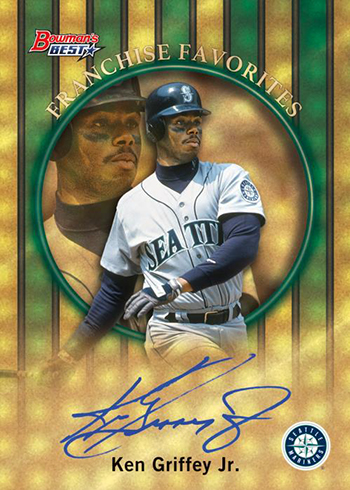 2019 Bowman's Best Baseball cards at a glance:
Cards per pack: 5
Packs per box: 12
Boxes per case: 8
Set size: TBA
Release date: December 18, 2019
What to expect in a hobby box:
Autographs – 4
Atomic Refractors – 1
Refractors – 12
A full 2019 Bowman's Best checklist and team set lists will be posted as soon as they're available, likely a week or so before release.