As has been the case for several years, the 2019 Bowman Chrome Refractors rainbow is a big one. It gets the full ROYGBIV treatment and more with lots of colors and a couple of patterns.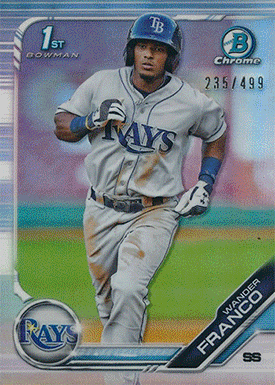 These Refractors are most prominent in the Prospects portion of 2019 Bowman Baseball, although most are present among the autographs as well. Several of the product's inserts also have multiple Refractors, although not to the same extent.
All of the Prospects cards in 2019 Bowman Baseball have 18 different Refractor parallels plus four different one-of-one Printing Plates. In addition to there, 100 of the 150 cards have six additional Mega Box Refractors that are exclusive to special blasters sold at Target. That's 24 different Refractors for most of the cards, excluding autographs and other inserts.
Most Refractors can be identified with their rainbow finish when shone under bright light and colored borders. However, there are some patterns that make some of cards even more distinct. All of the Mega Box Refractors have an interlocking tile. Panini sometimes has a similar pattern they dub Mojo. But the origins of the pattern actually go back more than two decades. Flair Showcase used it in the 1990s.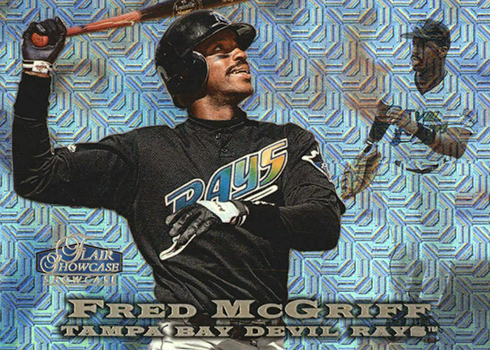 A handful of colors also have Shimmer Refractors. These have a diagonal effect to them and are in addition to the matching colors. For example, Blue Refractors and Blue Shimmer Refractors all have 150 copies each.
Other patterned 2019 Bowman Chrome Refractors include the hobby-only Atomic Refractors, which are similar to Panini's Cracked Ice cards, and new Speckle Refractors, which are numbered to 299.
2019 Bowman Chrome Refractors Gallery
This gallery covers the Prospects cards found in 2019 Bowman Baseball. Many of these also have autograph versions. Odds are different on the autographs but the overall look is the same for corresponding colors. It's possible that the Refractors mix could change for the future 2019 Bowman Chrome and 2019 Bowman Draft releases.
---
---
---
---
---
---
---
---
---
---
---
---
---
---
---
---
---
---
---
---
---
---
---
---
---
---