If You're Having a Hard Time Finding a 2019 Bowman Bryce Harper, You're Not Alone
The 2019 Bowman Bryce Harper is the superstar's first Philadelphia Phillies baseball card available in packs.
It's #3 on the base set checklist, matching his new jersey number. It's a spot actually shares on the checklist with Tampa Bay's Joey Wendle. Turns out, the 2019 Bowman Bryce Harper is a variation, and a tough one to pull at that.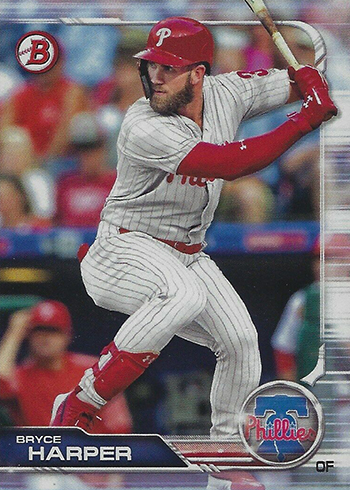 While Topps hasn't said exactly how many copies of the card exist or its insert rates, they did confirm its short print status during a box opening video they did on Facebook.
So far, only a handful of the Bryce Harper SP cards have surfaced on eBay. Given the fact that 2019 Bowman isn't exactly a low print run product, it's a small number. While one of the first copies closed at almost $70, more recent early sales have been in the $25-$35 range. It's still too early to say where they'll end up settling.
Unlike a lot of other variations in other Topps sets, this one does have parallels. These are numbered an appear to be in line with the other 2019 Bowman Baseball parallels. So you might want to think twice before paying a significant premium just because the base version is a short print.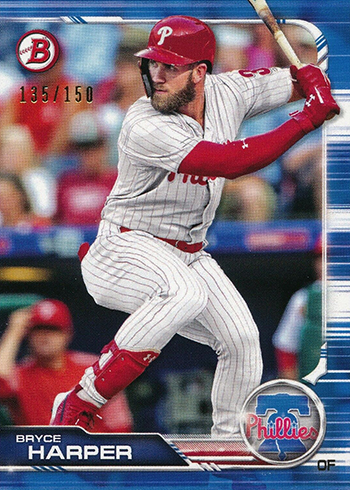 Although the 2019 Bowman Bryce Harper short print is his first pack-pulled Phillies card, he has appeared on several online-exclusive sets like 2019 Topps Now and a pair of commemorative cards Topps did upon his signing.