2019 Bowman Baseball Big Guns – Beckett Pricing Insider
The prospecting season has begun.
Thanks to 2019 Bowman, it's now time for collectors to get their hands on some of the first cards of potential MLB superstars. A staple in the industry, the Bowman brand goes beyond active players with a heavy focus on incorporating prospects from the minors into their products.
Some of the biggest cards in the modern industry come from the Bowman Chrome Prospect Autographs checklist, which is distributed in three parts, first in 2019 Bowman, then in 2019 Bowman Chrome and lastly at the end of the year in 2019 Bowman Draft. Many of the players in this checklist are making their debuts in Bowman and getting their 1st Bowman autograph card and while they aren't rookie cards, they are just as coveted by collectors.
This year's checklist contains some of the top prospects names, many of which are selling for some extreme prices. Here are a few of the big names:
Signed by the Tampa Bay Rays as an international free agent in 2017, the 18-year-old is already one of the top prospects in the game. Before the season he was ranked as the 4th best prospect by Baseball America, 13th best by MLB.com, and 10th best by Baseball Prospectus. Franco has almost 250 cards in the Beckett Database but his cards in Bowman are his first with him in Rays gear.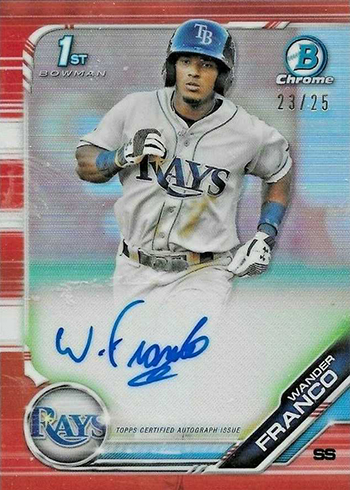 Drafted 2nd overall by the San Francisco Giants in the 2018 Draft, the catcher from Georgia Tech is already considered the #1 catching prospect in the game. Considered the heir apparent to Buster Posey, Bart has just over 250 cards in the Beckett Database.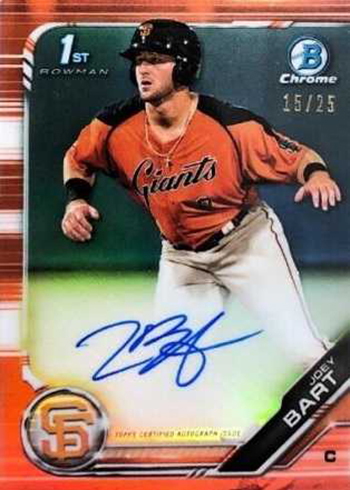 If you're a little confused, I'm sure you are not alone. Kind of like how George Foreman has five sons named George, legendary Cuban ballplayer and manager Victor Mesa named both of his kids Victor.
Victor Victor and Victor Jr. defected from Cuba and signed with the Miami Marlins in October, 2018. Victor Victor, 22, was the headliner of the two brothers. He started playing professionally in Cuba when he was just 15 and is the Marlins #2 overall prospect. An excellent runner and defender, the older brother isn't expected to need a lot of seasoning before he is MLB ready.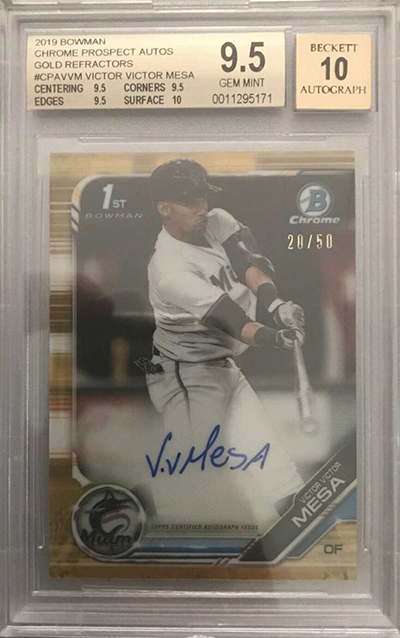 Victor Jr., 17, is ranked as the Marlins' #29 overall prospect has much less experience and is still raw. While he doesn't have his brother's athleticism, he still has a lot of potential and plenty of time to grow.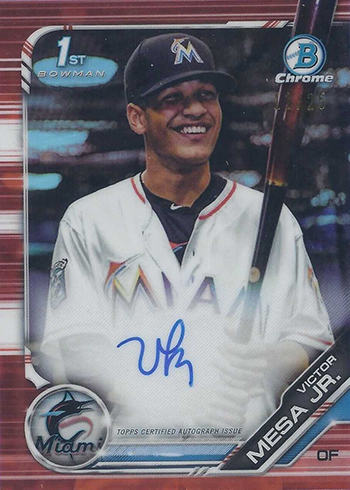 Bowman is only the second set to have cards of Victor Victor, who has just under 100 cards in the Beckett Database. Victor Jr. has just over 50 cards, all from 2019 Bowman.