2019-20 Upper Deck Young Guns Rookie Cards: The Ultimate Guide
The 2019-20 Upper Deck Young Guns represent some of the most popular and widest reaching Rookie Cards of the season. They highlight top players debuting during the season as well as a handful of notable holdovers from late in the 2018-19 season. The first 50-card installment arrived with 2019-20 Upper Deck Series 1. Another crop will arrive later in the season with the release of 2019-20 Upper Deck Series 2.
2019-20 Upper Deck Young Guns Big Guns
Series 1 Young Guns are highlighted by two brothers, Jack Hughes and Quinn Hughes.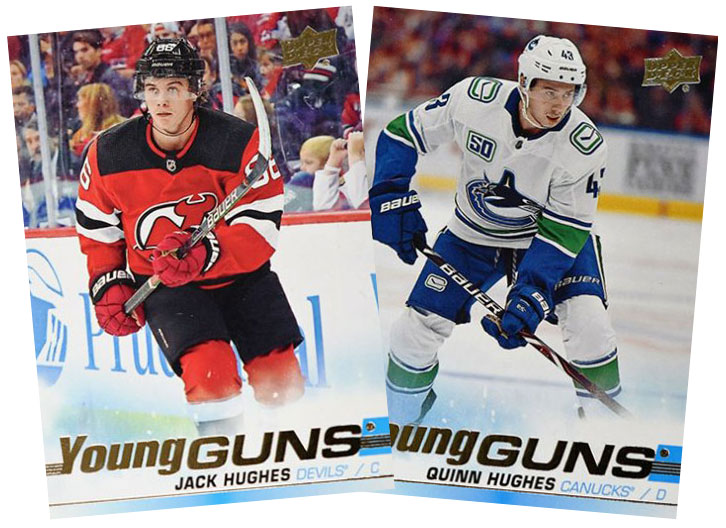 Jack is the first overall pick in the 2019 NHL Draft. Expectations are high in New Jersey for the young center, who was just 18-years-old when he made his NHL debut. So even if his numbers aren't huge in 2019-20, time is certainly a factor.
Quinn Hughes is part of Vancouver's explosive and youthful core. The defenseman was the seventh pick in the 2018 draft.
Some of the other notable names on the 2019-20 Upper Deck Young Guns checklist in Series 1 include Cody Glass of the Vegas Golden Knights, Montreal's Ryan Poehling and Buffalo's Victor Olofsson.
In an effort to spread things out between the two flagship sets, collectors can expect some key prospects in Series 2 such as Colorado's Cale Makar and Kaapo Kakko, the second overall pick in 2019.
Hunting for 2019-20 Upper Deck Young Guns
Sticking with tradition, Young Guns are short prints in 2019-20 Upper Deck Hockey. But not by a huge amount. They average 1:4 hobby packs with similar odds in many retail configurations. The fact is, Young Guns aren't exactly rare. However, they so popular, they're generally big drivers in the hockey card market.
Besides the base versions, 2019-20 Upper Deck Young Guns have a couple of parallels. Clear Cut are tough, hobby-only pulls done on acetate. Exclusives are numbered to 100 while High Gloss have just ten copies each.
2019-20 Upper Deck Young Guns Guide
201 Jack Hughes
New Jersey Devils, C
Drafted: 2019, 1st round (1st overall)
Born: May 14, 2001
Profile and Stats: NHL | Elite Prospects
Buy on: 
Jack Hughes Hockey Card Checklist and Price Guide Access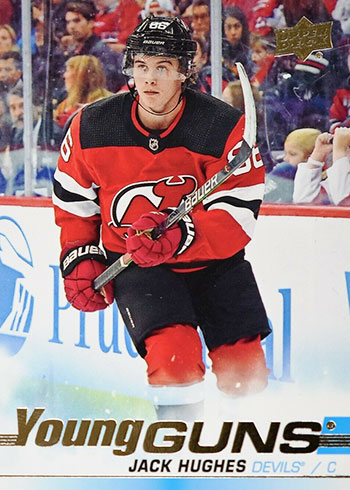 ---
202 Blake Lizotte
Los Angeles Kings, C
Drafted: n/a
Born: December 13, 1997
Profile and Stats: NHL | Elite Prospects
Buy on: 
Blake Lizotte Hockey Card Checklist and Price Guide Access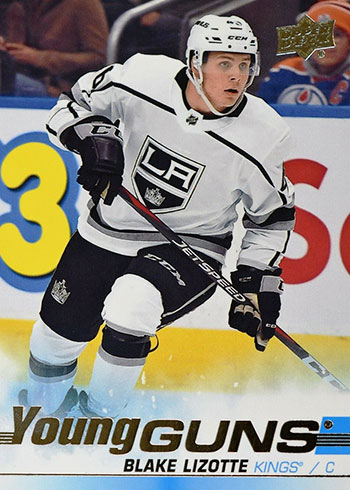 ---
203 Conor Timmins
Colorado Avalanche, D
Drafted: 2017, 2nd round
Born: September 18, 1998
Profile and Stats: NHL | Elite Prospects
Buy on: 
Conor Timmins Hockey Card Checklist and Price Guide Access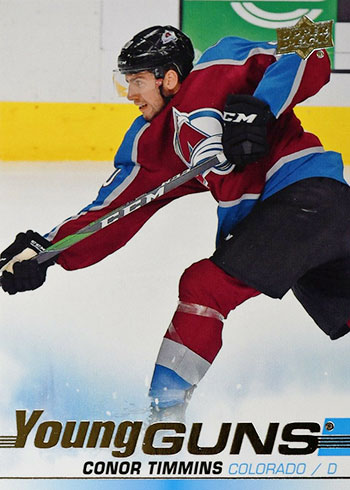 ---
204 Ville Heinola
Winnipeg Jets, D
Drafted: 2019, 1st round (20th overall)
Born: March 2, 2001
Profile and Stats: NHL | Elite Prospects
Buy on: 
Ville Heinola Hockey Card Checklist and Price Guide Access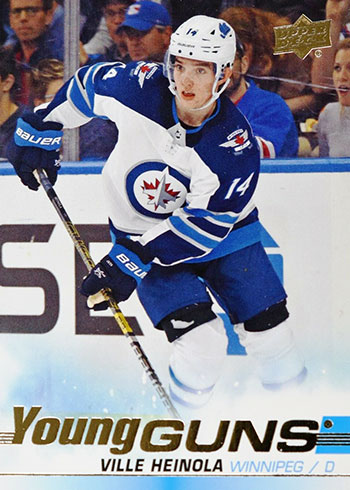 ---
205 Nathan Bastian
New Jersey Devils, RW
Drafted: 2016, 2nd round
Born: December 6, 1997
Profile and Stats: NHL | Elite Prospects
Buy on: 
Nathan Bastian Hockey Card Checklist and Price Guide Access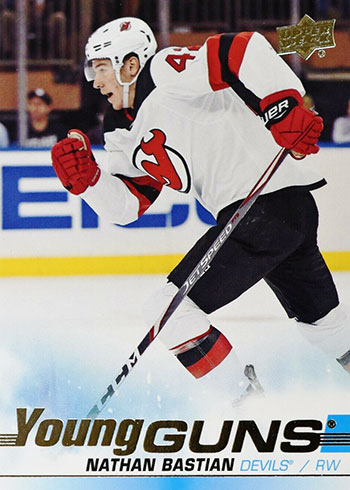 ---
206 Jimmy Schuldt
Vegas Golden Knights, D
Drafted: n/a
Born: May 11, 1995
Profile and Stats: NHL | Elite Prospects
Buy on: 
Jimmy Schuldt Hockey Card Checklist and Price Guide Access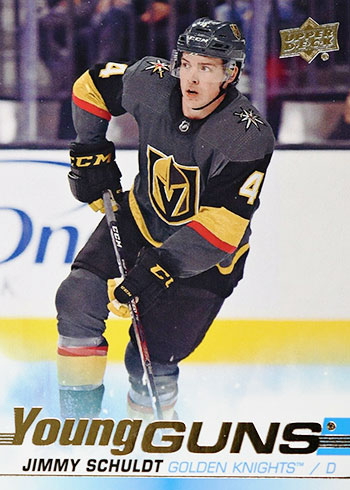 ---
207 Victor Olofsson
Buffalo Sabres, LW
Drafted: 2014, 7th round
Born: July 18, 1995
Profile and Stats: NHL | Elite Prospects
Buy on: 
Victor Olofsson Hockey Card Checklist and Price Guide Access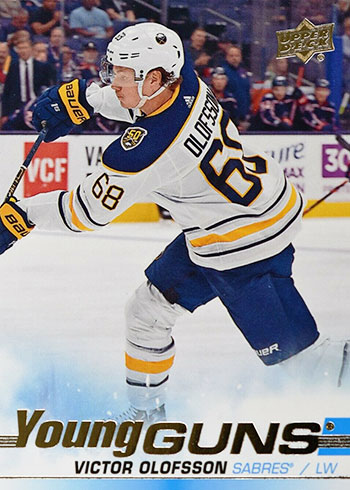 ---
208 Connor Bunnaman
Philadelphia Flyers, C
Drafted: 2016, 4th round
Born: April 16, 1998
Profile and Stats: NHL | Elite Prospects
Buy on: 
Connor Bunnaman Hockey Card Checklist and Price Guide Access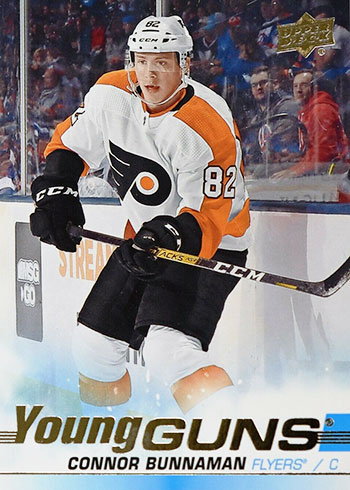 ---
209 Cale Fleury
Montreal Canadiens, D
Drafted: 2017, 3rd round
Born: November 19, 1998
Profile and Stats: NHL | Elite Prospects
Buy on: 
Cale Fleury Hockey Card Checklist and Price Guide Access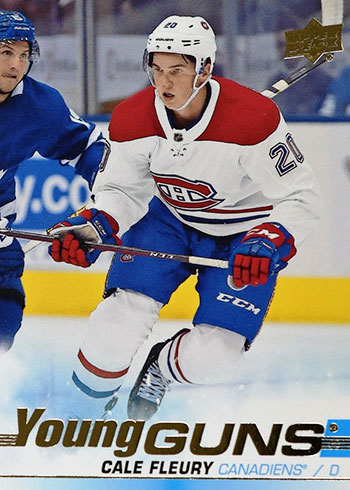 ---
210 Ilya Mikheyev
Toronto Maple Leafs, RW
Drafted: n/a
Born: October 10, 1994
Profile and Stats: NHL | Elite Prospects
Buy on: 
Ilya Mikheyev Hockey Card Checklist and Price Guide Access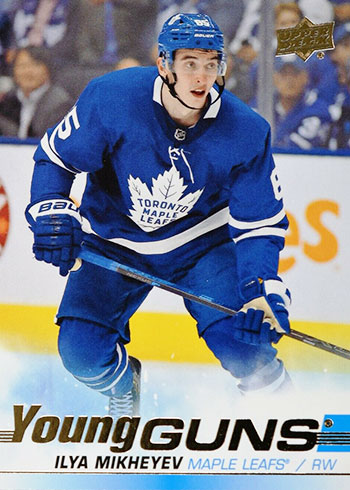 ---
211 Kevin Stenlund
Columbus Blue Jackets, C
Drafted: 2015, 2nd round
Born: September 20, 1996
Profile and Stats: NHL | Elite Prospects
Buy on: 
Kevin Stenlund Hockey Card Checklist and Price Guide Access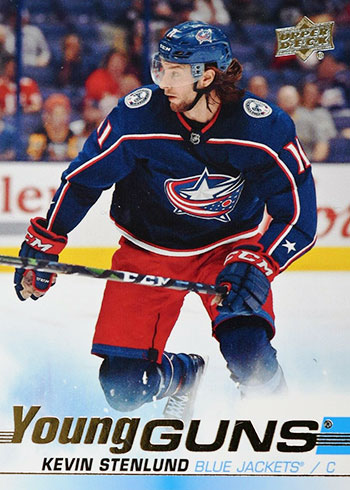 ---
212 Mackenzie MacEachern
St. Louis Blues, LW
Drafted: 2012, 3rd round
Born: March 9, 1994
Profile and Stats: NHL | Elite Prospects
Buy on: 
Mackenzie MacEachern Hockey Card Checklist and Price Guide Access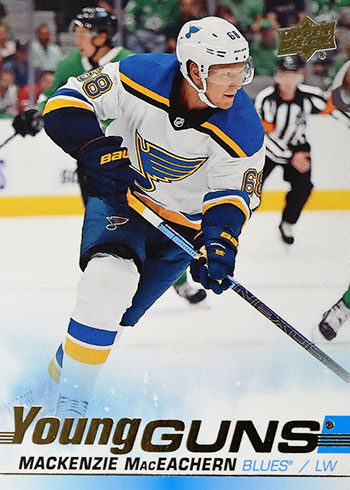 ---
213 Joakim Nygard
Edmonton Oilers, LW
Drafted: n/a
Born: January 8, 1993
Profile and Stats: NHL | Elite Prospects
Buy on: 
Joakim Nygard Hockey Card Checklist and Price Guide Access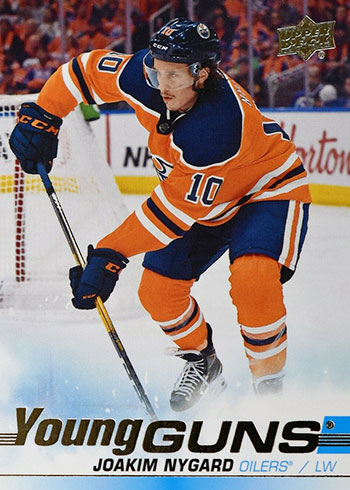 ---
214 Carsen Twarynski
Philadelphia Flyers, LW
Drafted: 2016, 3rd round
Born: November 24, 1997
Profile and Stats: NHL | Elite Prospects
Buy on: 
Carsen Twarynski Hockey Card Checklist and Price Guide Access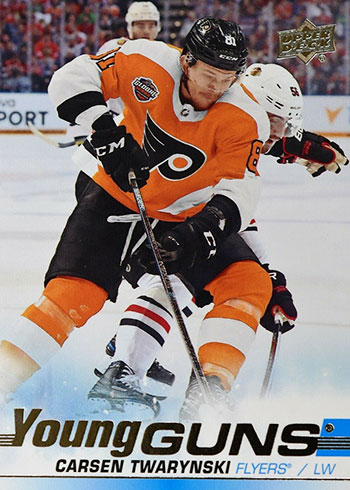 ---
215 Taro Hirose
Detroit Red Wings, LW
Drafted: n/a
Born: June 30, 1996
Profile and Stats: NHL | Elite Prospects
Buy on: 
Taro Hirose Hockey Card Checklist and Price Guide Access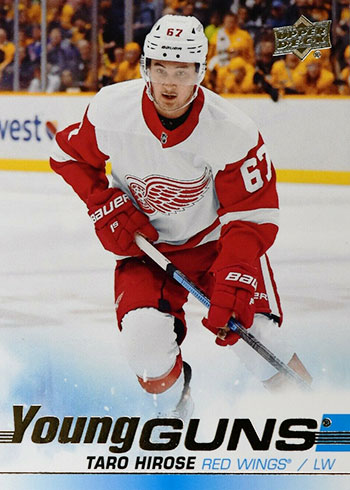 ---
216 Brady Keeper
Florida Panthers, D
Drafted: n/a
Born: June 5, 1996
Profile and Stats: NHL | Elite Prospects
Buy on: 
Brady Keeper Hockey Card Checklist and Price Guide Access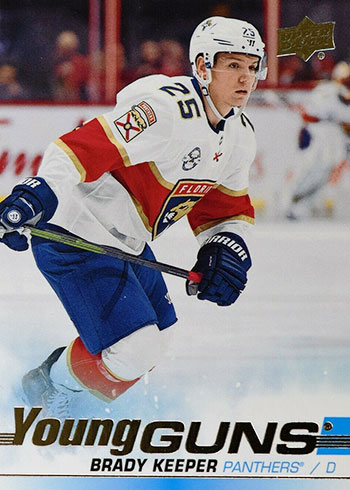 ---
217 Joel L'Esperance
Dallas Stars, C
Drafted: n/a
Born: August 18, 1995
Profile and Stats: NHL | Elite Prospects
Buy on: 
Joel L'Esperance Hockey Card Checklist and Price Guide Access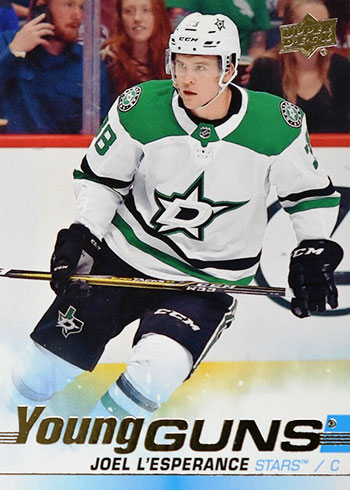 ---
218 Rudolfs Balcers
Ottawa Senators, LW
Drafted: 2015, 5th round
Born: April 8, 1997
Profile and Stats: NHL | Elite Prospects
Buy on: 
Rudolfs Balcers Hockey Card Checklist and Price Guide Access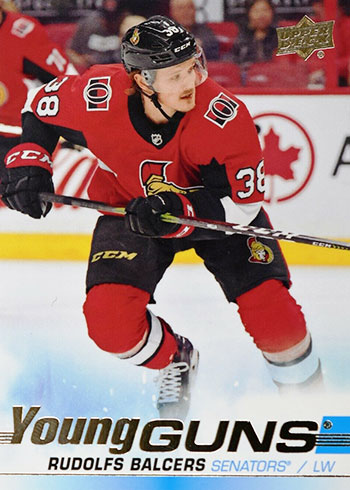 ---
219 Nico Sturm
Minnesota Wild, C
Drafted: n/a
Born: May 3, 1995
Profile and Stats: NHL | Elite Prospects
Buy on: 
Nico Sturm Hockey Card Checklist and Price Guide Access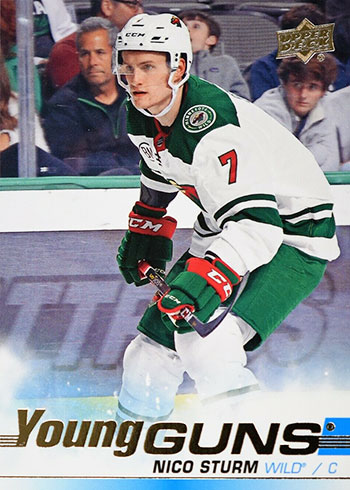 ---
220 Scott Sabourin
Ottawa Senators, RW
Drafted: n/a
Born: July 30, 1992
Profile and Stats: NHL | Elite Prospects
Buy on: 
Scott Sabourin Hockey Card Checklist and Price Guide Access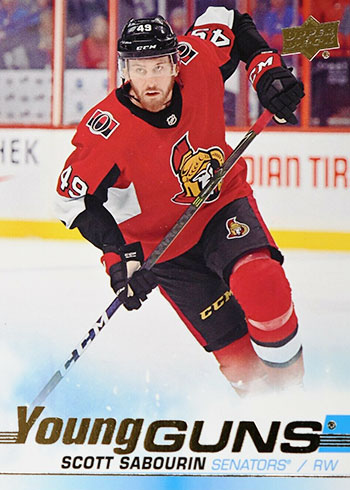 ---
221 Philippe Myers
Philadelphia Flyers, D
Drafted: n/a
Born: January 25, 1997
Profile and Stats: NHL | Elite Prospects
Buy on: 
Philippe Myers Hockey Card Checklist and Price Guide Access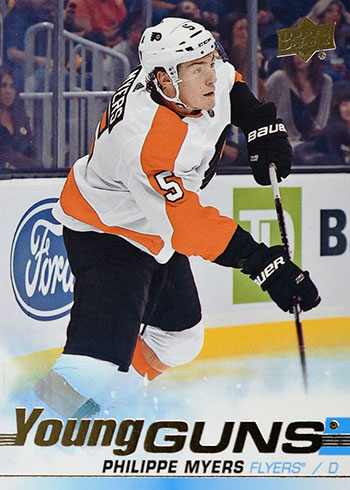 ---
222 Rasmus Sandin
Toronto Maple Leafs, D
Drafted: 2018, 1st round (28th overall)
Born: march 7, 2000
Profile and Stats: NHL | Elite Prospects
Buy on: 
Rasmus Sandin Hockey Card Checklist and Price Guide Access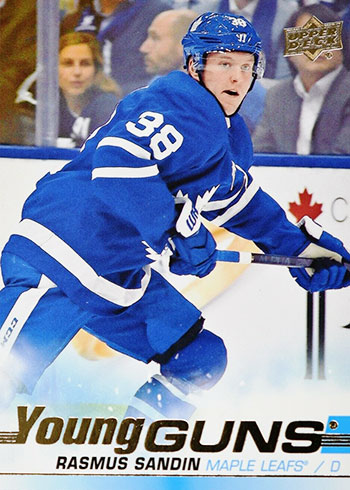 ---
223 Danil Yurtaykin
San Jose Sharks, LW
Drafted: n/a
Born: July 1, 1997
Profile and Stats: NHL | Elite Prospects
Buy on: 
Danil Yurtaykin Hockey Card Checklist and Price Guide Access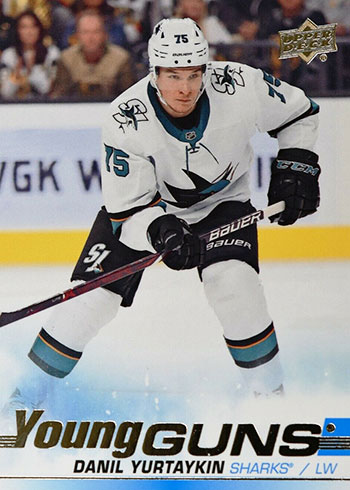 ---
224 Carter Verhaeghe
Tampa Bay Lightning, C
Drafted: 2013, 3rd round
Born: August 14, 1995
Profile and Stats: NHL | Elite Prospects
Buy on: 
Carter Verhaeghe Hockey Card Checklist and Price Guide Access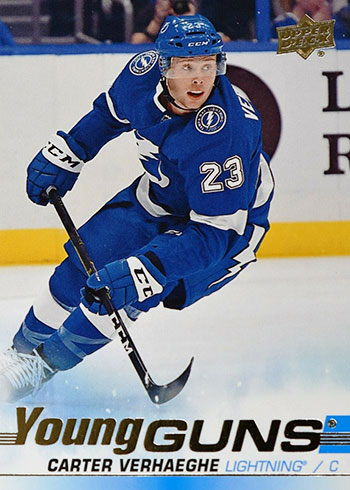 ---
225 Alexandre Texier
Columbus Blue Jackets, C
Drafted: 2017, 2nd round
Born: September 13, 1999
Profile and Stats: NHL | Elite Prospects
Buy on: 
Alexandre Texier Hockey Card Checklist and Price Guide Access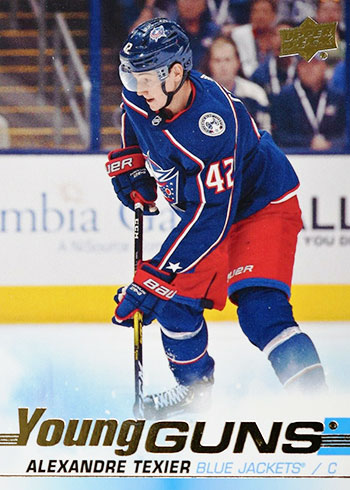 ---
226 Ryan Poehling
Montreal Canadiens, C
Drafted: 2017, 1st round (25th overall)
Born: January 3, 1999
Profile and Stats: NHL | Elite Prospects
Buy on: 
Ryan Poehling Hockey Card Checklist and Price Guide Access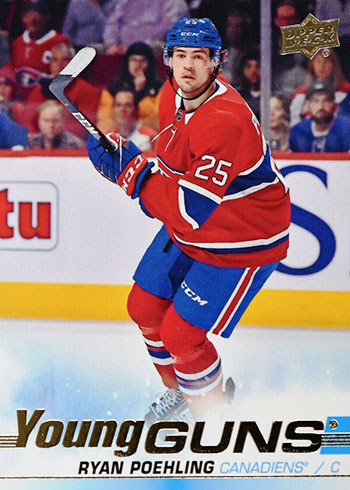 ---
227 Vitaly Abramov
Ottawa Senators, RW
Drafted: 2016, 3rd round
Born: May 8, 1998
Profile and Stats: NHL | Elite Prospects
Buy on: 
Vitaly Abramov Hockey Card Checklist and Price Guide Access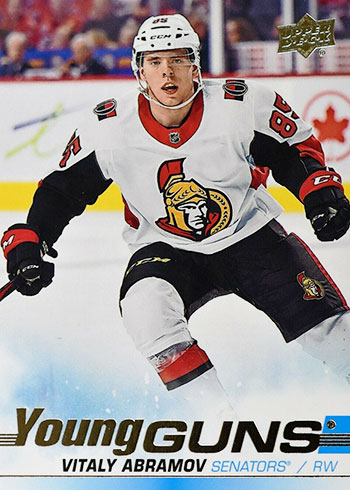 ---
228 Adam Fox
New York Rangers, D
Drafted: 2016, 3rd round
Born: February 17, 1998
Profile and Stats: NHL | Elite Prospects
Buy on: 
Adam Fox Hockey Card Checklist and Price Guide Access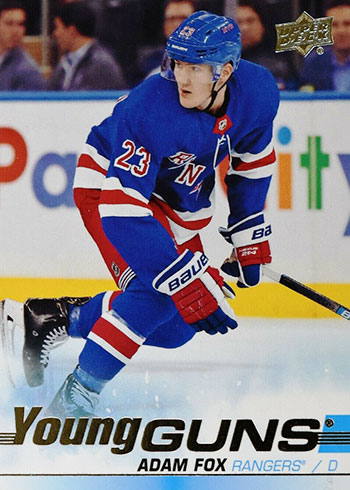 ---
229 Dante Fabbro
Nashville Predators, D
Drafted: 2016, 1st round (17th overall)
Born: June 20, 1998
Profile and Stats: NHL | Elite Prospects
Buy on: 
Dante Fabbro Hockey Card Checklist and Price Guide Access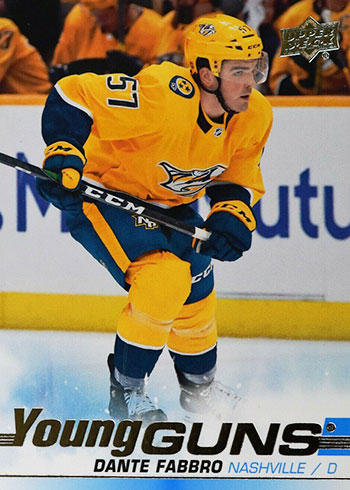 ---
230 Mario Ferraro
San Jose Sharks, D
Drafted: 2017, 2nd round
Born: September 17, 1998
Profile and Stats: NHL | Elite Prospects
Buy on: 
Mario Ferraro Hockey Card Checklist and Price Guide Access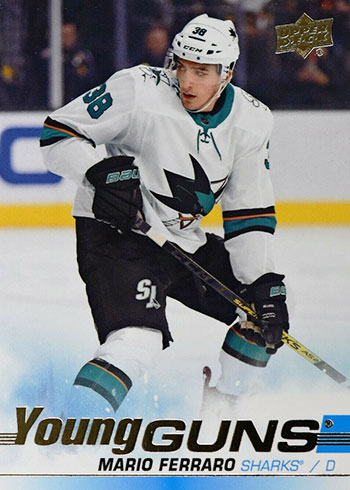 ---
231 Teddy Blueger
Pittsburgh Penguins, C
Drafted: 2012, 2nd round
Born: August 15, 1994
Profile and Stats: NHL | Elite Prospects
Buy on: 
Teddy Blueger Hockey Card Checklist and Price Guide Access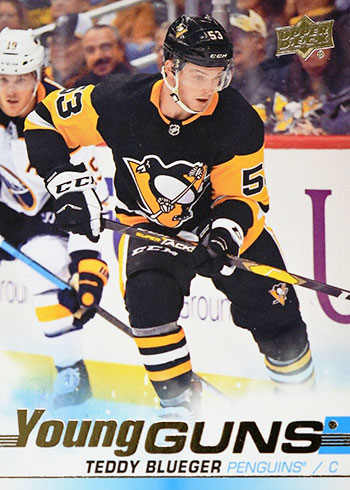 ---
232 Gaetan Haas
Edmonton Oilers, C
Drafted: n/a
Born: January 31, 1992
Profile and Stats: NHL | Elite Prospects
Buy on: 
Gaetan Haas Hockey Card Checklist and Price Guide Access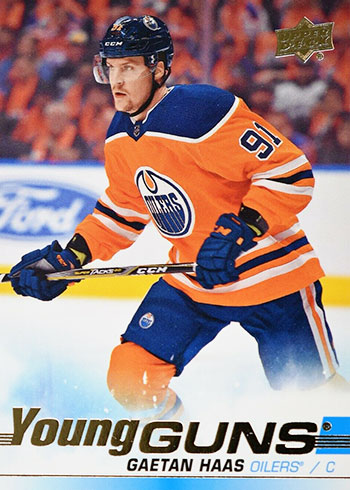 ---
233 Jesper Boqvist
New Jersey Devils, C
Drafted: 2017, 2nd round
Born: October 30, 1998
Profile and Stats: NHL | Elite Prospects
Buy on: 
Jesper Boqvist Hockey Card Checklist and Price Guide Access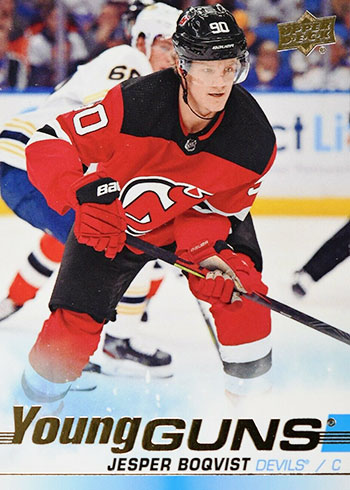 ---
234 Zach Senyshyn
Boston Bruins, RW
Drafted: 2015, 1st round (15th overall)
Born: March 30, 1997
Profile and Stats: NHL | Elite Prospects
Buy on: 
Zach Senyshyn Hockey Card Checklist and Price Guide Access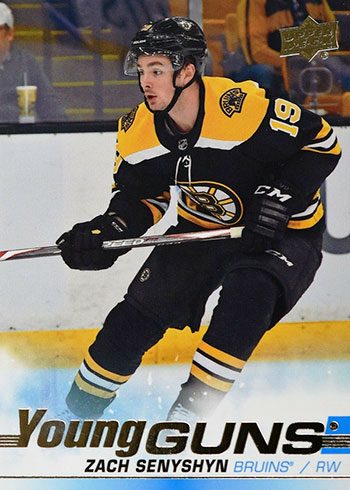 ---
235 Matt Roy
Los Angeles Kings, D
Drafted: 2015, 7th round
Born: March 1, 1995
Profile and Stats: NHL | Elite Prospects
Buy on: 
Matt Roy Hockey Card Checklist and Price Guide Access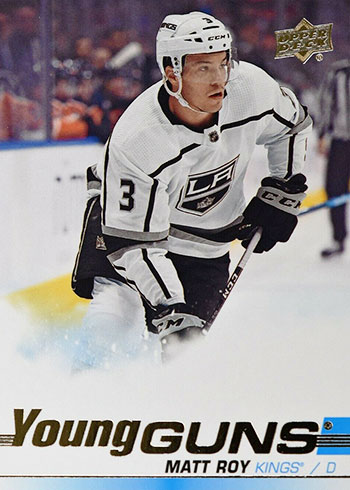 ---
236 Martin Fehervary
Washington Capitals, D
Drafted: 2018, 2nd round
Born: October 6, 1999
Profile and Stats: NHL | Elite Prospects
Buy on: 
Martin Fehervary Hockey Card Checklist and Price Guide Access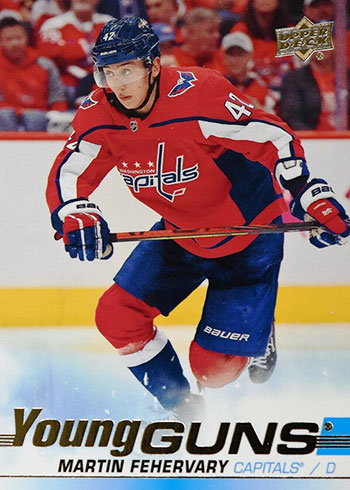 ---
237 Cody Glass
Vegas Golden Knights, C
Drafted: 2017, 1st round (6th overall)
Born: April 1, 1999
Profile and Stats: NHL | Elite Prospects
Buy on: 
Cody Glass Hockey Card Checklist and Price Guide Access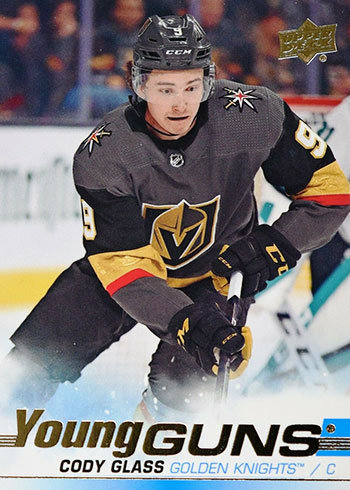 ---
238 Tobias Bjornfot
Los Angeles Kings, D
Drafted: 2019, 1st round (22nd overall)
Born: April 6, 2001
Profile and Stats: NHL | Elite Prospects
Buy on: 
Tobias Bjornfot Hockey Card Checklist and Price Guide Access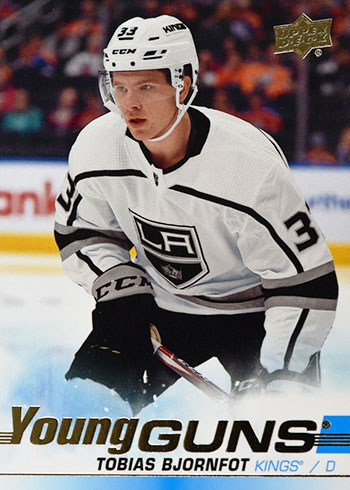 ---
239 Brandon Gignac
New Jersey Devils, C
Drafted: 2016, 3rd round
Born: November 7, 1997
Profile and Stats: NHL | Elite Prospects
Buy on: 
Brandon Gignac Hockey Card Checklist and Price Guide Access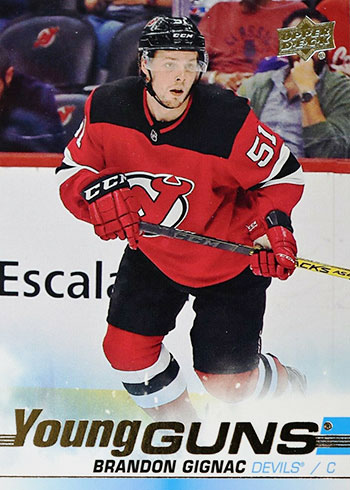 ---
240 Libor Hajek
New York Rangers, D
Drafted: February 4, 1998
Born: 2016, 2nd round
Profile and Stats: NHL | Elite Prospects
Buy on: 
Libor Hajek Hockey Card Checklist and Price Guide Access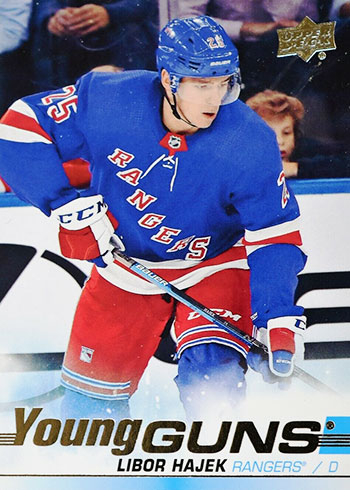 ---
241 Vladislav Gavrikov
Columbus Blue Jackets, D
Drafted: 2015, 6th round
Born: November 21, 1995
Profile and Stats: NHL | Elite Prospects
Buy on: 
Vladislav Gavrikov Hockey Card Checklist and Price Guide Access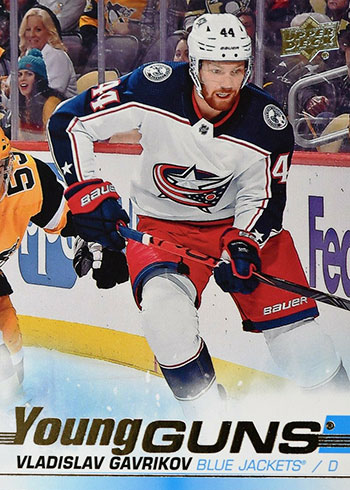 ---
242 Max Jones
Anaheim Ducks, LW
Drafted: 2016, 1st round (24th overall)
Born: February 17, 1998
Profile and Stats: NHL | Elite Prospects
Buy on: 
Max Jones Hockey Card Checklist and Price Guide Access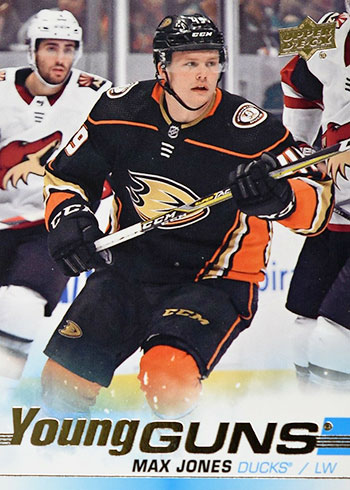 ---
243 Connor Clifton
Boston Bruins, D
Drafted: 2013, 5th round
Born: April 25, 1995
Profile and Stats: NHL | Elite Prospects
Buy on: 
Connor Clifton Hockey Card Checklist and Price Guide Access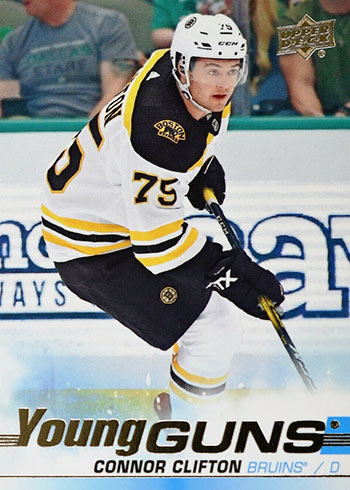 ---
244 Zack MacEwen
Vancouver Canucks, C
Drafted: n/a
Born: July 8, 1996
Profile and Stats: NHL | Elite Prospects
Buy on: 
Zack MacEwen Hockey Card Checklist and Price Guide Access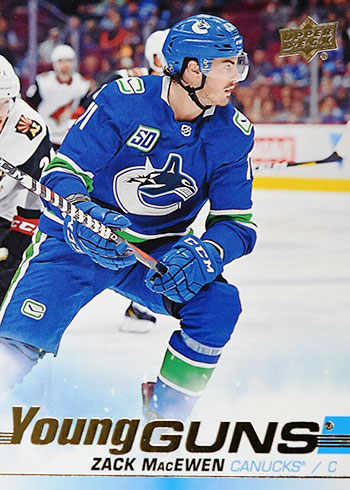 ---
245 Lean Bergmann
San Jose Sharks, C
Drafted: n/a
Born: October 4, 1998
Profile and Stats: NHL | Elite Prospects
Buy on: 
Lean Bergmann Hockey Card Checklist and Price Guide Access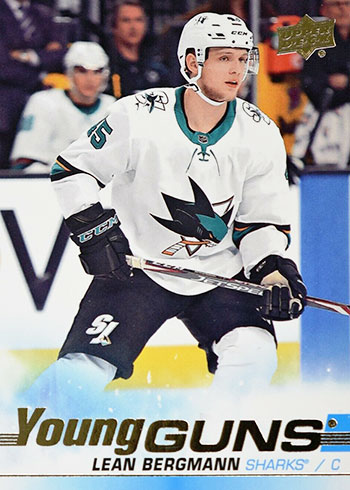 ---
246 Dominik Kubalik
Chicago Blackhawks, LW
Drafted: 2013, 7th round
Born: August 21, 1995
Profile and Stats: NHL | Elite Prospects
Buy on: 
Dominik Kubalik Hockey Card Checklist and Price Guide Access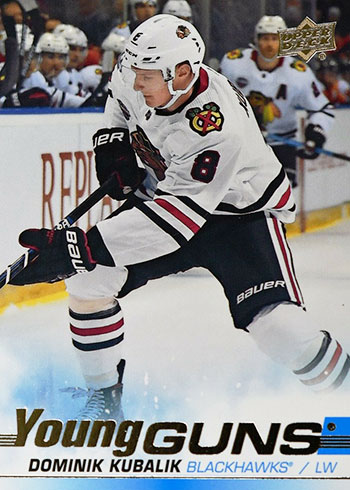 ---
247 Josh Brown
Florida Panthers, D
Drafted: 2013, 6th round
Born: January 21, 1994
Profile and Stats: NHL | Elite Prospects
Buy on: 
Josh Brown Hockey Card Checklist and Price Guide Access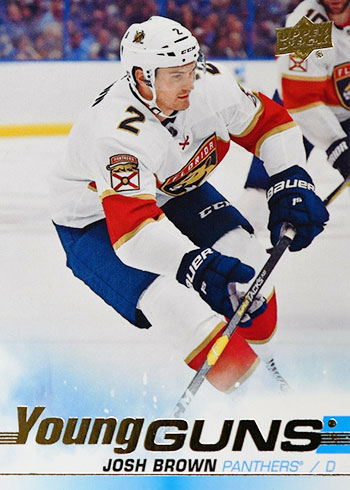 ---
248 Karson Kuhlman
Boston Bruins, C
Drafted: 2013, 6th round
Born: September 26, 1995
Profile and Stats: NHL | Elite Prospects
Buy on: 
Karson Kuhlman Hockey Card Checklist and Price Guide Access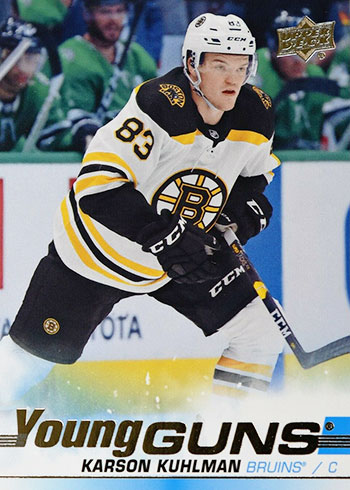 ---
249 Quinn Hughes
Vancouver Canuck, D
Drafted: 2018, 1st round (7th overall)
Born: October 14, 1999
Profile and Stats: NHL | Elite Prospects
Buy on: 
Quinn Hughes Hockey Card Checklist and Price Guide Access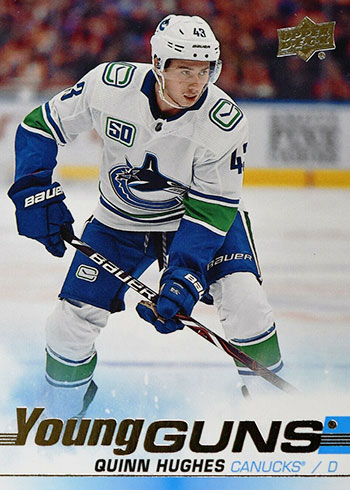 ---
250 Jack Hughes, New Jersey Devils/Quinn Hughes, Vancouver Canucks – Checklist
Buy on: