2019-20 Upper Deck Trilogy Hockey has collectors seeing in threes once again. The concept comes through in several parts of the product, most notably with the rookies, all of which have three different cards to collect.
With six packs per box, things average out to three general types of pack hits. Across the box, there are two autographs or memorabilia cards, a pair of parallels or inserts and two rookies.

2019-20 Upper Deck Trilogy Base Set Basics
The main shell set is kept small, with just 50 cards. Nearly all of the parallels for these are hits: Jersey (1:25 packs), Autograph (1:50), Patch (/varied), Patch Autograph (Tier 1 – /25, Tier 2 /5), Purple (1/1) and Purple Autograph (1/1).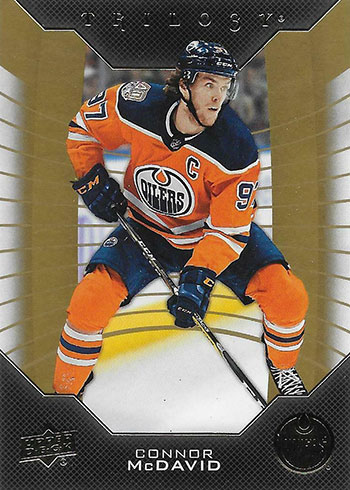 Rookies get the triple treatment with each player on the main checklist getting three different cards, Common (/999), Uncommon (/499) and Rare (/299).
The tiered structured carried over to the parallels. Common rookies have Jersey (/499) and Autograph (/399 or /249) versions. For Uncommon cards it's Autograph (/199 and /99) and Patch (/49). Finally, Rare rookies get Autograph (/49 and /25) and Tag Patch (/5) cards.
Triple Rookies return with just 99 copies for the base versions. Autograph and Tag Patch parallels are both one-of-ones.
Autographs, Memorabilia Cards and Other Inserts
2019-20 Trilogy Hockey has other hits beyond the base parallels.
Among them are three insert sets that use plexiglass stock. Auto Focus (1:500) and Scripted Hall of Fame Plaques (/25) both return with new cards.
Joining them are new Crystallized cards, which land 1:180 packs.
Signature Pucks, which use a simulated puck for the signing surface, are back. Basic versions are 1:30 packs and have Team Logo (/20) and NHL Logo (/3) parallels. Rookie Signature Pucks are 1:180 packs. These also have Team Logo (/25) and NHL Logo (/3) versions.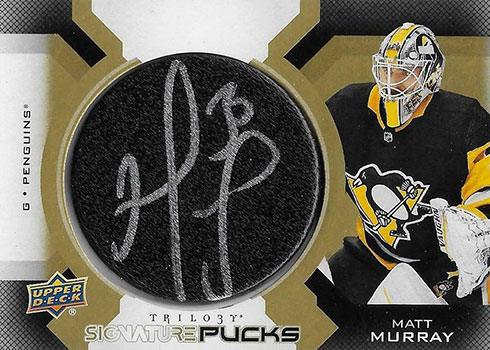 Tougher Signature Pucks themes include All-Star (1:960), Trophy Winner (1:960), Hockey Hall of Fame (1:960), and Dual Signature (1:2,336). Collectors can also find Update Signature Pucks that go back to 2013-14 (1:234).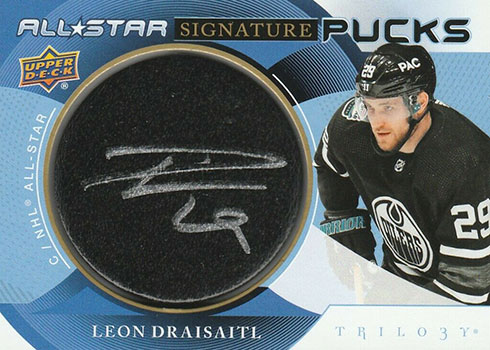 On the strictly memorabilia side are Honorary Triple Swatches and Triple Relics. Both of these have three levels of cards, each with different print runs: Tier 1 (/35), Tier 2 (/25) and Tier 3 (/10).
New to 2019-20 Upper Deck Trilogy are Rookie Renditions inserts. Regular parallels for these come in Red (/799) and Blue (/399). Hits-based versions include Jersey (1:25), Gold Autograph (1:3), Patch Autograph (Tier 1 /49, Tier 2 /25) and Purple Autograph (1/1).
2019-20 Upper Deck Trilogy Hockey cards at a glance:
Cards per pack: 4
Packs per box: 6
Boxes per case: 20 (two 10-box inner cases)
Set size: 150 cards
Release date: January 15, 2020
What to expect in a hobby box:
Autographs or Memorabilia Cards – 2 Total
Inserts or Parallels – 2 Total
Rookies – 2
2019-20 Upper Deck Trilogy Hockey Checklist
Base
Parallels
Autographs
Memorabilia
Inserts
Updates
Team Sets