2019-20 Upper Deck Tim Hortons Hockey cards bring the hobby back to the biggest coffee chain in Canada. As with past years, it boasts a large and wide-reaching checklist highlighting many of the game's top players and even a handful of rookies.
2019-20 Upper Deck Tim Hortons Hockey Checklist Overview
The main part of the 2019-20 Upper Deck Tim Hortons Hockey checklist has 120 cards. This matches the increased size of the 2018-19 set. Although it kicks off with the restaurant's namesake, the majority of the remaining cards are a who's who of NHL stars. A few carryover rookies who debuted the previous season also make the cut. These include Cale Makar, Quinn Hughes and Filip Zadina.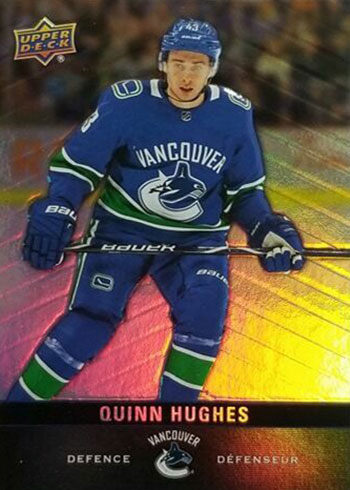 As with previous Tim Hortons releases, foil stock offers the foundation for the design.
Although not a full parallel set, 33 cards have Red Die-Cut versions as well. These jump out with their red backdrops and rounded corners. This is the first Upper Deck Tim Hortons hockey card set to offer a whiff of base set parallels. There's actually 34 total Red Die-Cuts. Tim Horton is a short print and numbered slightly differently.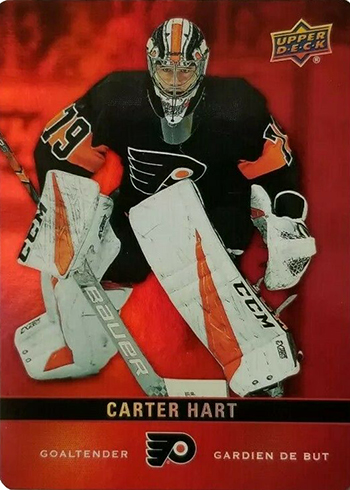 Additional Inserts
2019-20 Upper Deck Tim Hortons Hockey has several additional insert sets. These range from fairly standard cards that don't have a lot of flash to some that use distinct card stock.
The most basic of these is Season Events, a seven-card set that highlights some of 2018-19's notable games. These include the All-Star Game, Global Series, Winter Classic and more.
Game Day Action returns with another 15 cards. These are designed to look like commemorative tickets.
Also back are Gold Etchings, which are easy to spot thanks to their gold embossed borders.
Using foil and a look meant to resemble banners, 15 Highly Decorated inserts spotlight some of the NHL's perennial awards contenders.
Clear Cut Phenoms (15 cards) is one of the inserts that look to distinct stock. As with past years, these come on acetate stock, giving them a plastic feel and a see-through background.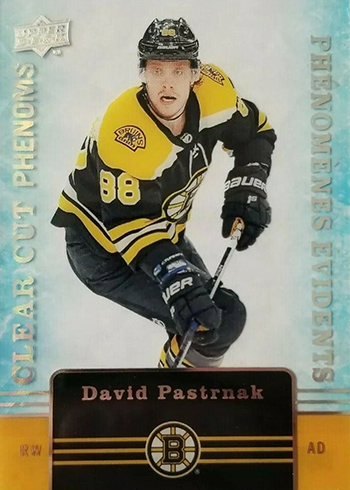 Rounding out the inserts is Team Duos. These 18 cards showcase two top players from select franchises using lenticular stock that gives a 3-D look.
Autographs and Memorabilia Cards
Autographs and relics are available in 2019-20 Upper Deck Tim Hortons Hockey packs, albeit in the form of redemptions. These are extremely tough. And given the size and scope of the promotion, there aren't a lot of them out there.
Sidney Crosby and Nathan MacKinnon each have special Superstar Signature cards. Crosby's is limited to 87 copies with one landing in every 167,908 packs. The matching MacKinnon is a little more plentiful with 100 copies. That brings its odds down to just 1:146,080 packs.
Other autograph inserts include NHL Signatures (1:7,200 packs), NHL Jersey Relic Autographs (1:97,387) and Timbits Autographs (1:146,080).
Just over 8,100 NHL Jersey Relic card redemptions are available in packs. That number may seem big, but they're still 1:1,800 packs.
Like the past couple of years, a custom binder for the set is also available. It is sold separately.
2019-20 Upper Deck Tim Hortons Hockey cards at a glance:
Cards per pack: 3
Packs per box: 100
Set size: 120 cards
Release date: September 23, 2019
2019-20 Upper Deck Tim Hortons Hockey Checklist
Base
Autographs
Memorabilia
Inserts
Team Sets