Have You Found Any 2019-20 Upper Deck Synergy Hockey Star Quest Inserts?
With the arrival of a new season of Synergy comes some more surprises. Unannounced 2019-20 Upper Deck Synergy Hockey Star Quest inserts bring back a name from the card maker's past but with a new look.
EASTER EGGS AS ALWAYS🔥 @UpperDeckHockey Synergy has a couple hidden beauties. Pulled a Draisaitl & Quinn Hughes Star Quest Die Cuts today at @JimandSteves pic.twitter.com/jGPfEMsr7E

— Rob Post (@Robski3030) January 22, 2020
In the late '90s, StarQuest cards were one of the more common inserts in a handful of Collector's Choice and UD Choice sets. These took a tiered approach with different border colors or number of stars determining rarity. Bright foil borders were another defining feature for some of these.
This time around, bright is back, but not the foil. Instead, 2019-20 Upper Deck Synergy Star Quest use a die-cut design that can't be missed.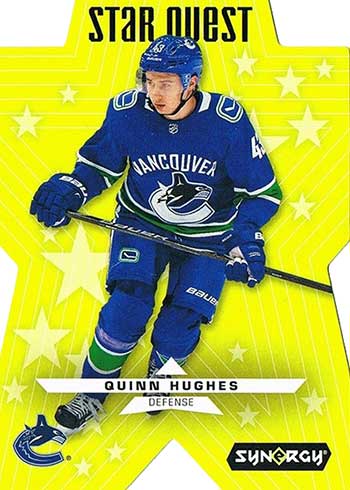 Autographs are also possible.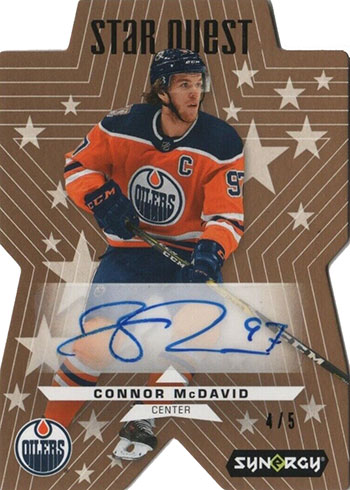 Like most other Upper Deck Easter Eggs, odds and print runs for the regular versions haven't been announced. The company did not include them on the checklist.
2019-20 Upper Deck Synergy Hockey Star Quest Checklist
The following is a list of known Star Quest cards. Gaps will be filled in and more will be added as they're confirmed. If you're looking for a specific card, click on the links to see what's currently listed on eBay.
SQ-1 Cale Makar, Colorado Avalanche
SQ-2 Quinn Hughes, Vancouver Canucks
SQ-3 Filip Zadina, Detroit Red Wings
SQ-4 Ben Bishop, Dallas Stars
SQ-5 Joe Thornton, San Jose Sharks
SQ-5
SQ-6 Mark Scheifele, Winnipeg Jets
SQ-7
SQ-8 Nikita Kucherov, Tampa Bay Lightning
SQ-9 Connor McDavid, Edmonton Oilers
SQ-10 Leon Draisaitl, Edmonton Oilers
SQ-11 Mitch Marner, Toronto Maple Leafs
SQ-12 Elias Pettersson, Vancouver Canucks
SQ-13 John Tavares, Toronto Maple Leafs
SQ-14 Marc-Andre Fleury, Vegas Golden Knights
SQ-15 Brad Marchand, Boston Bruins
SQ-16 Anze Kopitar, Los Angeles Kings
SQ-17
SQ-18
SQ-19
SQ-20 Max Domi, Montreal Canadiens
SQ-21 Andrei Svechnikov, Carolina Hurricanes
SQ-22 Evgeni Malkin, Pittsburgh Penguins
SQ-23 Jack Hughes, New Jersey Devils
SQ-24 Barrett Hayton, Ottawa Senators
SQ-25 Kirby Dach, Chicago Blackhawks
Patrick Kane, Chicago Blackhawks
Autographs
SQ-9 Connor McDavid, Edmonton Oilers /5
SQ-10 Leon Draisaitl, Edmonton Oilers /5