2019-20 Upper Deck MVP Hockey cards kick off a new collecting season. As with past years for the brand, it's an entry-level release that is primarily rooted in set building with some colorful inserts mixed in.
2019-20 Upper Deck MVP Hockey Base Set Basics
The main set has a total of 250 cards. But within that, there are a couple of tiers. The first 200 make up the shell set. Fifty high numbers are tougher to find, combining to land every other pack.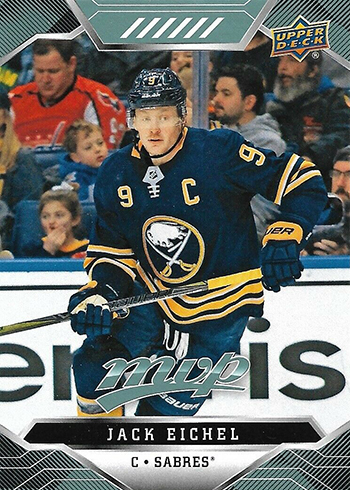 Parallels come in a few familiar forms. Puzzle Backs and Silver Script are both 1:4 hobby packs. From there, hobby parallels get a lot more tough. Super Script have 25 copies each while Black Super Script are numbered to 5. Printing Plates are also randomly inserted.
While there are rookies on the checklist, they're limited to players who debuted late in the 2018-19 season. Because 2019-20 Upper Deck MVP Hockey comes out before the season starts, 2019 draft picks are not eligible, nor are any other players who haven't made their NHL debut.
That said, tough Rookie Redemptions (1:400 hobby packs) return to offer updates. All four divisions have one, each offering multiple cards.
As with past years, there's also a #1 Draft Pick SP redemption (1:1,250 hobby packs).
Inserts
The 100-card Stanley Cup Edition Tribute set (1:5 hobby packs) goes back 20 years. These inserts use the design of 1999-00 Upper Deck MVP Stanley Cup Edition Hockey and apply it to today's players. Like the base set, these have Super Script (/25) parallels.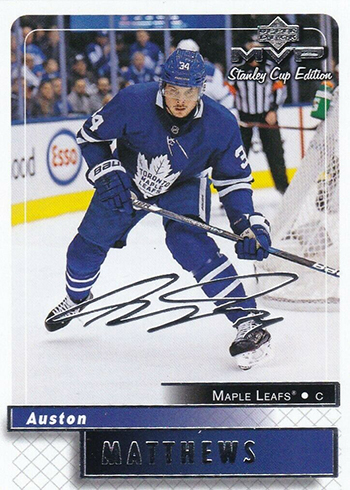 There are also die-cut Colors and Contours Gold (/199) and Purple (/9) versions.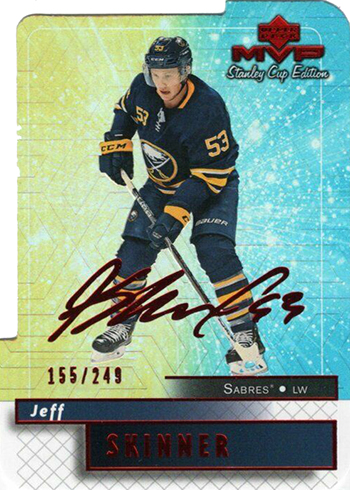 Some additional insert sets all all done using rainbow foil including Net Crashers (1:17) and Supernovas (1:25).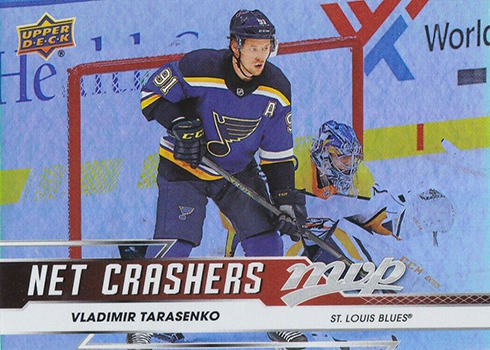 Outside of an extremely tough #1 Draft Pick Gold Autograph Redemption (1:4,000), 2019-20 Upper Deck MVP does not have any other signatures or memorabilia cards.
2019-20 Upper Deck MVP Hockey cards at a glance:
Cards per pack: 8
Packs per box: 20
Boxes per case: 20
Set size: 250 cards
Release date: August 7, 2019
Buy 2019-20 Upper Deck MVP boxes on eBay:
What to expect in a hobby box:
Blue Liners, Net Crashers and Supernovas Inserts – 3 Total
Stanley Cup Edition Inserts – 4
Puzzle Back Parallels – 5
Silver Script Parallels – 6
Base Short Prints – 10
2018-19 Upper Deck MVP Hockey Checklist
Base
Autographs
Inserts
Team Sets