2019-20 Upper Deck Ice Hockey isn't exactly the same as it has been in the past, but the main components are still there. The big one — the set's acetate foundation — remains. So, too, does the promise of all autographs being on-card.
Hobby boxes come with five packs of five cards. Box hits include one autograph, either a memorabilia or Exquisite Collection card, a handful of inserts and parallels and two Ice Premieres Rookie Cards.
2019-20 Upper Deck Ice Hockey Base Set Basics
The base set comes in a couple of parts. The plastic-style designs remain throughout. The shell set features a variety of veterans.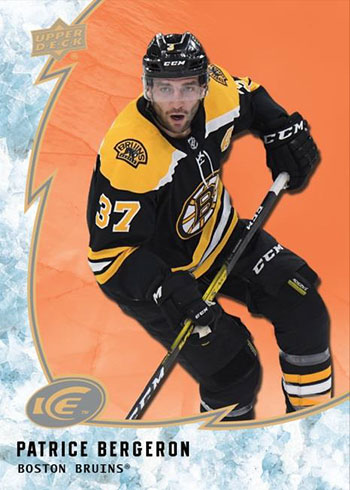 One of the more noticeable changes come with their parallels as the number of available colors grow. These include one-per-pack Green, Orange (1:6 packs), Ice Cube (1:40), Red (/5) and Black (1/1). In 2018-19, the only base parallels were Green, Black and Red. Select cards also have Jersey (1:20) and Patch (/15) versions.
Rookie Cards stick with the Ice Premieres theme. Also hanging around are the multiple tiers of cards players fall under:
L1 – /99
L2 – /249
L3 – /499
L4 – /999
L5 – /1499
These combine to land two per box. Like veterans, Jersey versions are available, falling 1:12 packs. Black parallels are one-of-ones.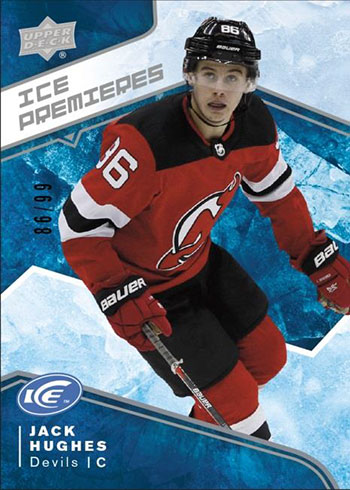 Ice Premieres autograph parallels have print runs between 399 and 99 copies. Autograph Patch Variations have ten copies.
Autographs, Memorabilia Cards and Other Inserts
Autographs in 2019-20 Upper Deck Ice Hockey come in a variety of themes.
Under the Glass Signatures use a layered shadow box design. Rookies are 1:200 packs. Veterans are a little tougher at 1:220. Both have Red parallels numbered to 5.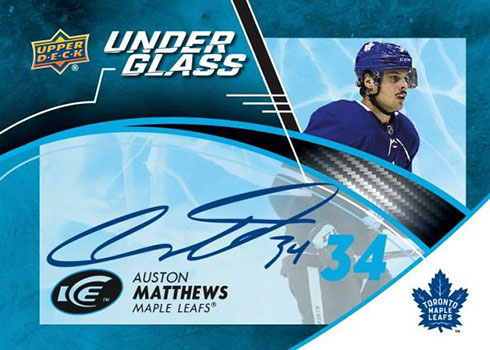 Ice Buckets also have separate checklists for first-year players and vets. Rookies have either 199 or 99 copies each. For everyone else, Tier 1 cards are numbered to 99 while Tier 2 have 25 copies.
Fire and Ice are separate but complimentary autograph inserts. Odds for both are 1:120 packs.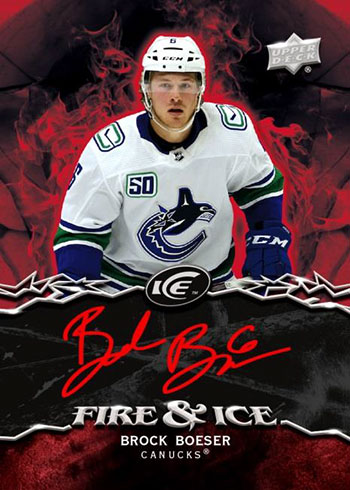 Other 2019-20 Upper Deck Ice Hockey hits include Glacial Graphs (1:75), Signature Swatches, Superb Script (/49 or /25), Superb Script Portraits (/15 or /10), and Rookie Relic Jumbos (/199).
Sub Zero inserts combine to land one per hobby box. Rookies are numbered to 999. Stars don't get serial numbers. Rather, they're 1:20 packs. Gold parallels are tough with 24 copies for first-year players and eight for veterans. There are also Rookie Variants, which fall 1:240 packs.
Blue Autographs are 1:50 packs on the rookie side and 1:360 for vets. Rookie Variant Green Autographs are limited to 25.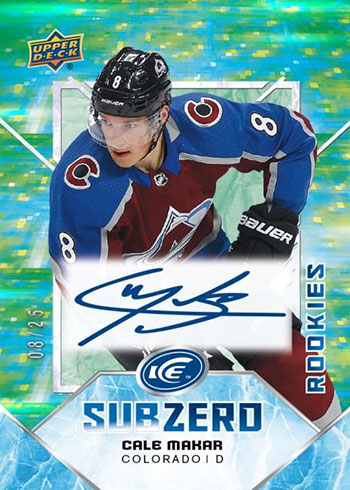 Another Round of 2019-20 Upper Deck Exquisite Hockey
2019-20 Upper Deck Exquisite gets a second installment of cards here, following their debut in Black Diamond. These come in a few forms.
Exquisite Rookies are numbered to either 399 or 299. Corresponding parallels include Gold (/19) and Black (1/1). There are also Exquisite Rookies Signatures (/199 or /99) that have Gold (/25) and Black (1/1) versions.
A pair of Exquisite Rookie Autograph Patch designs from the past get the Tribute treatment in 2019-20 Ice. First up is the landmark 2003-04, which are numbered to 25. 2009-10 cards have 99 copies each. Both designs also have tougher Gold and Black (1/1) parallels.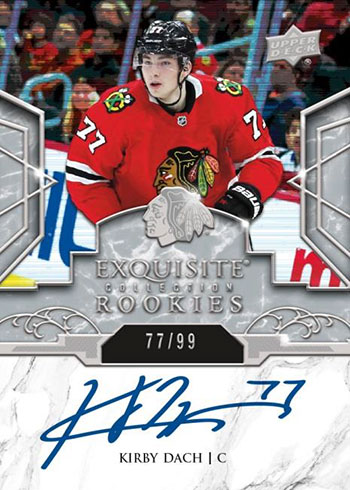 It's not just rookies with Exquisite cards in Ice. Exquisite Signatures and Exquisite Material Signatures cards are also inserted along with corresponding parallels in Gold (/5) and Black (1/1).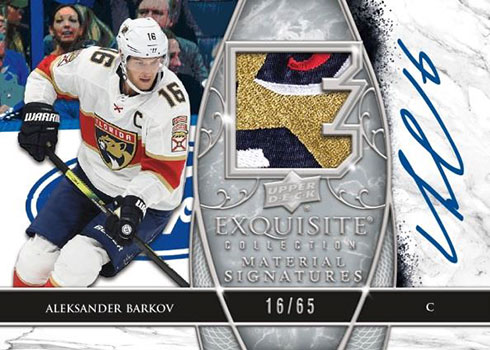 2019-20 Upper Deck Ice Hockey cards at a glance:
Cards per pack: 5
Packs per box: 5
Boxes per case: 24 (three 8-box inner cases)
Set size: TBA
Release date: April 15, 2020
What to expect in a hobby box:
Autographs – 1
Memorabilia or Exquisite Cards – 1
Sub Zero – 1
Green Parallels – 5
Ice Premieres Rookie Cards – 2