2019-20 Upper Deck Engrained Hockey uses wood as a central theme. More specifically, it looks to the hockey stick as a form of inspirations. While the memorabilia cards are the obvious offshoot, it goes beyond that. All facets of the checklist integrate the idea, similar to how UD Ice does with acetate.
Engrained leans towards the high-end with single-pack boxes. Of the six cards found in each, three are hits. Boxes also have a pair of base cards or parallels and one insert or additional parallels.
2019-20 Upper Deck Engrained Hockey Base Set Basics
The main set has three sections. Veterans fall under Stars, retired players are Legends and rookies are, well, Rookies. No matter the section, individual cards are numbered to 299 and done to have an oak look. Each box has one of the Rookies and either a Stars or Legends card. These can be either the base form or one of the parallels.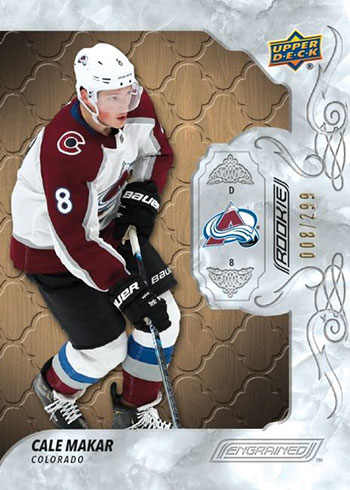 Mahogany parallels have 99 copies each. Other types include Ebony (/49) and Rosewood (1/1). Select cards also have Autographs (Stars – 1:8, Legends – 1:15, Rookies – 1:3), Mahogany Premium Memorabilia, Ebony Premium Memorabilia Autographs, and Rosewood Premium Memorabilia Autographs (1/1).
Autographs, Memorabilia Cards and Other Inserts
Of the three hits in each box, one falls under the Signature Shots banner. The signing area on these are either manufactured carbon fiber or wood. In addition to the main versions, Star and Legends have Red Ink (/10) and Gold Ink (1/1) parallels.
Rookie Signatures Shots have either 249 or 149 copies, depending on the player. From there, print runs for Red Ink parallels drop to 99 or 35. Gold Ink cards are one-of-ones.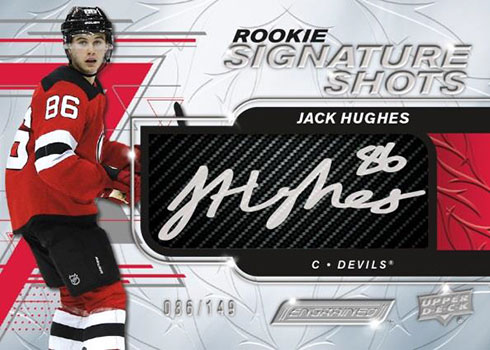 Remnants has a checklist of 100 cards, each with a piece of memorabilia. These have a couple of parallels including one with autographs.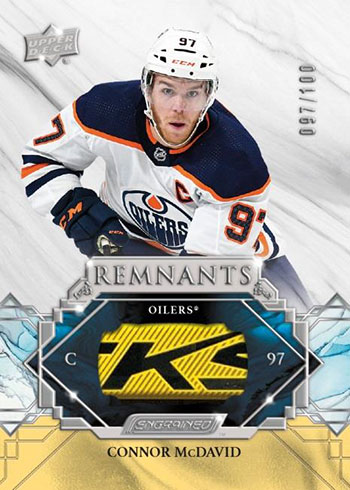 Complete Sticks (/25) and Complete Sticks Signatures (/25) have three different pieces from game-used sticks.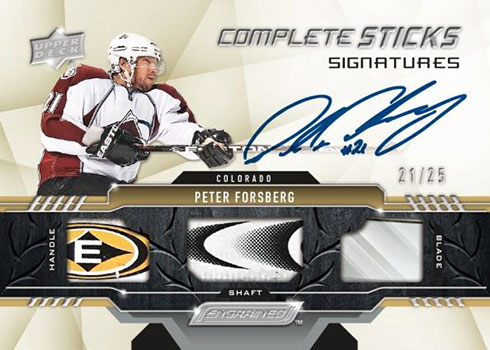 2019-20 Engrained Hockey has a pair of one-of-a-kind inserts. Distinguishing Marks have personalized pieces of sticks done by the players.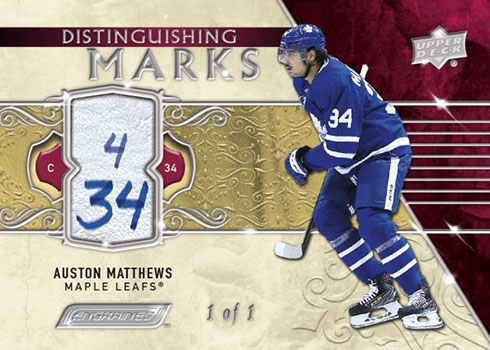 Dual Stick Nameplates take from the name portion from two sticks. A total of 15 pairings are on the checklist.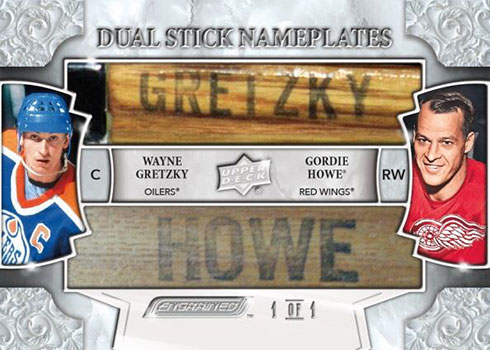 Synthesis (1:2) returns for a second year. This 50-card insert set mimics the look and feel of current stick technology. Parallels include Blue (/99), Autographs (1:5) and Gold Autographs.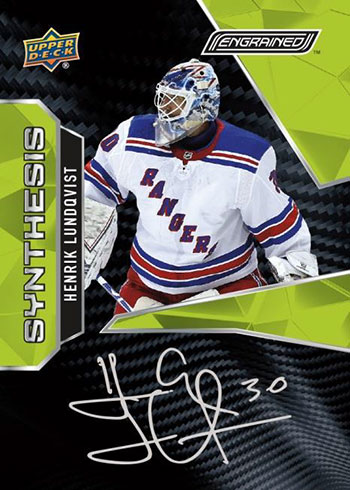 Carved In Time (1:7) inserts are on wood stock with laser-etched player images. Autographs versions are also available, landing 1:30 packs.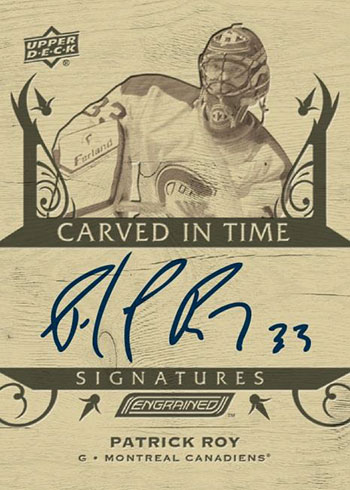 Signature Flexures (1:12) and Honorary Engravings (/100) are also part of the checklist.
See also: 2018-19 Upper Deck Engrained Hockey checklist and details
2019-20 Upper Deck Engrained Hockey cards at a glance:
Cards per pack: 6
Packs per box: 1
Boxes per case: 10 (two 5-box inner cases)
Set size: TBA
Release date: April 29, 2019
What to expect in a hobby box:
Signature Shots – 1
Additional Autographs or Memorabilia Cards – 2 Total
Base Cards or Parallels – 2
Additional Parallels or Inserts – 1
The full 2019-20 Engrained Hockey checklist and team set lists will be added as soon as they're available, likely shortly before the set's release.