2019-20 Upper Deck Chronology Hockey Volume II is a continuation to last year's set. Instead of focusing solely on the sport's past, this time around it moves forward to focus more on the present. The past is still there, too, just not exclusively.
Like the first release, there's a big emphasis on delivering a deep checklist of autograph signers and some other high-end elements. Hobby boxes have four cards. Three are hits including at least one autograph.
2019-20 Upper Deck Chronology Hockey Checklist Overview
At 100 cards, the main set isn't a big one. However, they're not very plentiful, either. Each comes numbered to 222. It's not like they're easy to pull, either. At most each box has just one. However, some come with a 0 Celcius insert instead.
Parallels shift to becoming hits. Premium Gold Memorabilia has both signed and unsigned versions, all with varying print runs. Diamond Relic parallels (/36) come with a diamond embedded in the card. Diamond Relic Black (/9) versions also exist, some of which also include autographs.
Autographs and Other Inserts
Franchise History Autographs (1:2 packs) return. Again with on-card ink, the checklist here is massive. According to Upper Deck, around 200 different players are signing. It's a mix of vets and past players not in Volume I. With so much depth, it's not going to mean big stars at every corner. However, for team collectors, the checklist goes beyond what most sets offer.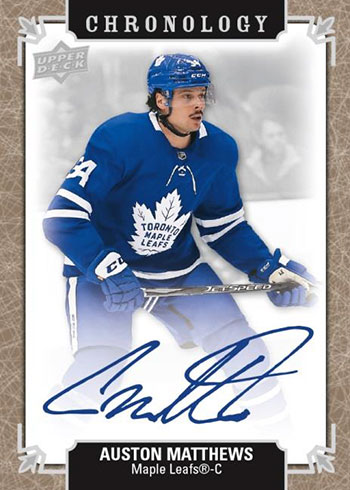 2019-20 Upper Deck Chronology Hockey looks ahead to next season with XRC Autograph Redemptions (1:213).
Canvas Autographs (1:7) come with Red Border (1:125), Green Border (/10) and Black Border (1/1) parallels.
Using similar stock, Canvas Masterpiece Autographs add an artist element. These use commissioned paintings instead of photos. Players are not available in equal quantities. Tier 1 cards land 1:26 packs and have Red Border (/25), Red Border Autograph Memorabilia, Green Border (/10) and Black Border (1/1) parallels. Tier 2 is 1:85 packs with just five copies for the Green Border parallels. One-of-one Black Border versions are available for these as well. In all, 40 players are in the mix.
Ten rookies make up the similar but separate Canvas Draft Masterpiece Autograph checklist (1:32). Green Border (/10) and Black Border (1/1) parallels can also be found as can Red Border Autograph Memorabilia (/35).
Multi-autograph cards come with two (/25), three (/15) and four (/10) autographs.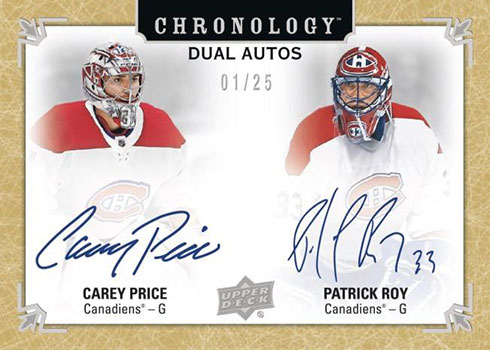 Letterman inserts are highlighted by manufactured letter patches. The concept here is that collectors can build a player's name with matching letters. Regular letter cards have 35 copies each. Autograph versions are also available in varying amounts.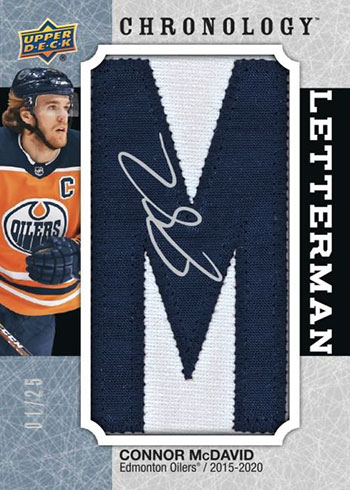 1 in 100 Memorabilia and 1 in 100 Autograph Memorabilia cards return as well.
Time Capsules
Time Capsules Base Variants (1:4 packs, Gold – /25, Black – /10 or less) see the return of the rip card concept that was also in Chronology Volume I. Inside the traditionally sized main card is a mini. But you don't know who it is or what kind of card it is. The draw is the temptation to destroy the known to seek out the unknown.
Inner card themes include Time Capsules Canvas Minis (/60, Rookies /90), Canvas Minis Blank Backs (/3) and redemptions for one-of-one original paintings. Hits versions add Canvas Minis Autographs and Autographs Blank Backs (1/1).
2019-20 Upper Deck Chronology Hockey Volume II at a glance:
Cards per pack: 4
Packs per box: 1
Boxes per case: 16 (two 8-box inner cases)
Set size: 100 cards
Release date: December 2, 2020
Shop for 2019-20 Upper Deck Chronology Hockey Volume II boxes on eBay:
What to expect in a hobby box:
Autographs – 1
Additional Autographs or Memorabilia Cards – 2 Total
Base or 0 Celcius – 1
2019-20 Upper Deck Chronology Hockey Volume II Checklist
Unless noted, print runs for cards without serial numbers have not been announced.
You can also download a customizable spreadsheet version of the checklist:
Base
Autographs
Memorabilia
Inserts
Updates
Team Sets