2019-20 Topps Now NHL Stickers not only create a second series, but they put a different spin on the tradition. A separate but complimentary release from Topps' main set of NHL stickers, Topps Now updates throughout the season with a new batch every week. The idea is that as the season unfolds, key events, performances and milestones are covered not quite in realtime, but close.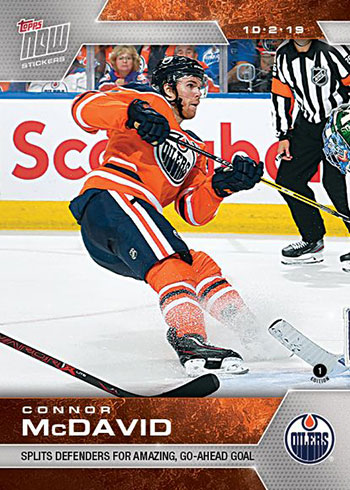 Every Thursday, a new batch of nine stickers is made available on the Topps website. Offered only as a group, they have a one-week sales window. After that, the stickers are printed, shipped out and production runs announced. It's similar to the Topps Now card offerings in baseball and other sports, only with a broader window and with stickers instead of cards.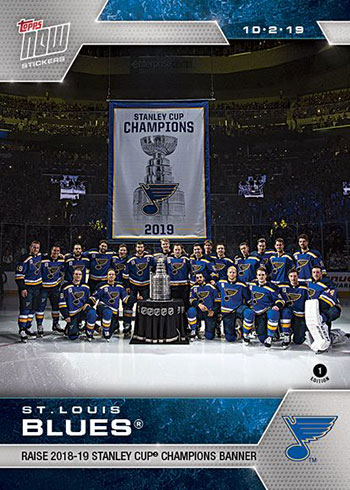 Topps is offering up some incentives for those who partake in the 2019-20 Topps Now NHL Stickers marathon. Those that order every week before the All-Star Game receive an exclusive batch of All-Star Stickers. Those that buy every set after the All-Star Game receive special playoff stickers.
According to Topps, beginning in the third week, sticker inserts will also be available.
Like any sticker collection, there's an album. It was given to those ordering the Week 1 sticker pack.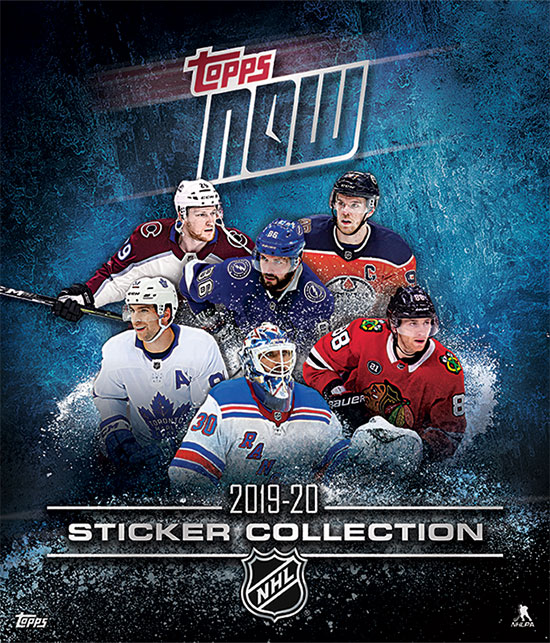 2019-20 Topps Now NHL Stickers at a glance:
Set size: TBA (9 stickers each week)
Release date: October 3, 2019
2019 Topps Now NHL Stickers Checklist
This checklist will expand throughout the season.
Week 1
Available: October 3-10
Print Run: TBA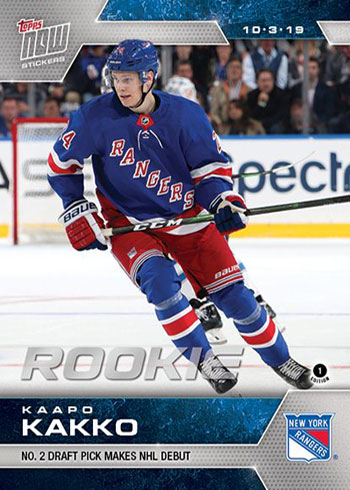 1 St. Louis Blues – Raise 2018-19 Stanley Cup Champions Banner (10.2.19)
2 Auston Matthews, Toronto Maple Leafs – 9 Career Opening Night Goals Ties Team Record (10.2.19)
3 Connor McDavid, Edmonton Oilers – Splits Defenders for Amazing, Go-Ahead Goal (10.2.19)
4 Kaapo Kakko, New York Rangers – No. 2 Pick Makes NHL Debut (10.3.19)
5 Mika Zibanejad, New York Rangers – Hat Trick Gives 8 Points Through 1st 2 Games (10.5.19)
6 Anthony Mantha, Detroit Red Wings – Scores All 4 Goals in Win Over Stars (10.6.19)
7 TBA
8 TBA
9 TBA