2019-20 Topps Chrome UEFA Champions League Variations Guide
Wondering if there are 2019-20 Topps Chrome UEFA Champions League variations? There are, although there aren't many to keep track of.
Five players get SSP versions, although they're not regular base cards. Rather, the 2019-20 Topps Chrome UEFA variations are all Refractors. The premise is the same. The cards look like regular Refractors only with different photos on the front. For some it's as easy as a different it color. Others, you need to look to the sock or the direction in which they're running. Players with variations include Lionel Messi, Cristiano Ronaldo, Christian Pulisic, João Félix and Virgil van Dijk.
Variations fall 1:219 packs of 2019-20 Topps Chrome UEFA Champions League. That works out to about one per case.
Confirming Variations on the Back
There are two ways to tell if you have a variation by looking at the back. The first requires a close eye and a couple sets of numbers.
The fine print has a lot of legal stuff and copyright notices. The end of that block of text has a code, though, that is helpful. Intended for production, it highlights different card types. These are the codes that are applicable to variations:
Base Cards/Refractors – 999
Variation – 019
So if you're card ends in 019, it's an SSP. If the code is 999, it's a base card or one of its many Refractor parallels.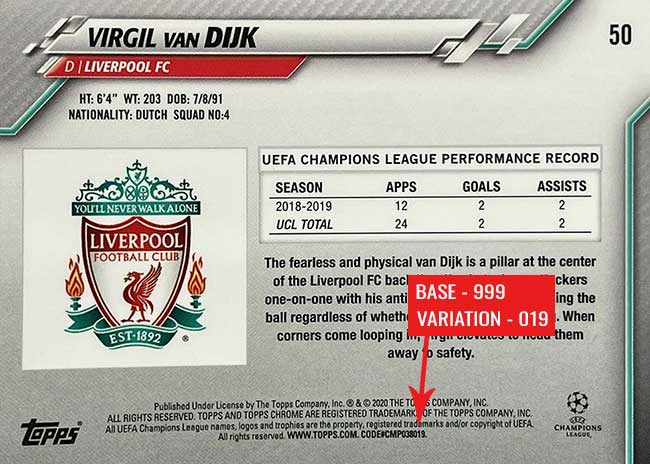 The second way might be a little easier. Refractors are labelled on the back. Directly under the card number at the top, they say "REFRACTOR."
Variations, which are Refractors, do not have this label. So if you recognize the card as a Refractor of one of the five players with SSPs but it doesn't say so on the back, then it's likely a variation.
If you're still not totally sure if you've got one, there's a simple gallery with the images below.
2019-20 Topps Chrome UEFA Champions League Variations Checklist
Here's a list of players with variations at a glance. If you're looking for a specific card, click on the links to see what's currently available on eBay.
1 Lionel Messi
25 João Félix
47 Christian Pulisic
50 Virgil van Dijk
100 Cristiano Ronaldo
2019-20 Topps Chrome UEFA Champions League Variations Gallery
1 Lionel Messi, FC Barcelona
25 João Félix, Club Atlético De Madrid
47 Christian Pulisic, Chelsea FC
50 Virgil van Dijk, Liverpool FC
100 Cristiano Ronaldo, Juventus